Chuck and I spent the last 28 days attempting to follow the Tim Ferris Geek to Freak Challenge and the results have been pretty good despite intense cheese cravings (for me).
If you've been around here for a while you have heard me wine about my lack of motivation to stay fit as well as my constant battle with eating healthier. I really want to make some lasting changes so like everyone else does I decided to make a big change in January of 2016.
I decided to try this challenge because I need a jump start; a new way to think about food, and a new routine to work out with. I like Tim's idea of using the Minimum Effective Dose (MED), which requires that workouts are done starting at twice weekly and further reduced as you get stronger. I am one who suffers from anxiety over my schedule, so trying to spend an hour in the gym daily just isn't going to work for me, this on the other hand is something that I can do. The basic work out portion of the challenge is to workout 2x weekly using the one-set-to-failure principal and do no more than 4-7 multi-joint exercises (I used some combination of squat, dead lift, pull ups, bent row, bench, lunges, and over head press. These included a 5 minute warm up, stretch and cool down of 2-4 abdominal exercises.) Also complete each exercise with a 5/5 cadence.
For those interested in just losing weight, sticking to the Slow Carb Diet alone can do that, even without exercise, check out How to Lose 20 lbs. of Fat in 30 Days… Without Doing Any Exercise or better yet read The 4 Hour Body
.
The main focus of this diet is vegetables and lean meats, the main carbs consumed come from beans, or lentils not grains, this is something that I can definitely improve on. I'm not going to tell you that grains are killing you, but let's be serious, as delicious as my French Onion Gnocchi recipe is, eating just that for a few meals is not providing my body with the protein or vitamins that it really needs. The hardest part I knew would be dairy, not that I'm a milk drinker or anything, I just love me some cheese. Another tough thing for both me and Chuck was cutting out fruit since we both ate fruit multiple times a day.
If you are looking to really test your resolve on a new diet try starting it while you are sick and only want chicken noodle soup. The first 2 days were hard, I was already sick of beans and lentils, but day three came on and I kind of stopped caring. I was full without feeling over-full, sick, or bloated, a miracle in the midst of the cold that I was nursing at the time. I felt good and was ready to keep going, until the day before cheat day. Being a food blogger can have it's downfalls, for example researching new recipes when you can't eat a lot of things. Needless to say Chuck and I both went a little overboard on our cheat days. So much so that it actually felt good to back on the diet on Sunday. That same pattern continued throughout the challenge, cravings are easy to deal with knowing there's a cheat day right around the corner. Chuck had the easiest time of all. Eating the same meals all the time is easy for him, and he was happy to stick to the diet for the majority of the time.
This is what our diet looked like:
**Keep in mind that I am also a part time vegetarian so my protein sources before dinner during this diet were usually nuts, beans or eggs where as someone else could go with meat instead.
***I chose venison as the main lean meat for this diet (including my homemade sausages), because we have a lot of that around here, but grass fed-organic beef, lamb, or pork are also ok on the diet.
Breakfast:
I ate basically the same thing every day for breakfast every day 2 eggs, spinach, and black beans occasionally with salsa. Chuck's typical breakfast was similar with a lot more salsa and venison sausage crumbles.
Lunch: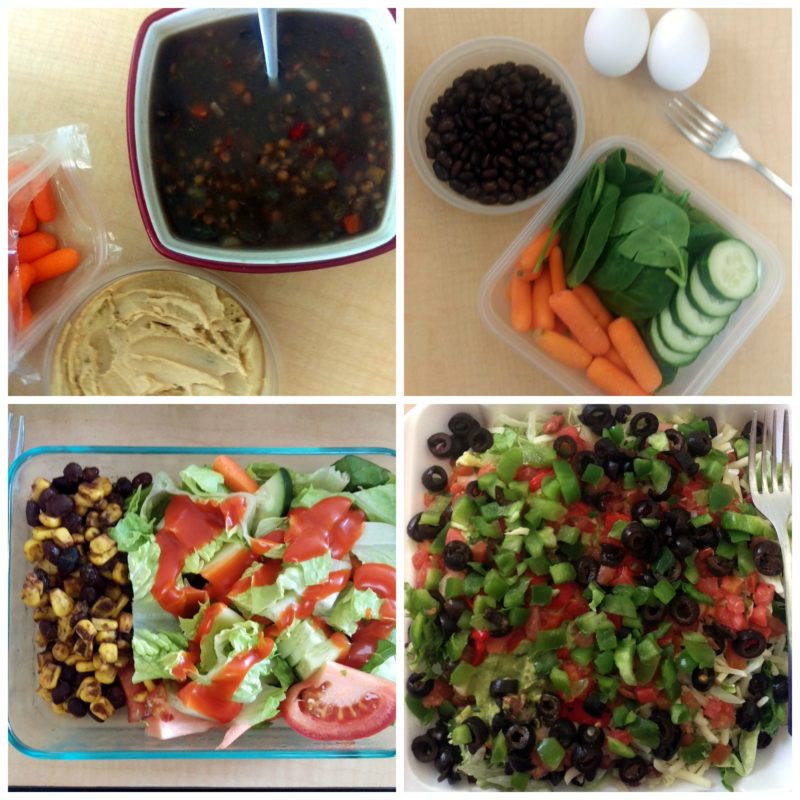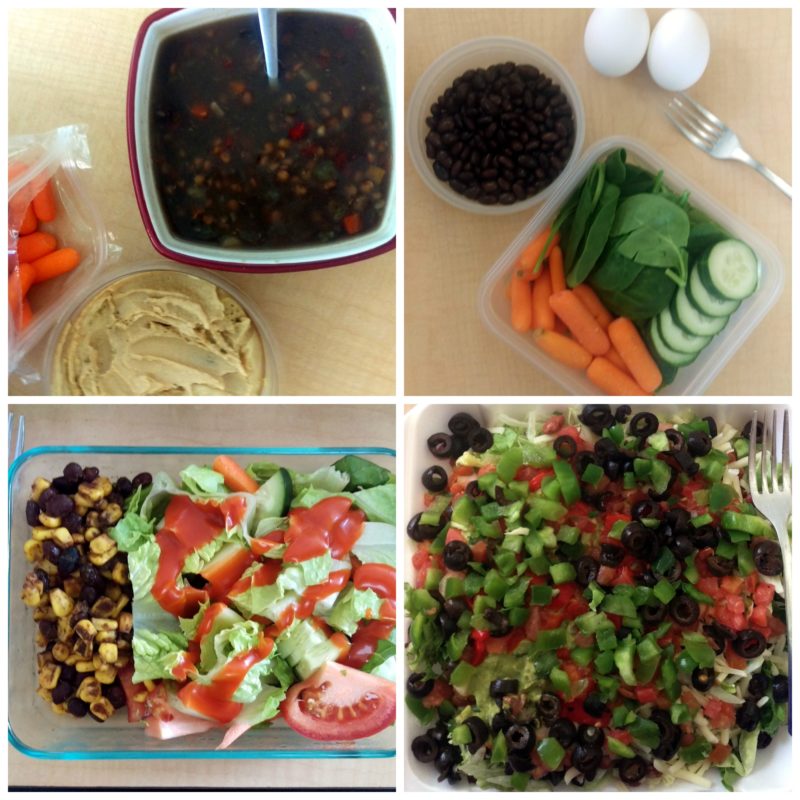 Lunches only varied a little from my usual salads and sandwiches. I ate a lot more taco salads, and when I wanted something different I made a few quick veggie lentil soups, occasionally I had leftovers as well, but those are really Chuck's Jam.
Dinner: Week 1, Week 2, Week 3, Week 4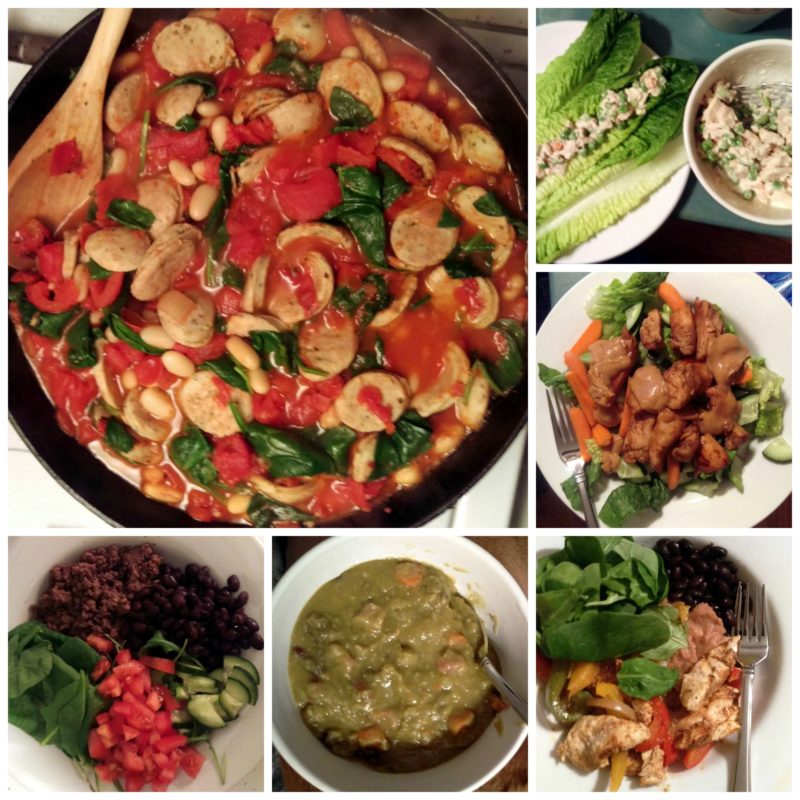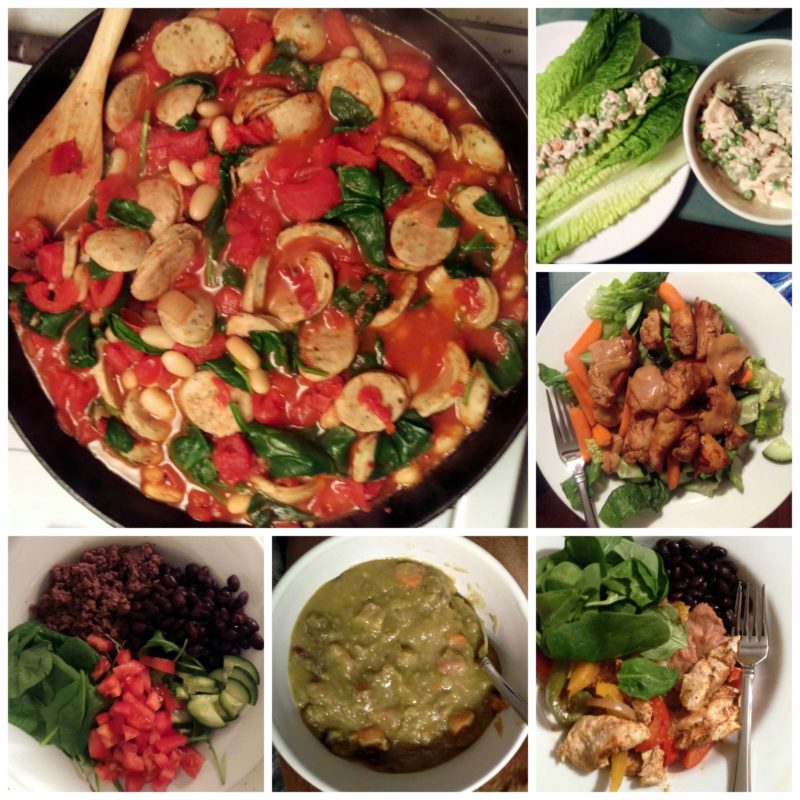 As per usual we didn't vary very far from the meal plans that I provide here on the blog, except the occasional busy day when tuna salad lettuce boats were used instead (tuna's always my last minute go to).
Snacks: celery & peanut butter, veggies & hummus, nuts, toasted chickpeas, or hard boiled eggs (sorry I rarely took pictures of these)
Restaurants that work well with the diet: Ruby Tuesdays, Chilis, Burrito Places (Moes, Hot Harry's ect.), Local Diners (they have lots of options)
My Results:
       January 3rd
Mid Bicep            11″
Upper Chest      36″
Waist                     31″
Hips                       40″
Mid-Thigh           23″
Weight              152 lbs
    January 30th
Mid Bicep            10 3/4″
Upper Chest         36″
Waist                     29 1/2″
Hips                       39 1/2″
Mid-Thigh           22 1/2″
Weight                 145 lbs
Not pictured are Chuck's results, while he didn't do the work out portion he lost roughly 10 lbs and lots of inches using just the slow carb diet. It's a shame but he's just not into sharing his life on the internet like I am.
I think these results after only 28 days are pretty darn good. I dropped almost 5% of my body weight (mostly fat) and already feel stronger. I also feel a lot more confident and my jeans fit again. I think the results for us both are pretty awesome for only 4 weeks time. I am a little disappointed that I lost size in places like my arms, where I was kind of hoping to gain some muscle, but perhaps I need another month of working out. There are many people that follow this diet year round and have great success with it. Chuck even want's to continue doing it. And I say thanks but no thanks, I liked the challenge, I would do it again, and probably will a few times a year, but I personally need more variety in my life, and potatoes (I like potatoes). As for the work out portion I could have definitely done better, being sick the first week (notice my reindeer nose in the pictures) I did not start working out until the second week. I liked the idea of only working out twice a week or less, and will probably continue this going forward.
Reading The 4 Hour Body
. and then falling down the subsequent diet and health rabbit hole that I've been in for a month has done quite a bit to change and reinforce much of my food philosophy. Before this challenge I thought I was doing well at eating a mostly plant diet. I had already increased the variety and number of vegetables I ate in a day by at least double just from switching to Part Time Vegetarianism. I was eating less meat and less processed foods than ever before. This challenge however showed me just how much I had been lying to myself. Yes we ate vegetables often, much more than the average American, but we still "filled up" on starches, potatoes, rice, pasta. Those things were in each and every meal I made, for the last 30 days (aside from cheat days) I did not indulge in them. In those 30 days I was able to both lose weight, and save money while actually eating a plant based diet. This is something that I want to continue to do. I also want to open myself up to more variety. Our ancestors ate something like 3,000 different food items in a week, now you can barely find 300 different items in our grocery stores. I want to cook more slow food, using those often overlooked cuts of meat to slow roast, and braise getting all the good nutrients out of them. Opening up my vegetable options by picking things I don't often eat, and shopping more often at the farmers market. I want to grow as much of my own food as possible, and forage more for what it locally available to me. I'm hoping that this will help me stay healthy and keep the weight off, while also promoting a more sustainable lifestyle. I also want to note that I saved so much money while on this challenge, but that's a whole other post.
Now I have to think of a new challenge to start in March (because I'm obsessed), maybe I'll do the air squats before and after eating challenge, or a pull up challenge, or something? Got any ideas?