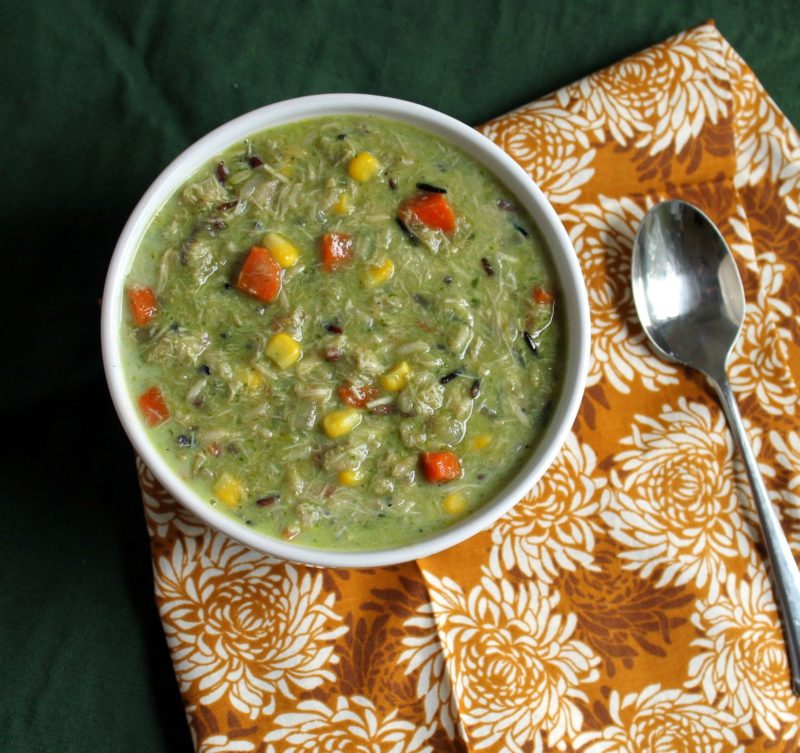 I have made Cream of Chicken and Rice before, so you already know I love it. However since cutting back on processed foods I have found myself actually craving more rice, specifically wild rice. Right now I see no issues with this.
What I like most about this recipe is that it's super simple, and while it takes a while to cook, the flavors are so in depth and the texture so spot on that it's totally worth the wait. I still dropped some blended spinach in this one mostly to boost the health factor, but you could probably add the spinach without blending or not at all if you so choose. I like to get the biggest bang for my buck however, so blending it is. I also added corn, because I felt it was needed.
It was well received and gobbled up in two eye blinks. Then I made it again a couple weeks later, just to make sure the recipe was right. It was. This time it was one eye blink. I think the one eye blink was due to the cooler temperature, something about warm soup and cool, rainy nights;  they just go.
Cream of Chicken & Wild Rice Soup
Ingredients
2 tbsp extra virgin olive oil
4 medium carrots, diced
2 celery ribs diced
1 onion, diced
6 cups of low sodium chicken broth
1 cup of wild rice
1 bay leaf
¼ tsp curry powder
1 tsp pepper
1 lb chicken, cooked & shredded
2 cups of spinach blended
1 cup of corn (frozen or fresh)
½ cup heavy cream
Instructions
Saute garlic, carrot, celery, onion in oil.
Add rice & broth, bay leaf, curry, & pepper. Cook stirring regularly until rice is aldente about 40 minutes.
Add chicken and stir.
Add spinach and corn cook for an additional minute.
Remove from heat and add cream, stirring well to incorporate
Serve immediately.