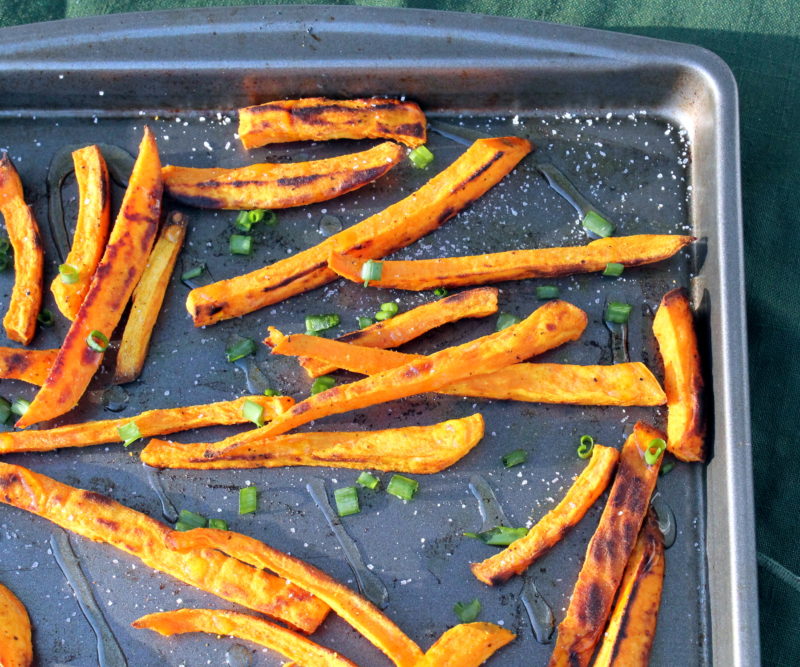 I might be the smartest person to ever enter a kitchen.
Ok that might just be my opinion, but you should strongly consider the possibility that it's true.
I came up with the craziest concept the other day and I had to try it. Then tweek it, and try it again, and again, and well hell 4th time is the charm. I may or may not have eaten all the experiments in between, you guys, because omg they were all delicious. Too bad I wasn't just going for delicious though.
Not that delicious is bad (it's totally great), you see, I wanted sweet potato fries and honey mustard, because they just go together you know? I mean that combination is already delicious so I wanted to do something different than just make a dipping sauce, because lets be real here that's been done for year now. Not that there's anything super wrong with dipping, dipping sauce is awesome, but not what I was looking for either.
I wanted an all in one fry, kind of like barbecue chips, they need nothing, all the flavor is there already.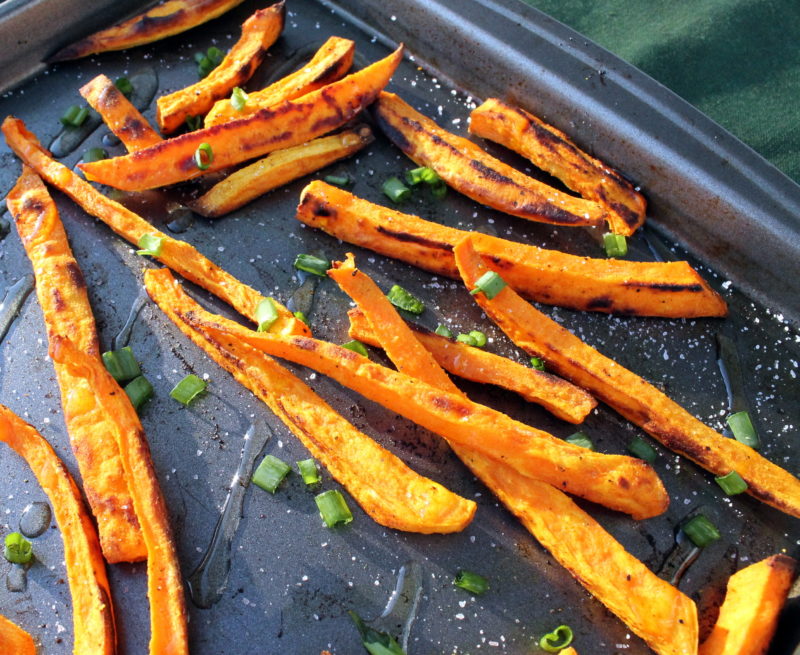 So I toiled and toiled in a hot steamy kitchen; ok maybe I just baked a few batches of fries while I waited for Chuck to get back from golfing and it was actually a lot of fun. Let's just go ahead and establish my dork status now, I like to experiment and you know use the scientific method, that thing we all learned in middle school. Yeah I'm that girl. Anyway coming up with the right spice to liquid ratio was the key here. We want crispy fries, with all the flavor and then there was the honey. I'm pretty positive there's no way to cook the fries with the honey on them and have them come out both crispy and not burned honey tasting.
In the end the honey drizzle was just the thing. I'm pretty sure I ate my weight in sweet potato that day. It's cool, I don't have a wedding dress to squeeze myself into in a few months or anything. Psh. Whatever.
You are going to love this really, it's the best, and the new way to cook sweet potato fries. I'm telling you this is going to be a thing.

Crispy Honey Mustard Sweet Potato Fries
Ingredients
2 tablespoons oil
1 tablespoon white wine vinegar
1 teaspoon lemon juice
1 tablespoon ground mustard
½ teaspoon turmeric
½ teaspoon salt
¼ teaspoon pepper
¼ teaspoon paprika
2 large sweet potatoes, peeled and cut into strips
1-2 tablespoons honey
1 teaspoon of course sea salt
1 tablespoon green onion, chopped (for garnish)
Instructions
Preheat the oven to 400 degrees.
In a small bowl whisk together the oil, vinegar, lemon, mustard, turmeric, salt, pepper, and paprika.
In a large bowl toss the sweet potato with the spice mixture until well coated.
Spread the potato out on a large prepared baking sheet, so that none of them are touching and place in the oven and bake for 15 minutes.
Turn the fries once and place back in the oven for 15 minutes then remove from heat and let cool slightly.
Drizzle with honey. Sprinkle with salt and green onion. Serve immediately.