If I was ever on The Best Thing I Ever Ate: Cream of Soups, I would have to say that The House of Pizza in Gloversville, NY would take the cake. It's a simple little place with a drive through take out window, owned by a delightful Greek family that also gave me the inspiration for my Perfect Broiled Haddock. They must just have the magic touch because for such a simple little place everything is so very good.
Now this wonderful soup I got it after the exclamations from a coworker, and she was on her mark. It was delightfully creamy, without feeling to heavy, perfectly seasoned, and green! Yes the soup is green because its packed with spinach, I'm sure the original recipe that I could not get is probably a little less healthy than mine, but I went with my gut, and made a pretty darn good soup if I do say so myself, that may not be completely clean, but is still a powerhouse of healthy.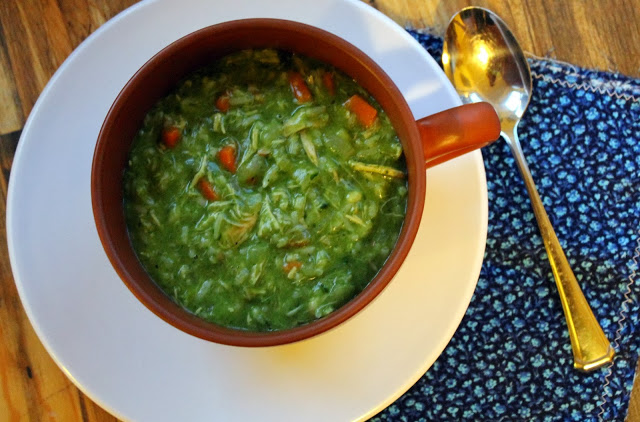 One of the keys to making it rice and creamy is cooking the rice in the soup and stirring it alot, to make it startchy, similar to a risotto. The pureed spinach also helps to thicken it up, so you dont need to add alot of flower and cream. Also if left overnight it thickens up, and gets even more flavorful, so don't be shy about cooking this ahead of time.

Lean Green Cream of Chicken and Rice Soup
Ingredients
1 tablespoon olive oil
1 medium onion, peeled and chopped
2 large carrots, peeled and chopped
2 celery ribs, chopped
½ cup un-cooked rice
1 tablespoon flour
1 teaspoon black pepper
½ cup pureed spinach (fresh or frozen with 2 cloves of
garlic)
2 cups shredded chicken
2 tbsp half and half
Instructions
In a large thick bottomed sauce pan, heat oil over medium high heat. Add onion, carrots and celery and cook for 4-5 minutes or until the vegetables begin to soften.
Stir in flower, pepper, rice, and cook for an additional 1-2 minutes.
Stir in spinach, broth, and chicken bring to a simmer and cook stirring regularly for 20 to 30 minutes, or until the rice is cooked through.
Reduce the heat, and gently stir in the cream, cooking for another 2 or 3 minutes.
Serve warm.