Dont mind my unedited pictures again… i'm working on it … Still.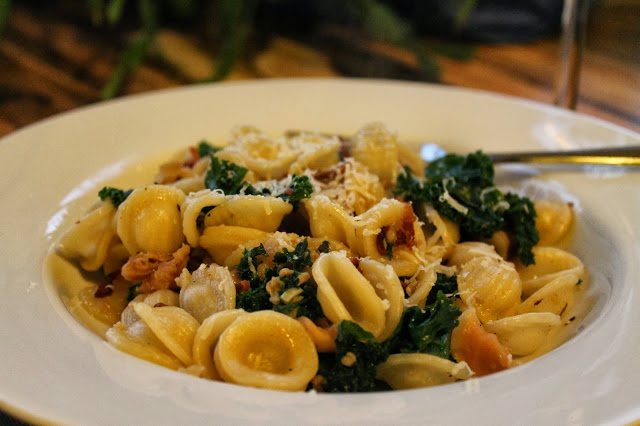 Sometimes I get cravings for something, and my whole world
is not right until I get my hands on that food. Lately it's been seafood. I
think I'm going through summer with drawl or something. I have been patiently
waiting for chuck to be out of town to indulge. He doesn't share my love of the
stuff, so why spend the money on him?
He was finally gone the other night so I went searching
through the cabinets thinking there were some scallops in there for my awesome
Scallop Carbonarra, only to find that there wasn't. So I improvised a little,
and it was fabulous if I do say so myself. Normally I wait until I have tested
a recipe a few times before I post it up here to work out all the kinks but in
this particular case I think you would rather just give it a try yourself. It is
so easy but feels, and tastes so complex.
Orecchietti with Bacon, Clams and Kale
2 cups oreccheitte pasta.
1 tbsp extra virgin olive oil
3 strips of cooked bacon, crumbled
1 shallot, chopped
1 can clams and juice
1 cup chopped kale
Salt and pepper to taste
Parmesan cheese for garnish
Cook pasta according to package instructions, reserving ½ a
cup of the cooking liquid. In a large skillet heat oil and sauté bacon, and
shallot until the shallot begins to soften, 2 minutes. Add clam, juice and
pasta liquid to pan and continue to cook for 2-3 minutes, allowing it to reduce
slightly. Toss kale into the pan and cook for an additional 1-2 minutes,
allowing the kale to become bright green and wilted. Add the pasta to the pan, salt
& pepper, toss to combine and remove from heat. Serve warm with a sprinkle
of Parmesan cheese.