Ok so this recipe is one that is so darn easy and so darn delicious. A simple grilled cheese sandwich stuffed with mozzarella and herbs, coated in egg and pan fried for a perfectly crispy outer shell. Now serve this warm and cheesy sandwich with a side of hot chunky marinara sauce and you have pure heavenly delight. At least it is in my opinion. I love cheese! The combination of cheese and tomato sauce has got to be one of my favorite things ever! It also made a great late night snack after a busy Christmas Day for me.
I really like this sandwich stuffed with hole chunks of roasted garlic, and chopped fresh herbs (Oregano, Basil, and thyme to be exact) however not everyone has the love affair that I do with herbs. If you are one of these people just start with a few shakes of your favorite dried herbs, and adjust it based on your own tastes.
Grilled Mozzarella Sandwich
¼ lb Fresh Mozzarella, sliced
2 slices bread
1 clove roasted garlic, diced
1 sprig of oregano, finely chopped
2-3 medium basil leaves, finely chopped
1 small sprig of thyme, finely chopped
1 egg, beaten
Dash of salt
1 tbs butter
¼ cup warm chunky marinara sauce
Place slices of mozzarella on both slices of bread. Layer garlic and herbs onto one side and close to make a sandwich. Whisk egg and salt together in a shallow bowl. Melt butter in a skillet over medium- high heat. Dip the sandwich into the egg mixture, turning to coat. Place the sandwich in the pan and cook until golden brown, then flip and brown the other side. Serve warm with a side of marinara sauce.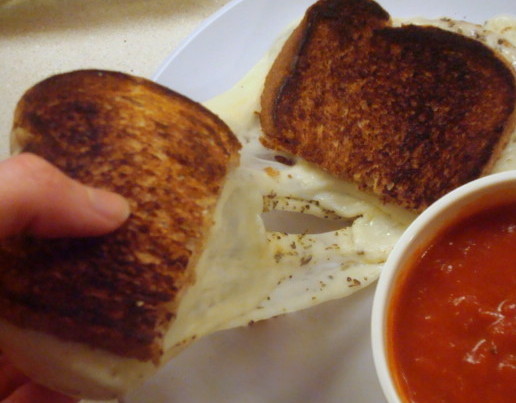 The recipe above reflects how I would normally make it, however since I am still trying to eat healthy I made the sandwich with whole wheat bread, low fat mozzarella, egg whites, extra virgin olive oil and my home made marinara sauce. I also had a chocolate protein shake with frozen banana. The flavor combination reminds me of fried mozzarella and a chocolate shake at some hole in the wall restaurant where you know it's delicious and terrible for you, but SURPRISE! It's actually not! Ha! I love it when I come up with a recipe like this!