This fun recipe came to me late this summer. I was looking for something to do with the abundance of eggplant that graced our presence. I love eggplant parmesann, but there's only so much parmesann that one can eat before you start to go a little crazy. At least that's what Chuck said, and so the quest for fun new eggplant recipes began.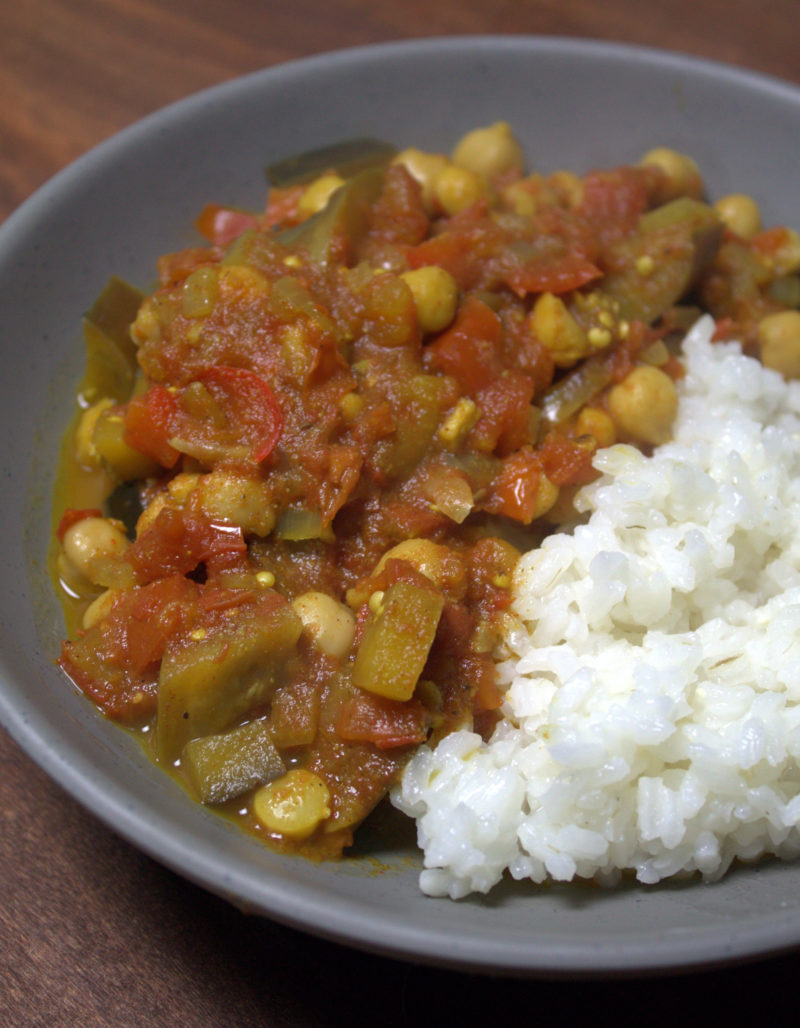 It was an awakening for me as to just how versatile this vegetable can be. I'm super excited to keep experimenting, I have quite the list of eggplant recipes waiting in the wings now. Everything from fries, roulade, to stews like this one have been on the roster lately, and there is more to come.
This particular recipe was a winner recently on a chilly fall day. The deep, spicy flavors of this stew-like dish make it the perfect warm-up for this kind of crisp fall evening. It's very aromatic which is great since it fills the house with warming spicy scents that entice the whole family to come to the table sooner rather than later.
Egg Plant Chana Masala
Ingredients
1 tablespoon coconut oil
1 medium onion, finely chopped
2 cloves garlic, minced
2 teaspoons grated fresh ginger
1 large eggplant, chopped into 1" cubes
1 teaspoon salt
2 cups diced tomatoes
1 cup vegetable broth
2 cans chickpeas, drained & rinsed
2 teaspoons ground cumin
½ teaspoon ground cayenne pepper
1 teaspoon ground turmeric
2 teaspoons ground paprika
1 teaspoon garam masala
Salt & pepper to taste
Instructions
Heat the coconut oil in a large saucepan over medium heat. Add the onion and saute for 1 to 2 minutes or until translucent.
Stir in the garlic, ginger, eggplant, and cook, stirring often, for 10 minutes.
Add the cumin, cayenne pepper, turmeric, paprika and garam masala. Stir well to combine.
Stir in the tomatoes, broth, chickpeas and Simmer for 15 minutes.
Remove from heat, adjust seasonings and serve.