This is a copy cat recipe for Evelyn's Favorite Pasta from The
Cheesecake Factory.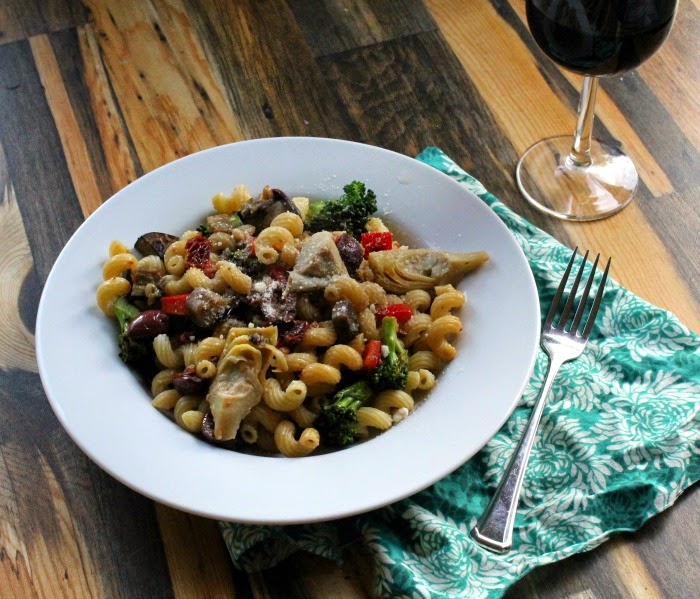 I'm not really a huge fan of cheese cake, or really cake for that matter. Weird I know, but it's the reason I haven't been to The Cheesecake Factory, like ever. Recently I met a very good friend of mine at the mall for some much needed chatting and she suggested we go there for dinner. The other options not being all that thrilling I said sure and was actually rather surprised to find a varied menu fill of things I actually wouldn't mind eating.
For this particular outing I opted for Evelyn's favorite pasta. I mean I was going for
vegetarian
, and it had so many of my favorites, artichokes, olives, sun dried tomatoes. Despite the presence of eggplant which I am not really all that fond of I decided to take the plunge.
You guys, it was so good.
The sauce was light in flavor so that the multitudes of vegetable flavors are able to take the stage. I believe it was this recipe that actually might have made me an eggplant convert. I mean I'd eat
eggplant parmesan
, sure, but nothing beyond that. I'm pretty sure that you can bread and fry anything and it will taste pretty good. Especially covered in sauce and cheese. So I never counted this as truly liking eggplant.
What I really loved about this dish was the brightness and range of textures from all the different vegetables. I was so pleased I decided to try my hand at the thing at home the following weekend.
It took some fiddling to get the recipe just right, but I believe I have something here that will be a staple in our house. What I love most about it is that you can add or take away whatever vegetables you happen to have on hand at the time, and that's great for using up extras in the fridge.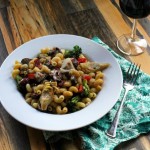 Prep Time 10 minutes
Cook Time 20 minutes
Total Time 30 minutes
Ingredients
1 lb cavatoppi pasta
2 tbsp olive oil extra virgin
4 cloves of garlic sliced
1 cup chopped eggplant
1 cup broccoli florets
1 red pepper de-seeded & chopped
1/3 cup sundried tomatoes diced
1 cup of artichoke hearts quartered
¼ cup Kalamata olives pitted & sliced
¼ cup pine nuts
1 tbsp minced fresh basil
Fresh grated parmesan cheese for garnish
Instructions
Prepare the pasta according to package instructions and set aside.

In a large thick bottomed skillet heat the oil over medium high heat add the garlic and cook for one minute.

Add eggplant, broccoli, pepper, and sundried tomatoes. Cook for 5-10 minutes, or until all of the vegetables are cooked through to desired texture, stirring regularly.

Stir in artichokes, olives, pine nuts, and basil then cook for another minute.

Remove from heat and stir in the cooked pasta.

Serve warm, and garnished with parmesan cheese.
Related Posts: