Ah, fiddlehead season.  It comes and goes in the blink of an eye. Literally, if you start to see those little leaves unfurl you have a day maybe two to get those little curls before they are all open and bitter. It's for this reason that I love growing them at my house. It allows me to know exactly when to start foraging in our area.
We got lucky this year and not only did we get a small harvest from our own backyard. Then a few days later made it up to our cabin in the Adirondacks (which is a few days behind us in the spring thaw) and were able to get a whole bunch. We have been letting them grow on the property there for generations (seriously, a very long time), which has resulted in a huge abundance of them for harvest.
We didn't even get through the entire patch and still ended up bringing home pounds and pounds of them. My 6-month pregnant body was tired from all the squatting down, but man was it worth it. You really don't realize how much work foraging can actually be until you've got an over-sized belly to contend with.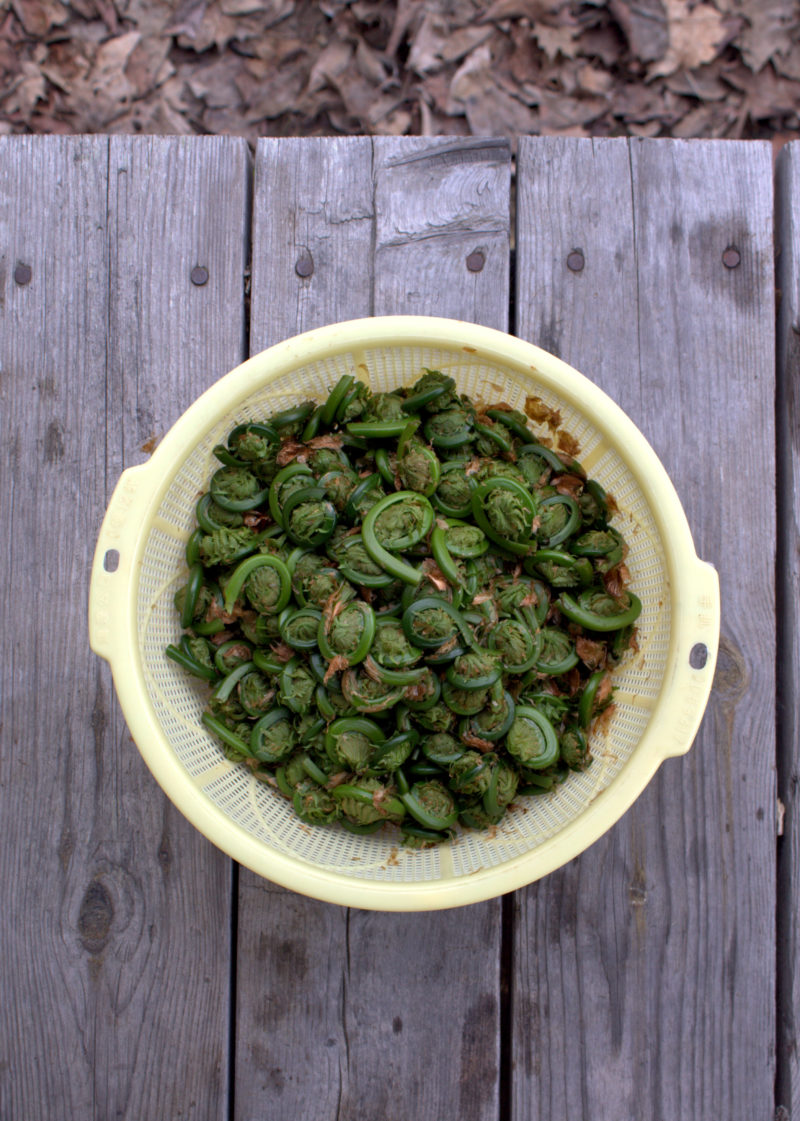 I was planning to go into the details of finding, foraging sustainably, and proper storage here but there are so many online resources that I don't think my input is needed here too. I did find that this University of Maine bulletin and this post from Food 52 are great resources for this type of info if that's what you are looking for. Today we are just going to dive into one of my favorite recipes. I will mention that when foraging you don't want to take any more than one or two heads. These heads become the leaves of the plant and taking them all will effectively kill the plant. Single ferns can live and produce for years if only a couple of heads are harvested each year.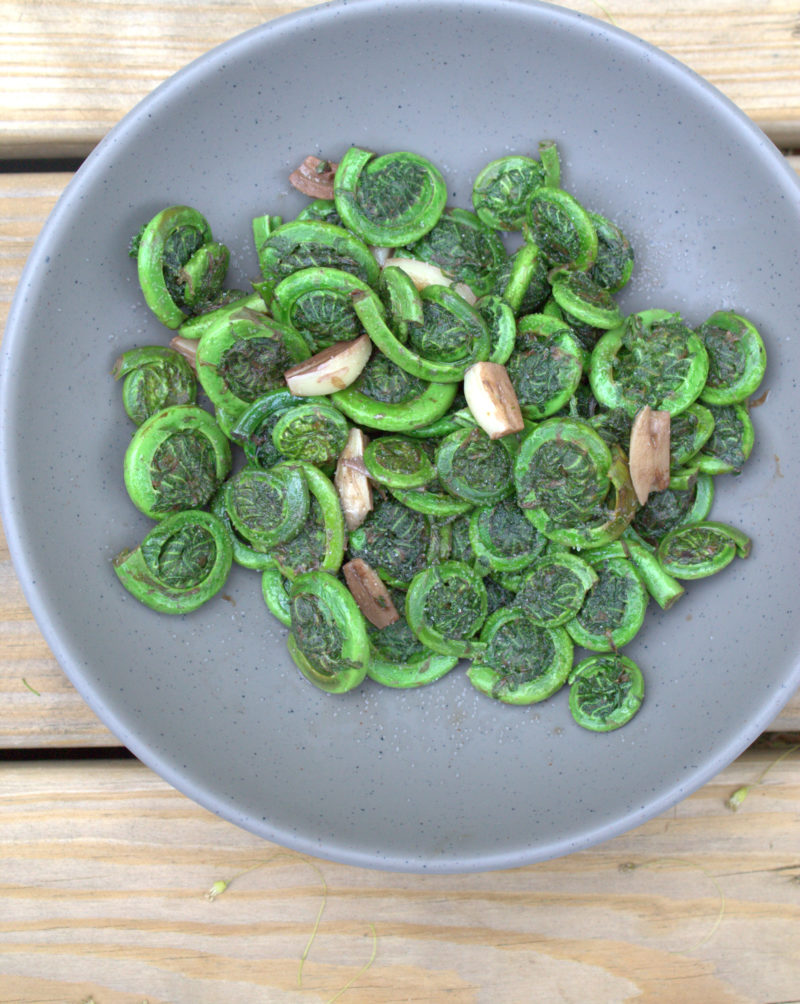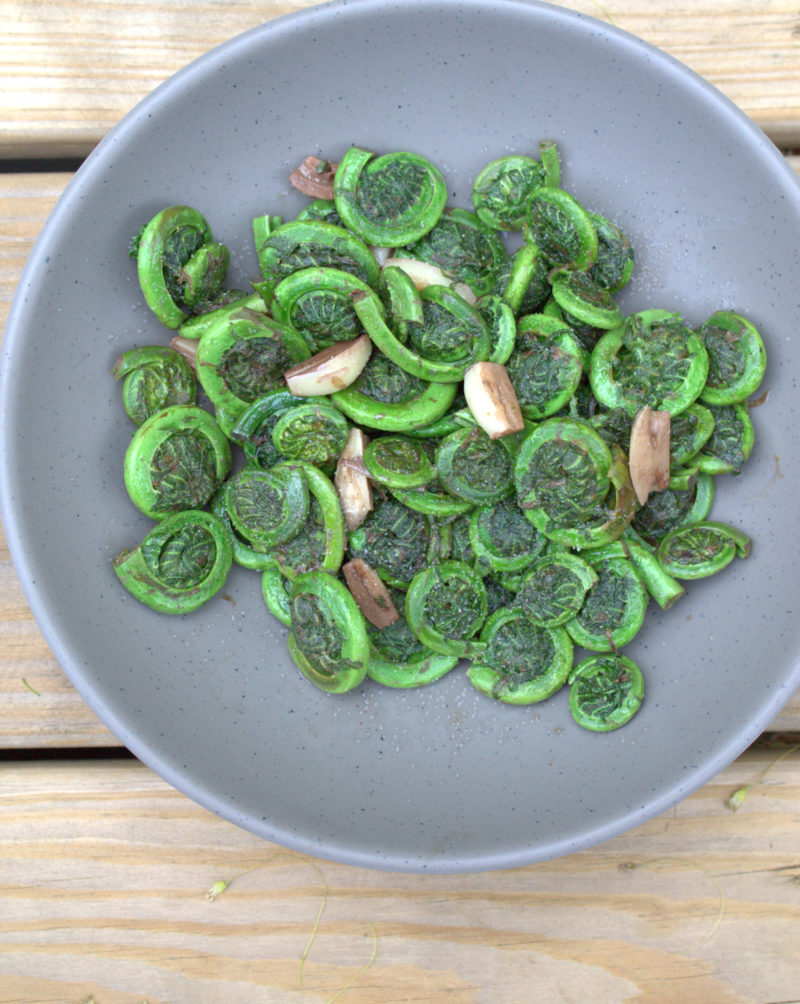 This recipe is probably one of my favorite because it's so simple and includes garlic. It's very similar to my Earthy Sauteed Fiddlehead Recipe but the end result is completely different. This recipe is flavorful enough to stand on its own over plain rice, pasta or lentils but not so flavorful that it doesn't also make a perfect side dish. I made this last weekend with venison loin, Jerusalem artichokes (recipe coming soon), and lentils for dinner. It was heavenly.

Fiddleheads with Garlic
Ingredients
1 tablespoon olive oil
3-5 cloves of garlic, peeled and roughly chopped
2 cups cleaned and dried fiddleheads
Salt and pepper to taste
Instructions
In a small skillet heat oil over medium high heat.
Add the garlic and sauté until fragrant, about 30 seconds.
Add the fiddleheads and sauté for 3 to 4 minutes, stirring regularly. Fiddleheads will be bright green, with some brown spots and slightly softened when done.
Remove from heat and toss with salt and pepper to taste. Serve immediately.