I'm starting to feel my age. Not in the sense that I feel feeble and tired, though I'm pretty tired of this shoulder injury, but I'm feeling it on an intellectual/emotional level. We've got summer interns in the office now and nothing makes you feel old like having a couple cocky young things almost 10 years younger than you hanging around. I mean really, I was one of the youngest people in the office until last week, my whole life ahead of me and all that, now looking at them I almost feel bad because they have so much to learn and suddenly they are looking at me like I know it all.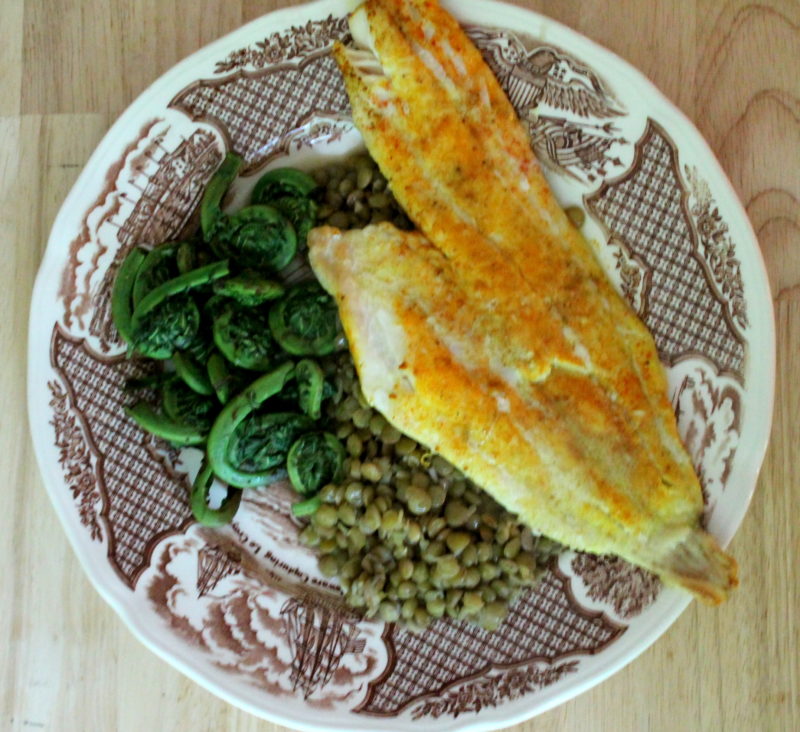 Have I really learned that much in the 6 years since I left college? I guess I have, not that I have all the answers, but really who does? Maybe that's the biggest realization, that everyone else (parents, bosses, teachers etc., included) are just figuring it out as they go too. They make mistakes and fall on their faces too.
That's kind of the thing of it, being an adult is hard, but it's also so rewarding. Forging your path and building the life that you choose is the most satisfying feeling. It may look different for some people but regardless of what you choose to do with your life, you get to choose and make all the mistakes you need to.
It's the same way with food for me. I cook the things that make me happy, and in my slightly wiser state, I cook the things that make me happy and healthy. This entire meal was an experiment, one that could have been a mistake. Luckily that was not the case, but believe me, I have made my fair share of terrible, awful, throw-it-out-and-order-pizza meals before, and I'm probably going to keep doing that my whole life. To be truthful if you aren't making mistakes somewhere in life you probably aren't challenging yourself enough.
For this turmeric spiced haddock with lentils I used the brain healthy turmeric and fun spices to balance out the simply prepared lentils, and decided to saute up the last our foraged fiddle heads.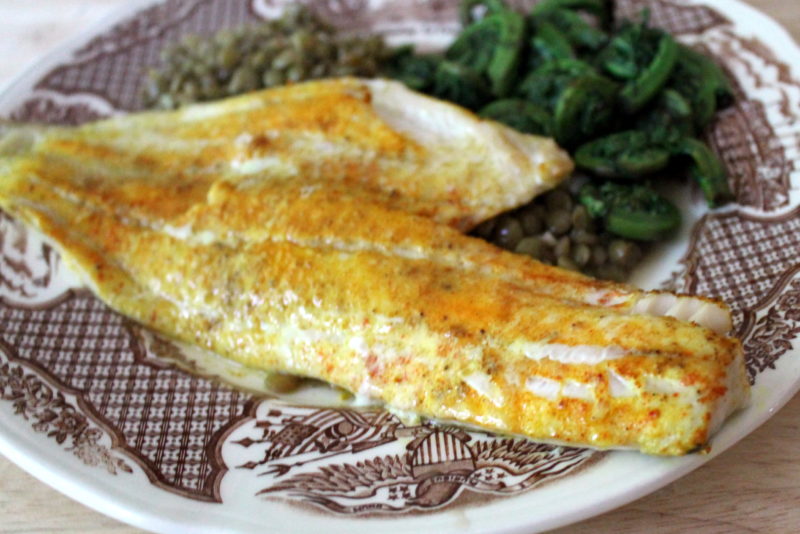 Turmeric Spiced Haddock with Lentils
Ingredients
1 lb haddock
2 tablespoons butter, separated
1 shallot, chopped
3 cloves of garlic, minced
1 cup of lentils, rinsed & drained
2 cups of vegetable broth
1 teaspoon fresh cracked pepper
½ teaspoon turmeric
⅛ teaspoon smoked paprika
½ teaspoon salt
½ teaspoon coriander
1 teaspoon cumin
Instructions
Preheat the oven to 350 degrees and remove the fish from its packaging. Place it on a greased rimmed baking sheet to come up to room temperature.
Thoroughly rinse the lentils into a strainer. Pick over and remove any shriveled lentils, rocks or other debris and set aside.
Melt 1 tablespoon butter in a medium sized saucepan over medium high heat. Add the shallot, and garlic and sauté for 1 to 2 minutes until it becomes fragrant.
Stir in the lentils and add the broth. Bring to a rapid boil then reduce the heat to a simmer and cook for 20 to 30 minutes. Strain all leftover liquid and adjust seasonings.
While the lentils cook combine the turmeric, paprika, salt, coriander, and cumin in a small bowl. Carefully spread this mixture over the top of the fish. Place pats of the remaining butter sporadically on top of the fish and place it in the oven.
Bake for 25 to 35 minutes or until the fish flakes easily with a fork.
Separate the lentils on 4 plates and top with four portions of fish. Serve immediately.
Earthy Sautéed Fiddleheads
1 tablespoon olive oil
1 lb fresh fiddlehead ferns, cleaned and patted dry
1 tablespoon of soy sauce
Salt and pepper to taste
In a medium sauce pan heat the oil over medium-high heat. Add the fiddle heads and sauté, tossing often.
Add the fiddleheads and cook for 3 to 4 minutes, stirring often. Remove from heat and toss with soy sauce, and adjust seasonings.
Serve immediately.
Similar Recipes: