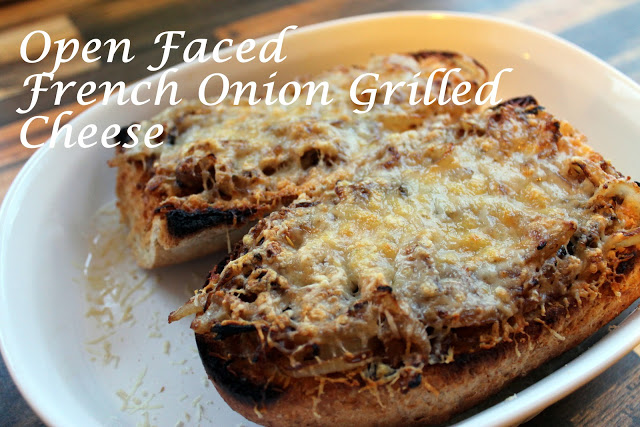 Even though spring is
blooming I'm not completely ready to give up some of my favorite fall and
winter flavors. That's when I came up with the recipe you see here. I am well
aware that there are about a million of these recipes floating around, but this
one I totally made up as I went based on the flavors that I was trying to focus
on. If you are looking for something more sandwich-like simply combine the two
halves as soon as they come out of the oven and you will have a complete French Onion Grilled Cheese Sandwich.
I also made this for a get
together with friends a few days later which I accomplished by simply slicing
the finished bread into individual pieces for the taking. It'd so darn easy and perfect for a little
appetizer, and can even be dipped into some
Dijon Vinaigrette
or ranch dressing.
Open Faced French Onion
Grilled Cheese
1 tbs oil

3 large onions, sliced
thin

1 tsp salt

1 tsp dried Thyme

1 tsp pepper

2 Large slices of French bread

1/3 cup grated gruyere
cheese

¼ cup grated parmesan
cheese

Preheat the oven to broil.
Heat the oil in a skillet over medium high heat and then add onions and salt. Cook
the onions stirring often until they become opaque and caramelized. Stir in the
thyme and pepper and continue to cook 1-2 minutes. Set aside. In the same
skillet place the slices of bread face down. You may need to add a little oil
to the pan but no more than a few drops. Allow the bread to toast slightly
before removing from heat and placing in a baking pan face up. Layer onions
generously on top of the bread. Do the same with both cheeses making sure to
cover the entire thing. Place in the oven for 5 or so minutes, or until the
cheese becomes bubbly and browned. Remove from heat and serve immediately.