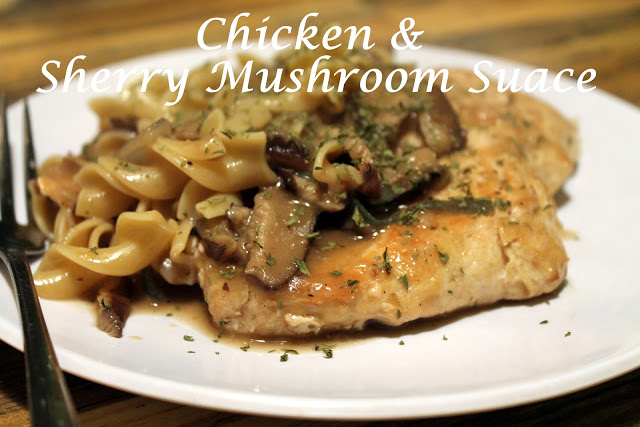 I know you have heard me say that I don't like mushrooms,
but it's like Momma Chuck says "you have to try something 17 times to know for
sure if you don't like it", so I'm still trying them; lately with success.
On our recent
trip to NYC
for my birthday we went to Butter Restaurant. Inside this
wonderfully chic and intoxicating establishment I ordered homemade ravioli that
came with mushrooms, parsley and pecorino cheese. And let me tell you it was
fabulous! I ate everything on the plate, and like an Italian would I used the
table bread to scoop up the last little bits of goodness. Now I'm on a mission
to try more mushrooms, starting with this recipe.
I was browsing through some chicken and mushroom recipes and
came across this one about a million times, so my guess is that everyone knows
about it, and it's some sort of classic somewhere, but I had never heard of it,
probably due to my past mushroom aversion. Any-who I decided that since I like
Sherry Butter Sauce
so much on
its own, that this one was probably a good recipe to start with and surprise,
surprise it was.
Sherry Mushroom
Chicken & Egg Noodles
1 tbs Oil
1 chicken breast, pounded thin
1 tbs organic unsalted butter
1 small shallot, chopped
1 (8 oz) package mushrooms, sliced
¼ cup sherry vinegar
¼ chicken broth
1-2 cups egg noodles, cooked according to package directions
Salt & Pepper to taste
Chopped parsley for garnish
In a large skillet heat oil over medium high heat, cook add
chicken and cook for 3-5 minutes flipping once, until all sides are golden and
chicken is cooked through. Set aside. In the same pan add shallot butter and
mushrooms. Sauté until the shallot and mushrooms become soft, roughly 2-3
minutes. Deglaze with sherry, and broth and cook until thickened add parsley,
and noodles, tossing to coat. Add chicken to warm and adjust seasoning. Serve.