I am now officially signed up for the Warrior Dash on August 12th. I'm up for the task, though I am nowhere near in shape for it. I have always been one to work out, especially with lifting weights, I just love feeling strong, however my cardio has always been somewhat lacking, for the last few years I have mostly only done HIIT (BB.com Link), which is not necessarily good for distance training, as when doing this kind of cardio you only do it for about 15-20 minutes. I ran the Corporate Challenge last year, and it kicked my butt. I know that Warrior Dash is not your typical 5k, but I'm going  train like it is, I mean besides where am I going to find a pit of fire, and mud up to my chest to practice in? I actually signed up for it because for the past year I have been having a really hard time getting the motivation to keep my workout routine steady. I blame graduating college, having a real job is hard to adjust to! My roommate from college Carrie signed up to do it with me, it really helps to have someone who is holding you accountable, she's in a lot better running shape than I so in order to keep up I am going to have to work hard.  To add to all of this 6 weeks later on October 6th there is a 10k trail run in Danby, where she lives that we may sign up for. I don't think I have ever run a 10k, and I know I haven't done it in a race, so this will be an even bigger challenge for me, but again one that I am willing to take on. My goal is to be able to run 10 miles by the end of summer, preferably under 1hr 45 mins. I know it's a lofty goal but I think it's possible, and maybe next year I will run a half marathon! I always thought there's no point in having goals unless they are there to better your life or challenge you so I might as well reach high.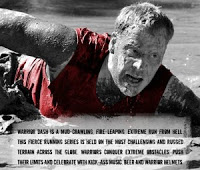 Another goal of mine is to hike Saddle Back and Basin. I tried these mountains last October, however post Irene there was a huge washout, and a lot of steep rocks. Being so out of shape didn't help, and then it started to snow at the top. I didn't make it all the way up, which has never happened to me before, I was hugely disappointed in myself, but the fact that my toe nails are still black and blue shows that I probably made the right decision at the time. This season however I plan to make it to the top of both, if it kills me.
To help me reach this goal I have set a goal to hike at least 50 miles total before attempting it. I think having a little more experience, and being in better shape will help. I have been told that my running goals alone will help but I personally feel that's a pile of poo. Hiking is a totally different animal, my quads can attest to that. Eventually I would like to complete all the 46 high peaks, as well as the true top 50. For those of you unfamiliar with the Adirondack High Peaks, the original high peaks were thought to be the only peaks above 4000 feet however later surveying revealed that 4 were actually below this level and 1 was left out. Also there are a lot of close by mountains that have really wonderful views, and hikes that get missed simply because they aren't one of the high peaks. Someday I would like to do them all; I really feel like experiencing these mountains is truly part of being an upstater. In my plan of attack however I have included mountains outside of the Adirondacks, such as Greylock Mountain in Massachusetts. It's surprisingly close, and the highest peak in the state, so good practice ground, plus it's got some really pretty views. I did a day trip there last weekend with Alicia and we did a 7 mile round trip to a waterfall, and Stony Ledge . It was a nice way to start the weekend. The sky cleared up just as we made it to the point, and it started to warm up just as we were coming off the mountain. Unfortunately the boots I have been wearing since high school completely fell apart. Thank goodness Alicia decided to carry electrical tape for who knows what reason.
That hike included with a trip up to Big Slide Mountain a few weeks ago puts my total for the year already to 16.5 miles. Also I am now running roughly 3 miles 3 days a week.  Considering that its only May I think I really have a good chance at completing all of these goals, if of course I get some new shoes (I realize that I've been wearing the same running shoes since high school as well uh oh!), and stick with it. Wish me luck!