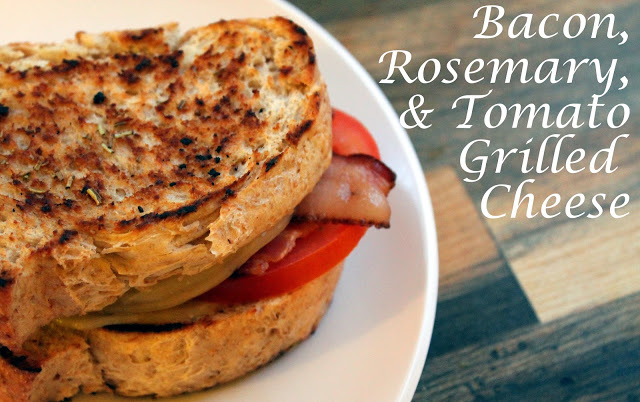 I'm not gonna lie I LOVE grilled cheese, and it's pretty
well on an equal playing field with BLT's, both are pretty fabulous. So when I
came across
this recipe
and realized that it not only was a cross between
these two great sandwiches, but it added herbs I knew I had to try it.
I changed up a few things from the original; for starters I
opted for mayo instead of butter, because I wanted it to be a spread inside the
sandwich, so it saved a step to use it on the outside as well. This also upped
the rosemary presence. I also used provolone cheese, for something a little
different.
Bacon Tomato &
Rosemary Grilled Cheese
2 tbs mayonnaise

1 tsp rosemary

3-4 strips of bacon

2 slices of bread

2 -4 slices provolone cheese

1-2 thick slices of tomato

In a small bowl stir together the mayonnaise and rosemary,
and set aside. In a skillet cook bacon until crispy, remove from pan and drain
grease, leaving a light coating in the pan. On medium high heat toast each
piece of bread for 1-2 minutes a side, or until golden brown. Remove from heat
and place roughly ½ tbs of mayonnaise mixture on both pieces of bread. Next
layer a slice of cheese on both sides, on one side layer bacon, and tomato,
topping with the other piece of bread and cheese. Sparingly spread a little of
the mayonnaise mixture on the outside of the sandwich (this will give it a nice
golden color). And place it back in the pan, cooking on medium-low until the
cheese has melted, and the outside has become golden brown.
I know it's a short post but I just HAD to share this with
you.
That is all.