I am super excited about this recipe. It's got a great
combination of fresh ingredients, with wonderful bold flavors, that meld
together wonderfully for a wonderfully well balanced meal.
The alfredo sauce is rich, creamy and wonderfully thick,
something that is not always found in clean recipes, but makes me so happy. I
especially love how wonderfully it picks up the flavors of any herbs and spices
that are added. This paired with the bruschetta chicken is a real winner,
especially when you add just a little bit more of the tomato mixture. The fresh
juicy tomatoes and basil add brightness and texture to the dish which really
makes a great visual impression. I really like the combination of the cold
tomato mixture on top of the warm chicken, alfredo and melty cheese.
This meal made me feel like I was eating at a restaurant,
except that I was really in sweatpants, watching White Collar, and it only took
about 20 minutes. Do you believe that? I mean really! I started boiling the water
for the pasta, and had the chicken done long just as it started to boil, and by
the time the pasta was done so was its sauce. That's great right?
Clean Bruschetta Chicken
1 medium tomato, deseeded and diced

2-3 large basil leaves, staked rolled and sliced thin

1 small garlic clove, minced

2 tbs oil

2 tbs balsamic vinegar

1 chicken paillard

1 slice low fat mozzarella cheese

In a small bowl combine the tomato, basil and garlic,
tossing to mix, set aside. Preheat grill, grill pan, or skillet (be sure to
grease the pan with cooking spray). Combine oil and vinegar in a small bowl. Place
chicken on the grill and brush top and sides with balsamic mixture. Continue to
cook the chicken for 3-4 minutes a side, brushing with vinegar mixture continuously.
Once chicken is nearly cooked through add cheese to the top and cook for an
additional minute or 2 until the cheese melts. Remove from heat and serve with
tomato mixture on top.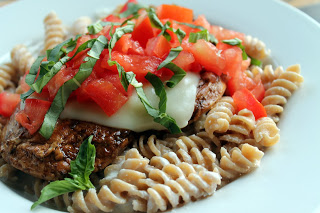 Clean Alfredo Sauce
1 tbs Extra Virgin Olive Oil

2 cloves of garlic, minced

½ cup skim or other low fat milk

¼ cup fresh grated parmesan cheese

½ cup low fat ricotta cheese

In a thick bottomed sauce pan heat oil over medium high heat
and sauté garlic for 1-2 minutes or until it begins to brown. Reduce heat to
low and add milk. Slowly add in parmesan cheese and whisk until well blended.
While whisking add in ricotta cheese. Continue to whisk until well blended and
smooth. Sreve warm over prepared pasta.
Random thought: Does anyone else feel an incredible urge to
drink wine while watching a show like White Collar? I swear it gets me every
time!