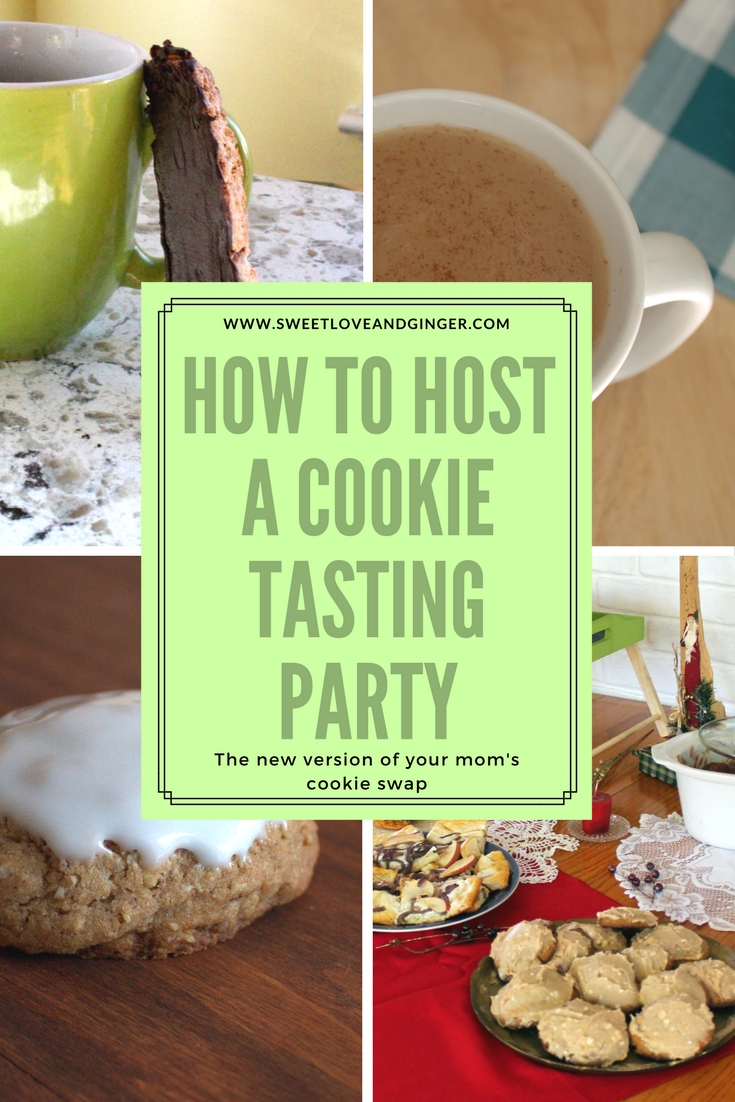 For the last 5ish years my friend Amanda and I have been hosting an annual cookie party. Now the typical premise of a cookie party is for all the guests to make something like 6 dozen cookies, of the same type. Then at the party, everyone is able to exchange cookies and leave with a variety of cookies. That is not this party.
For this party we only make about 2 dozen cookies each and then we get together to play games and eat cookies. Thus calling it a cookie tasting party (totally Amanda's idea, she's pretty smart).
Over the years we have had some pretty awesome cookies to try out, and I've learned a lot about hosting this type of party. Here's the breakdown of all of that knowledge.
Make the Guest List
This is probably one of the hardest parts because we always have so many people that we want to invite to these kinds of things. I tend to think that a group of 20 or less is ideal for this kind of party. You want enough people to have a good variety of cookies, but not so many that you run out of display space. Yes, display space. We will get into that more in a bit, but basically, you need to be able to place everyone's cookies out for tasting as well as other food and beverages. You don't want it to be overcrowded so that people can't move around or find their own cookies.
Avoiding Duplicate Cookies
For this party we usually use facebook, but an email chain or rsvp card would work. Just make sure there is a way for guests to respond with the type of cookies they are bringing. I like facebook because everyone can see each other's responses in real time and adjust accordingly. For us there is usually a competition to see who will call the lemon ricotta or chai cookies first.
Label your Cookies
This is one that seems unimportant but believe me, it's a lifesaver. You would be surprised how many times you end up giving a rundown of the types of cookies that are sitting out. It's not always obvious what a cookie is just from appearance. There could be hidden chunks in there!
A small label card next to each plate of cookies with the type and any allergens (if applicable) is all you need.
Side note: If you're making a weird cookie or some kind of pairing it's probably a good idea to include that as well. One year I made biscotti and some people didn't get it. Had I put a note that it was biscotti and usually used for dunking into warm drinks I think it would have been received better.
Balance out the Sweetness
To serve vegetables or not to serve vegetables. This is an often debated topic, but I often side with the vegetables. Cookies are pretty sweet in general so having something fresh and light to balance it out is really key.
I like to whip up some homemade ranch dressing and load up a veggie tray to serve with the cookies. A nice fruit salad would also be a great option.

Plan the Beverages
Cookies and milk go together like, well, cookies and milk.
I think it's important to have a few options available in addition to milk and water. Typically I prepare a spiked hot cocoa or cider in a large batch so guests can serve themselves. A fruity punch would be a great way to serve a beverage while also balancing out the sweetness as discussed above.
Other than the couple options above I let people bring their own beverage. Often beer or wine is what happens to show up.
Set it up
The set up is key. You're going to have a lot of different cookies to put out. I like to use different heights and tiered trays (I have and love this tiered tray) to make it not only look more interesting but also more organized. Using different heights allows for some overlap of serving trays without looking too cluttered.
It's also a good idea to think of some simple logistics. For example, sometimes you end up with a really massive cookie that requires a knife to cut it up for serving (like with Chucks Man Cookies). Put those cookies on a flat plate or cutting board.
Dealing with Leftovers
The dreaded leftovers. If your friends are anything like mine they try their hardest to avoid taking cookies home in an attempt to save their own waistlines. The best way to stop yourself from ending up with too many cookies leftover? Have a few to go containers available so those who want to can box up their own. Towards the end of the night, I like to fill these containers up and hand them to people as they are walking out the door. They have a harder time saying no then. This might be a hostess fopa, but I totally do it anyway.
And there you have it, all my knowledge about hosting a cookie tasting party all in one place. Have any further questions? Just ask in the comments below. Also, tell us your favorite unique cookie. I'm totally looking for a new awesome recipe to try this year.
Similar Posts: