Dinner parties don't have to require a perfectly set table, with centerpieces and linens, and all that jazz. Don't get me wrong, I love that kind of dinner party now and then, but sometimes (ok, most of the time) I like something a little more casual.
I love it when I can ring my friend's last minute and say hey are you free? Want to come over for dinner? And I can through together a fun meal in an hour or less. Then I can spend my time enjoying their company instead of worrying about the meal.
Over the years I've developed quite a few dinner party menus that work really well for this type of last minute get together. These are a list of mine and my friend's top favorites.
Tacos w/ all the fixings – Everybody loves tacos! And you don't really have to worry about dietary restrictions if you let everyone make their own. I usually make up some ground taco meat, then serve black beans, refried beans, an array of chopped veggies, cheese, salsa (from a jar in the winter), taco sauce, wraps and hard shells. Including a trip to the store to get everything and the cooking, this comes together in well under an hour for me.
Appetizer Party – Another favorite. People love small bites that they can just munch on while they talk and hang out. If you don't have time to cook everything the grocery store has a lot of options. I usually pull out a jar of our homemade salsa for chips, veggie, make some cocktail meatballs, or a sticky chicken bite (like this recipe but with chicken), and some veggies and dip, and a pasta salad and we are usually covered.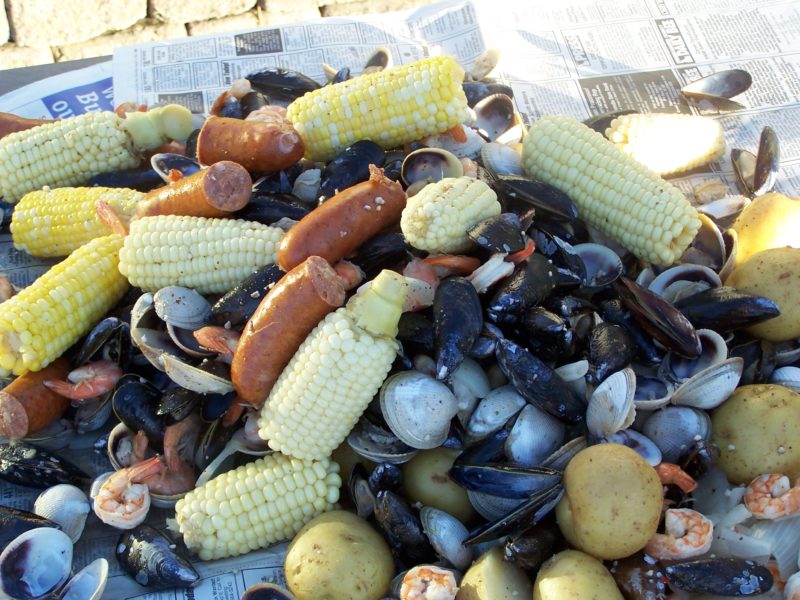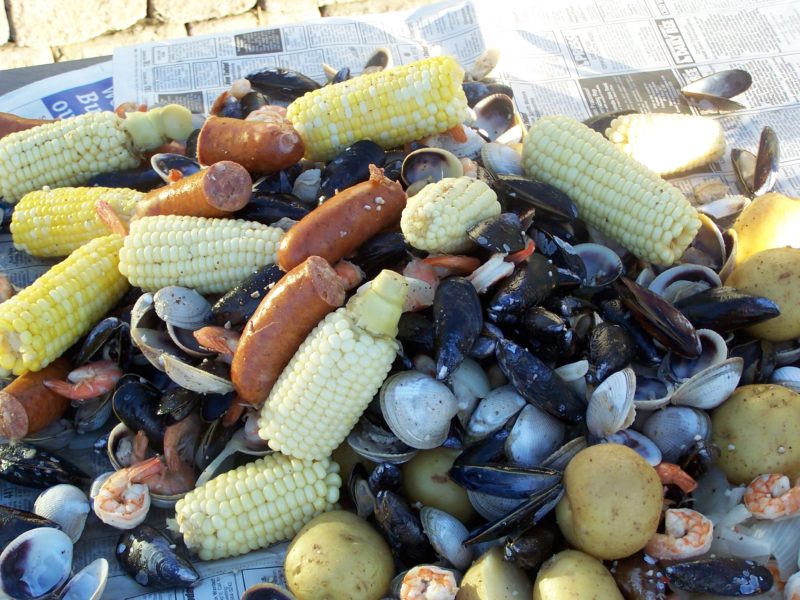 Seafood Boil – this one has easy in the bag. Basically, you dump all the ingredients into a vat of water (or beer) and spices and cook it for a while. Sometimes it needs to cook for more than an hour, but honestly, it's so easy that I don't even notice. To serve we lay down some table cloths and scoop out the good stuff right onto the table, as it should be.
Chili cook-off – Really, any themed cook-off night works give people a couple hours' notice and just about everyone can make or order something to bring and there you go, you have a party.
Take out party – This is probably the absolute easiest party to put together. I got the idea from Gilmore Girls (they had a lot of awesome party ideas, here's a list). Basically, you just order a bunch of take-out from a bunch of local places and then ask everyone to rate the best stuff. It's a great way to fish out what your future go to's will be, though beware it can get expensive.
Tapas Party – This is similar to an appetizer party, but with a Spanish flair. I usually serve marinated olives, fresh bread, chorizo, a quick sautéed shrimp or clams, stuffed peccadillos (usually just with cheese), and a Spanish style baked bean. It takes a little more wor but is totally worth is.
Nacho Night – This is similar to taco night, and works great if you have some leftover pulled pork, chicken or chili hanging around. Let everyone top their nachos as they like and then pop them in the oven to melt the cheese.
Crostini Bar Party – This is again a great serve yourself menu. All you need is an array of meats, cheeses and chopped vegetables, with some different types of sliced, toasted bread.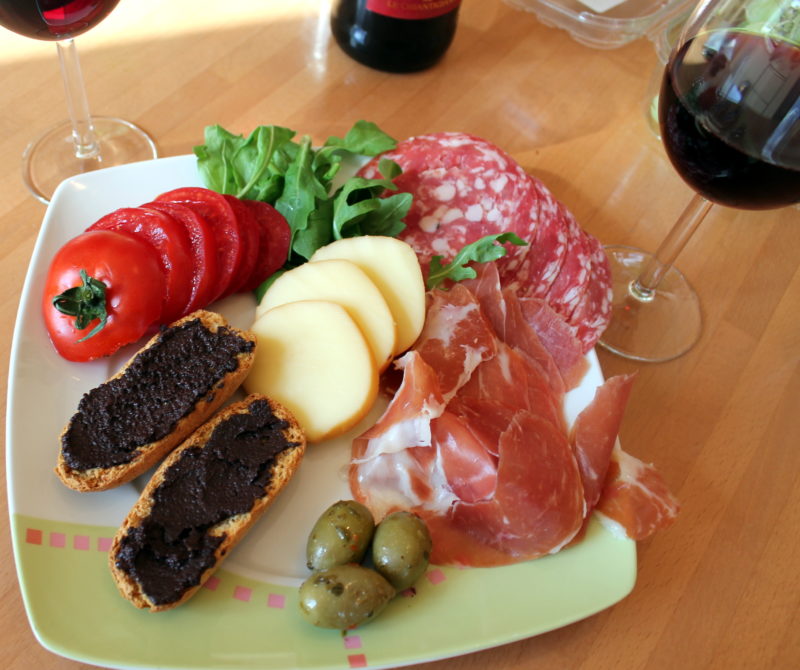 Wine & Cheese Party – the classic standby, a really good cheese plate and a bunch of different wines for people to try out and boom, you're done.
Pizza Night – When in doubt, make pizza. You can never go wrong with homemade pizza.
Similar Posts: