I knew I wanted handmade stationary from the very beginning, though I wasn't sure on the specifics. Since we were trying to keep costs down I knew I would have to make them myself, but I was certainly up for the challenge.
I was able to paint the designs that I wanted in the first few tries. The editing took the longest, I'm still trying to figure out both my camera and photoshop so there is definitely room for improvement, but I'm still pretty pleased with the result.
I never knew there were so many rules to creating invitations, but apparently there are, and I'm pretty sure I broke every single one. Honestly I don't think any of our guests know the correct invitation etiquette anyway so they probably didn't even notice.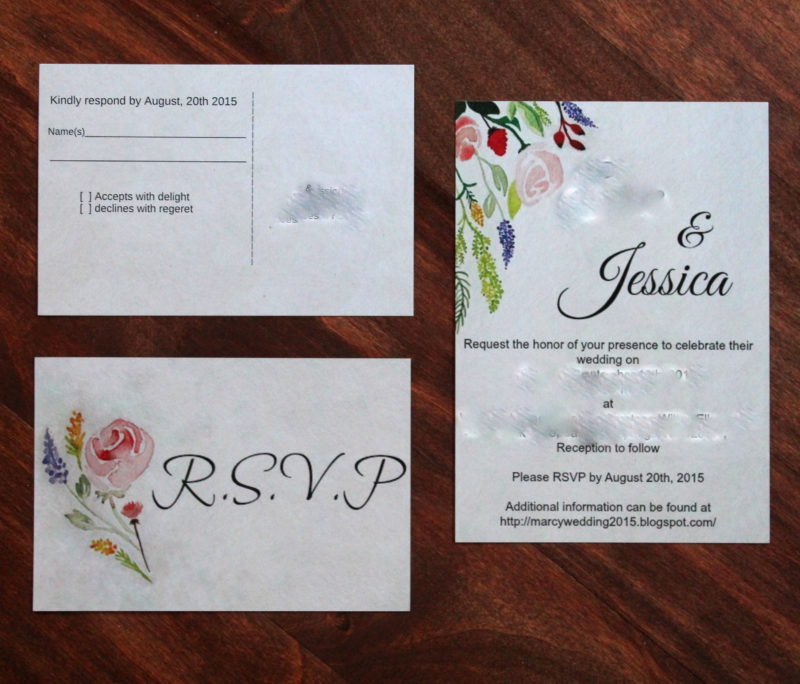 Anyway this is how it all turned out, with all pertinent info blurred of course. This might be the time to admit that Chuck is not my fiancé's real name. It has been his nickname since high school though, and even his mother calls him that occasionally. Moving on. . .
I hand painted the flowers on watercolor paper, took pictures of them and then edited them with Photoshop. Editing was the worst; probably because I'm not well versed in photoshop. It took me far too long, and about a thousand youtube videos to get done. Thankfully I've learned a lot with this project so hopefully the next foray with photoshop won't be so bad. I'm thinking my next Craftsy course is going to have to be this one.
The next step was getting them printed. I went looked at a couple different options but when I found out that overnight prints sends out a free sampler with a ton of different options I was pretty much sold. I really liked getting to feel the texture and weight of the product in my hand while I was deciding what I wanted. All I had to do was upload the file I had created and lay it out in their design system. I could even make a few editing tweeks and add text there and I was done. Seriously, it was as simple as pie. I was really impressed with their services and please to see my entire order arrive neat and tidy.
In the end I'm so glad I decided to hand make these. I think it really adds a personal touch to the wedding, and while they aren't perfect I'm really happy with how they turned out. Now we just have to deal with getting them out the door!!
Let's be honest that's Chuck's job, I made them after all, and now I have thank yous to write for the shower.