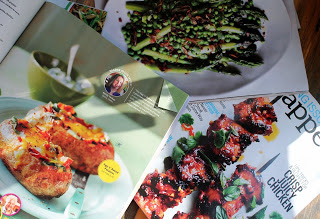 I love our new outdoor table that we got from Grammy Chuck.
Not only can we eat outside, but now we can actually fit more than 2 plates on
the table! Plus it has an umbrella for super sunny days.
Today's meal was inspired by images, and the garden. I had
so many radishes that needed to be eaten this day.
Sometimes I see images of food and get really excited thinking
OMG I NEED TO MAKE THAT RIGHT NOW! Then I look at the recipe and all my
ambition falls flat because it looks gross, or I have nowhere near those
ingredients in my cupboards. That's when I begin to improvise.
Luckily this is one thing I have always had a knack for.
This meal was sparked by the images above, but I totally
didn't follow the recipes and made it up as I went.
Red Pepper Sriracha Chicken Kabobs

1 roasted red pepper

1 tbs sriracha sauce

1 tbs rice wine vinegar

1 tbs olive oil

2 cloves of garlic

1 lb boneless skinless chicken breast, cut into 1-2 inch
pieces

Place all ingredients, except chicken pieces in a blender
and blend until smooth. Place the chicken in a small bowl, pour the red pepper
mixture over the top and toss to coat. Pierce the chicken with skewers and
place on a preheated grill for 3-5 minutes per side, or until chicken is cooked
through. Serve warm.
Radish, Feta and Snap Pea Salad
1 bunch radishes, trimmed

1 lb snap peas

½ cup crumbled feta cheese

1-2 tbs white wine vinegar

1 tbs olive oil

1 tsp Pepper

Combine radishes, peas and feta in a bowl. Drizzle vinegar
and olive oil over the top, add pepper and toss to coat. Serves 4.
The Sriracha skewers were actually reminiscent of barbeque
sauce but slightly sweeter, for those who aren't a huge fan of spicy food, like
me they are great dipped in ranch dressing. The heat from the skewers was also
a great match for the Radish, Feta and Snap Pea Salad; it was so light and
fresh, with a delicious crunch that I just couldn't stop eating it all.