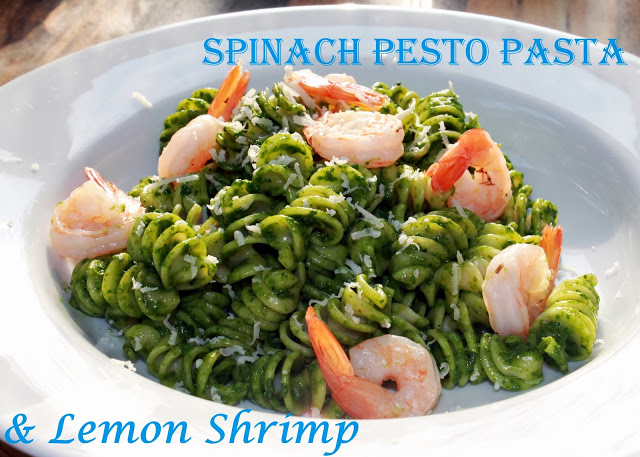 This dish is one that I actually made quite a while ago, for
a friend and just never got the chance to share. What I like best about it is
that it is simple and super quick but it gives an air of refinement and purpose
that hides my true intentions; for it to be quick and easy.
I don't know about you but at the end of nearly every week I
am trying to use up the last bit of spinach in our house before it goes bad. I haven't
been successful in growing it yet (darn rabbits!) but I still buy it every
week. For the main reason that leafy greens are important in your diet and this
way we are sure to eat them. This recipe is one of the best for using up
spinach, plus it makes whatever you are cooking so green and pretty. I have
used it as a puree under a steak, or chicken before but in this particular case
I just tossed some pasta in it and added some
Lemon Thyme Shrimp from mygrilled Tapas recipe
, and viola! A full beautiful and seeming complicated meal
that actually takes less than 20 minutes, or the amount of time it takes to
make pasta.
Spinach Pesto
1 package baby spinach

1 clove of garlic

1 tbsp pecorino romano cheese, grated

1 tbsp Extra Virgin olive oil

1 tbsp sliced almonds


Place all ingredients in a food processor and blend for 20
or 30 seconds until smooth and creamy. You may need to add more oil, but be
sure to do it in teaspoon increments. Add some additional cheese for garnish, and serve. (Serves 4)