This is not the time of year to be posting burger recipes, I know. However, I really wanted to get one last burger in before the weather turned and it was all soups and sauces for the next few months. And let me tell you those, these lamb burgers are Ah-mazing. They were the perfect last burger of the season.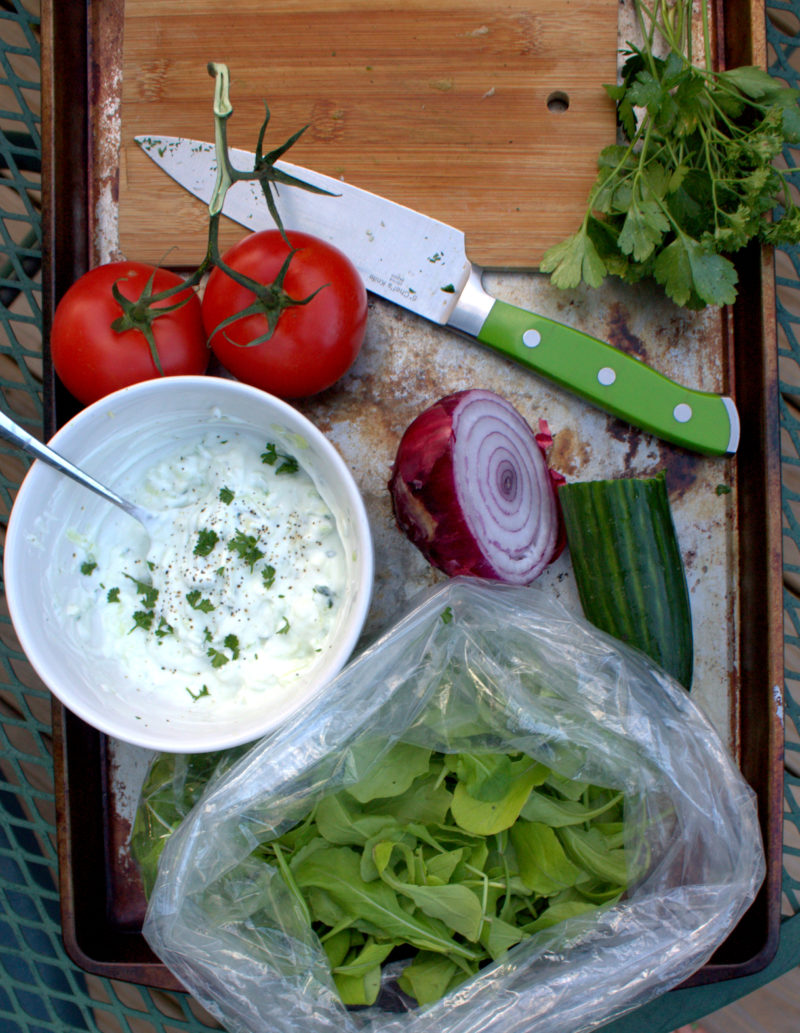 The burgers themselves are full of flavor from the Mediterranean herbs and spices, but the homemade tzatziki really hits the spot. I of course used homegrown cucumbers, so I might be biased. I did, unfortunately, have to purchase arugula from the farmers market. Believe me you want arugula on this burger. I haven't had good luck with my greens the last few years.
I can't ever seem to get them to grow well. Some years it's the bunnies that tear through the garden, other years they bolt immediately, and then others they just never seem to come up. Sure I can grow a little masculine mix, but that's about it, and how disappointing when the world of delicious greens is so vast! I'm going to keep working on it, but any advice any of you seasoned growers out there have would be greatly appreciated.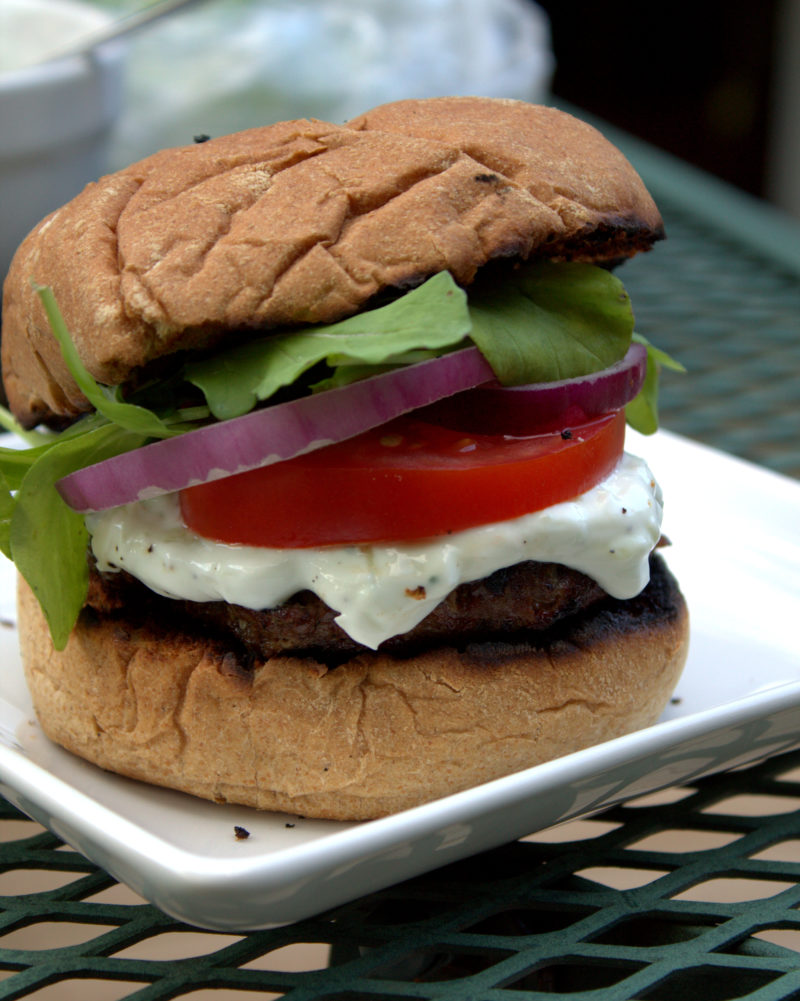 Back to burgers.
Chuck went to a restaurant with his workmates and had a similar burger there. He proceeded to come home and tell me all about it. Yes, these are the kinds of romantic conversations we have at home. What can I say? We both have a passion for food. Of course I immediately set to work attempting to surpass his expectations. It took a few iterations to really get this recipe down pat, but we didn't mind the taste testing process in the slightest.
The result of a summer long quest for the perfect lamb burger is this simple recipe. The key is starting with some high quality lamb meat. But really, if your cooking lamb in the first place why would even bother with anything other than high quality? The next key is having really fresh herbs. Seriously, the fresher, the stronger the flavor, and the better the burgers.
Enjoy!

Lamb Burgers with Tzatziki
Ingredients
1½ pounds ground lamb
1 small red onion, diced
1 teaspoon salt
Pinch crushed red pepper flakes
2 cloves garlic, finely smashed
2 teaspoons finely chopped fresh oregano
1 tablespoon finely chopped fresh dill
2 tablespoons finely chopped fresh mint
Zest of ½ lemon
Juice form ½ lemon
4 hamburger buns
Instructions
Preheat the grill.
In a large bowl, combine the lamb, onion, salt, crushed red pepper, garlic, oregano, dill, mint, lemon zest and juice. Using your hands mix well and form 4 roughly equal patties.
Grill the burgers to your desired doneness (6 minutes on the first side and 1-2 minutes on the second for side for medium-rare). Remove the burgers from the grill and let stand for 4 minutes before serving on buns with desired garnish.
Tzatziki 
1 cup plain Greek yogurt
½ tablespoon white wine vinegar
1 clove garlic, finely chopped
2 teaspoons finely chopped fresh mint
1 tablespoon finely chopped fresh dill
1/2 English cucumber, grated and well drained
Salt to taste
Combine the yogurt, vinegar, garlic, mint, dill, and cucumber in a small bowl. Season with salt and let stand for 30 minutes to 1 hour. Adjust seasonings and serve.
Similar Recipes: