Ask and you shall receive they say. Well, I did ask and you will receive.
A few weeks ago I posted a photo of my veggie fried rice recipe and asked you guys if you were interested in an actual recipe for my leftover veggie fried rice. You said yes please, so I made it.
If we are being honest we probably eat fried rice about every other week in our house. It's just such an easy and delicious way to use up all those leftover veggies before they go bad. Sometimes I'll even make it with leftover barley or spelt, because that's what we have instead of leftover rice. It all comes our just as delicious. You can use any of these in this recipe without trouble.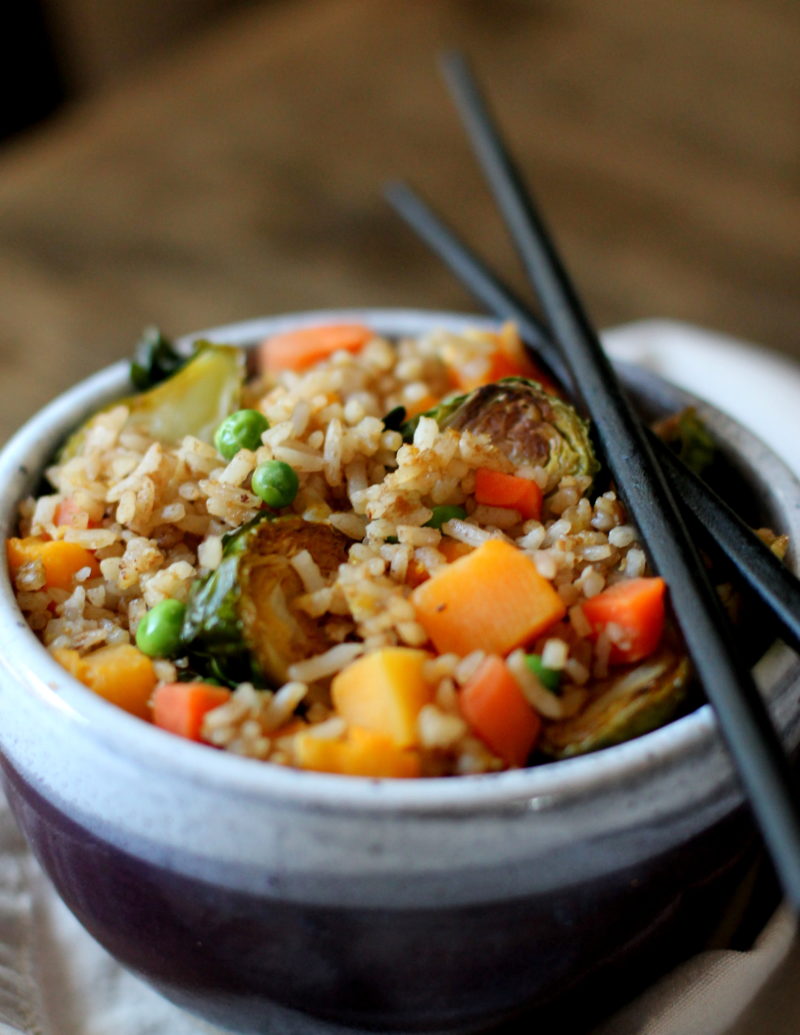 Other way's we like to use up leftover veggies is to toss them over a salad, on pizza or stuff them into a sandwich. If you haven't tried adding roasted veggies to your sandwich game you are missing out! It's seriously as easy as layering them on a sandwich, slathering on a dressing or a flavored hummus (try red pepper hummus) and adding some melty cheese. The final result resembles a bistro style sandwich that you would easily pay $10 for at some swanky hipster joint. Now I'm thinking that I should do a post on just this idea.
I digress, the cool thing about using leftover veggies in your fried rice is that there are always different veggies so the flavor of the dish is ever-changing. You can also always add different spices to compliment the kinds of veggies that you are using. No one said you had to stick with Asian flavors. I've used everything from chana masala spices to Tuscan style flavors.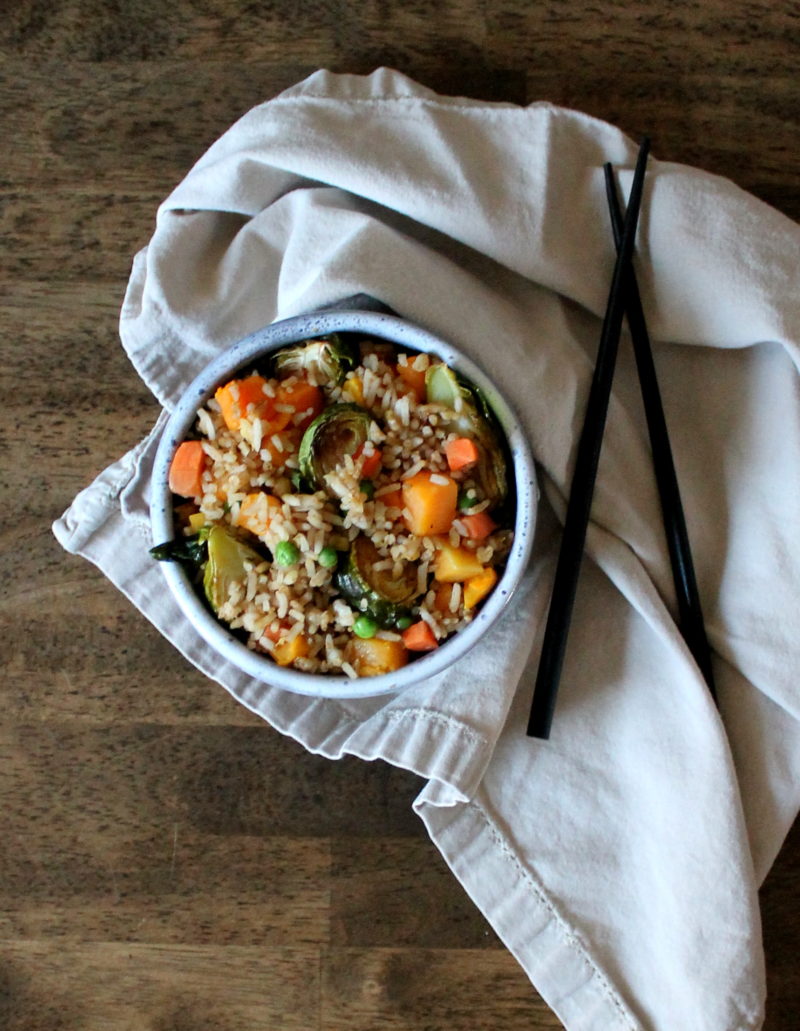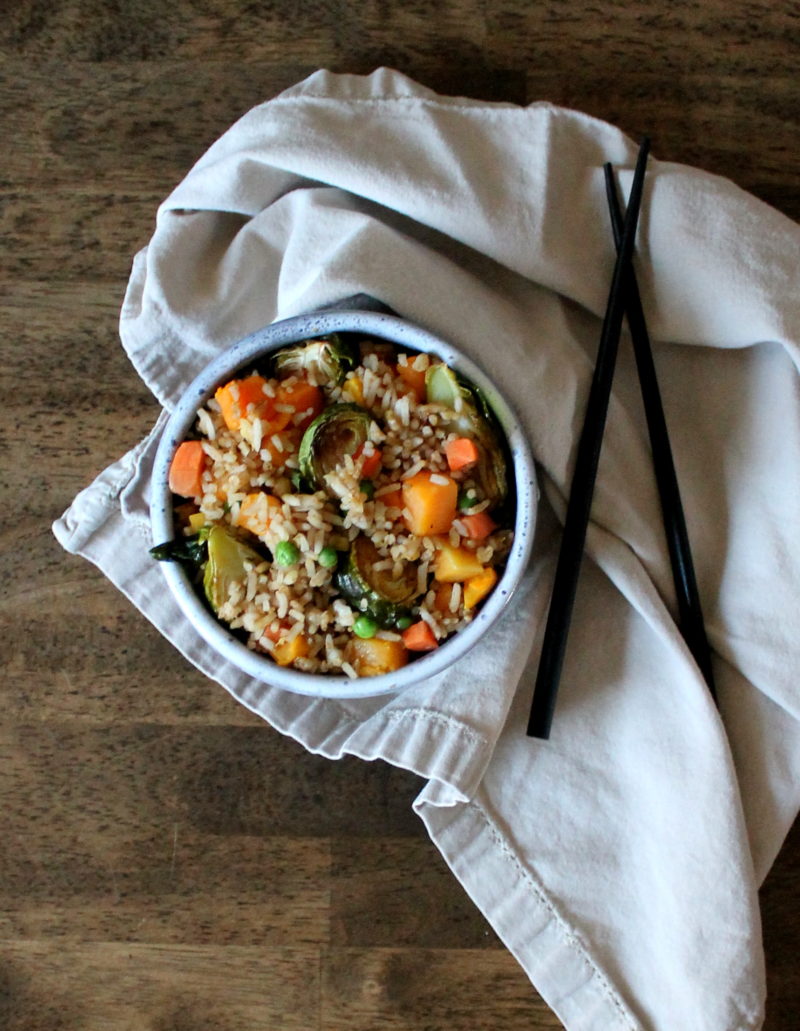 The only major difference is when I move away from Asian spices I tend to omit the soy sauce, but that it totally up to you, which is why I added it to the instructions as optional. I'll try to update this post when summer comes with a summer set of leftover veggies for comparison.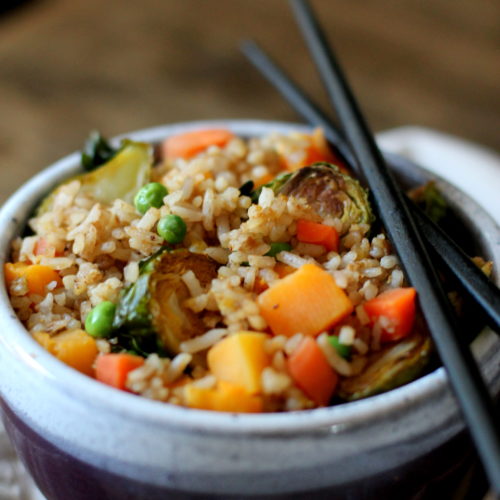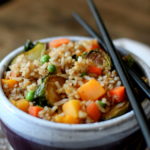 Leftover Veggie Fried Rice
Prep Time 10 minutes
Cook Time 20 minutes
Total Time 30 minutes
Ingredients
3 tablespoons neutral oil like canola or grapeseed
1 tablespoon minced garlic or to taste
1 tablespoon minced ginger
4 cups cooked white rice cooled
2 eggs
1 cup frozen peas and carrots
3 to 4 cups chopped precooked vegetables
2 tablespoons soy sauce optional
1 to 2 tablespoon additional spices optional
1 tablespoon sesame oil
Salt and freshly ground black pepper to taste
½ cup minced scallions for garnish (Optional)
Instructions
Put 1 tablespoon of the oil in a wok or a large skillet, and turn heat to high. When it begins to shimmer, add garlic and ginger. Cook until fragrant, about 30 seconds to 1 minute.

Add the rice, breaking up clumps with a spoon as you go along and tossing it with oil. When the rice is well coated, and just beginning to toast make a well in the center and break the eggs into it. Scramble these, then stir into the rice. Cook and stir for another 1 to 2 minutes until well incorporated.

Add the peas and carrots and precooked vegetables. Sauté for 1 to 2 minutes or until the vegetables are heated through.

Add soy sauce and cook stirring, for approximately 1 minute. Then taste and add salt and pepper if necessary.

Toss well garnish as desired and serve.
Similar Recipes: