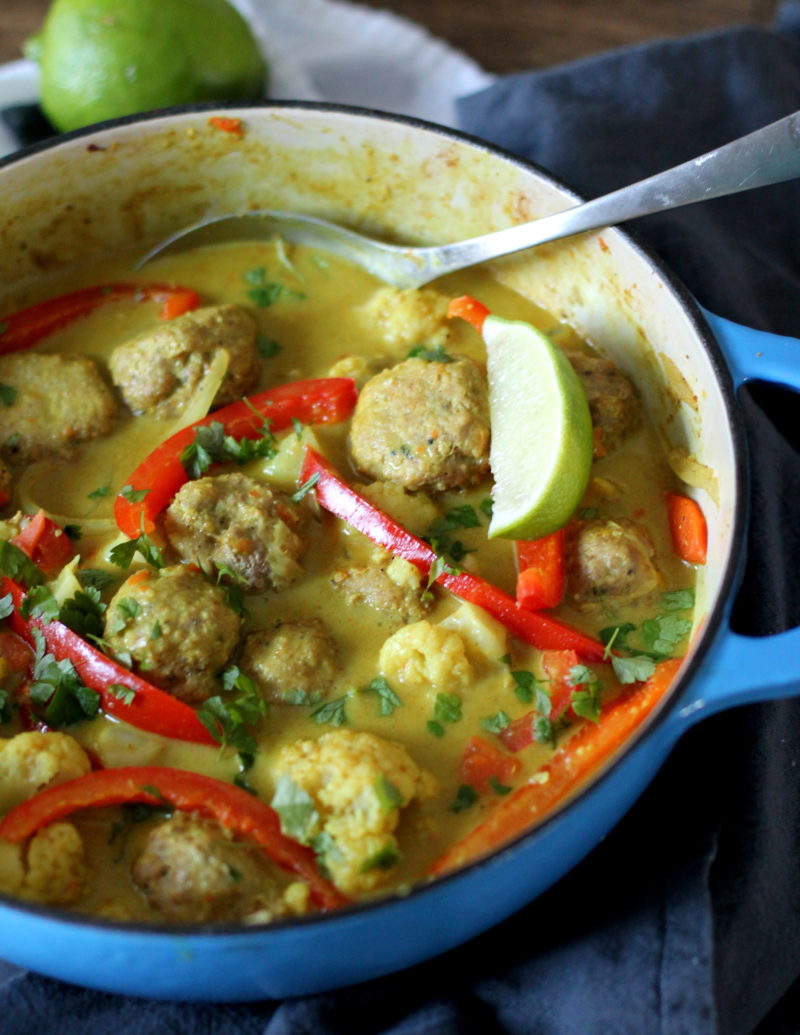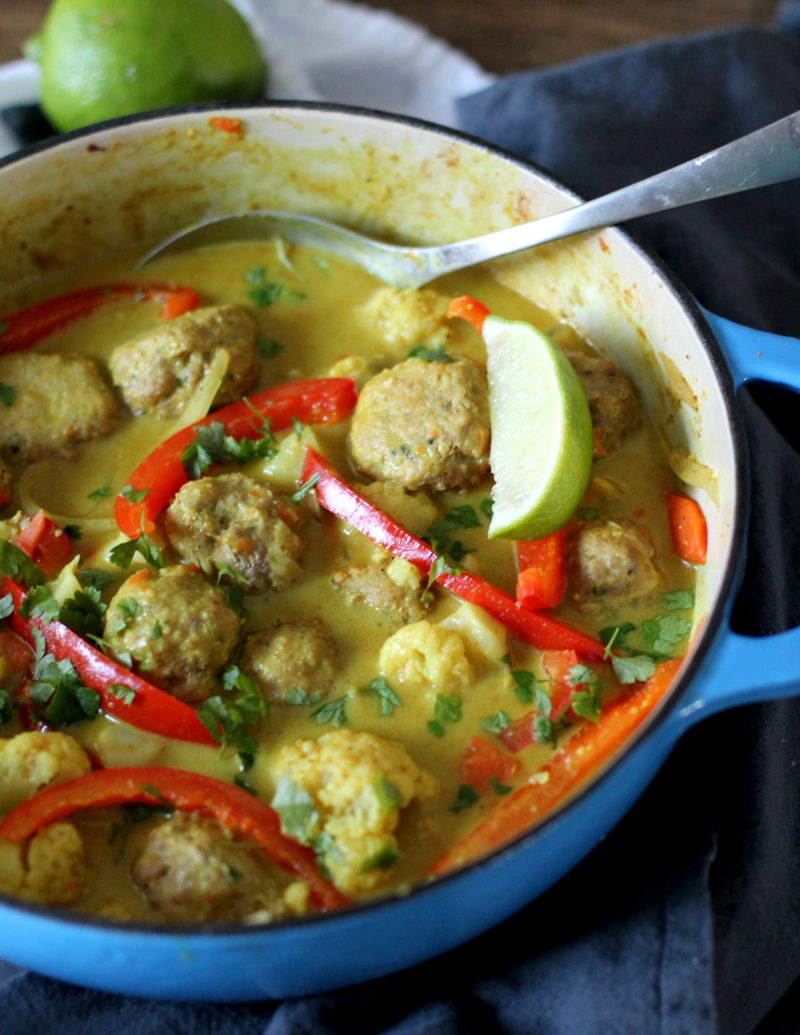 In our house, we love a good curry. Really, we love any and all Indian food, even a lemon pickle (if you know, you know). Admittedly I don't share them on here enough, but truth be told I'm pretty awful when it comes to cooking Indian style foods. I just can't get the spice combinations right, so I use pre-made.
You were all gasping as you read that right? So, out of character I know, but companies like Teeny Tiny Spice Co, make it easy for me, and I love them for that. I've been using spices form Teeny Tiny Spice Co. for a looonng time. In fact, one of my first posts included their tandoori spice (check it out here). I actually discovered them during a random shopping trip with my MIL (before she was my MIL) in VT (back when they were based there) and have been using them since.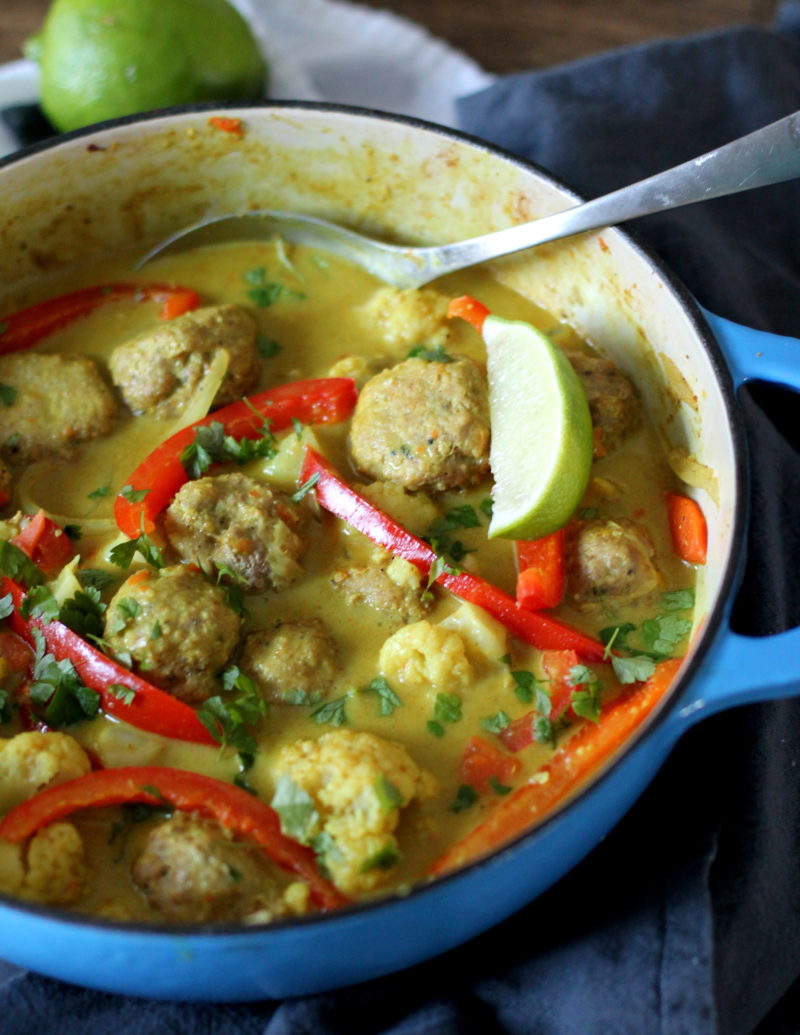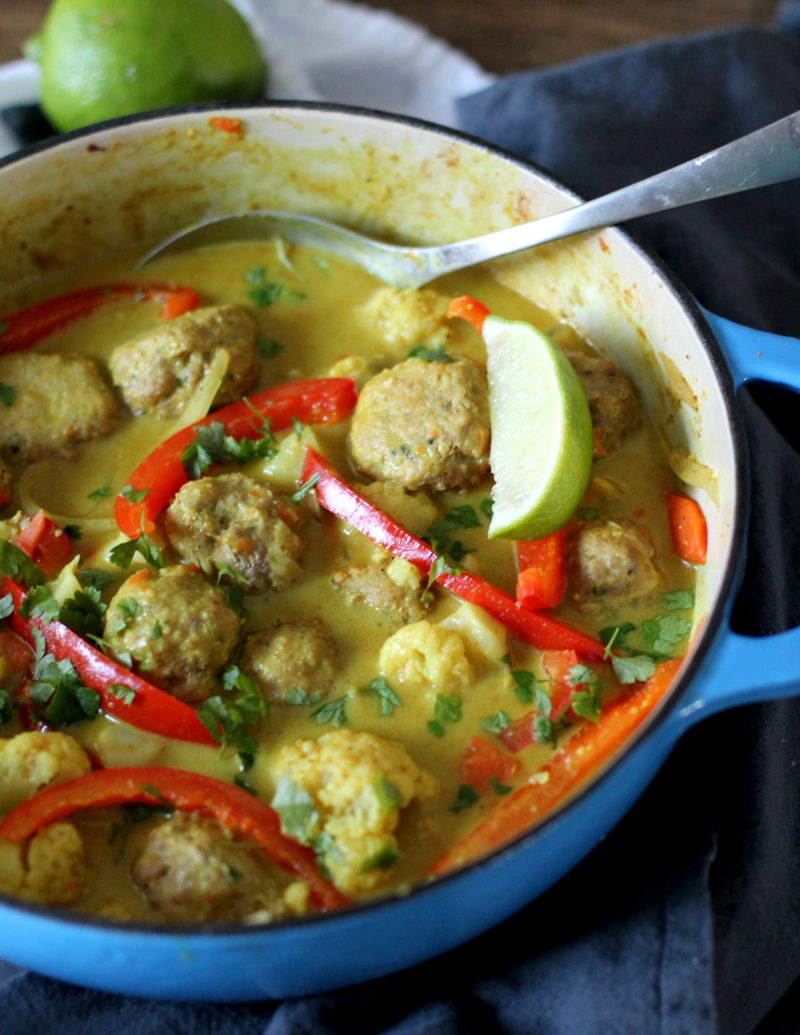 The main thing that I love about their spice mixes is that there isn't any fluff. It's straight spice, no extra salt or sneaky stevia mixed in. It's just straight spices that you can use how you like and then add in any sweetness or salt or whatever. Also, they are all organic.
This Massaman Curry spice mix is a new addition to my Teeny Tiny Spice Co. cabinet and one that I believe will be a staple going forward. The whole family loved this curry sauce. To make it all I did was saute some vegetables with a few tablespoons of the spice and then add some coconut milk. It was seriously that easy. The meatballs were, of course, a little more involved but to serve. However, once cooked, I just tossed them into the curry as well. It all came together so easily and quickly.
Chuck raved about it, Monster loved it, and the leftovers were even better the next day. This is one curry we will be re-making again and again as it's clearly a family favorite.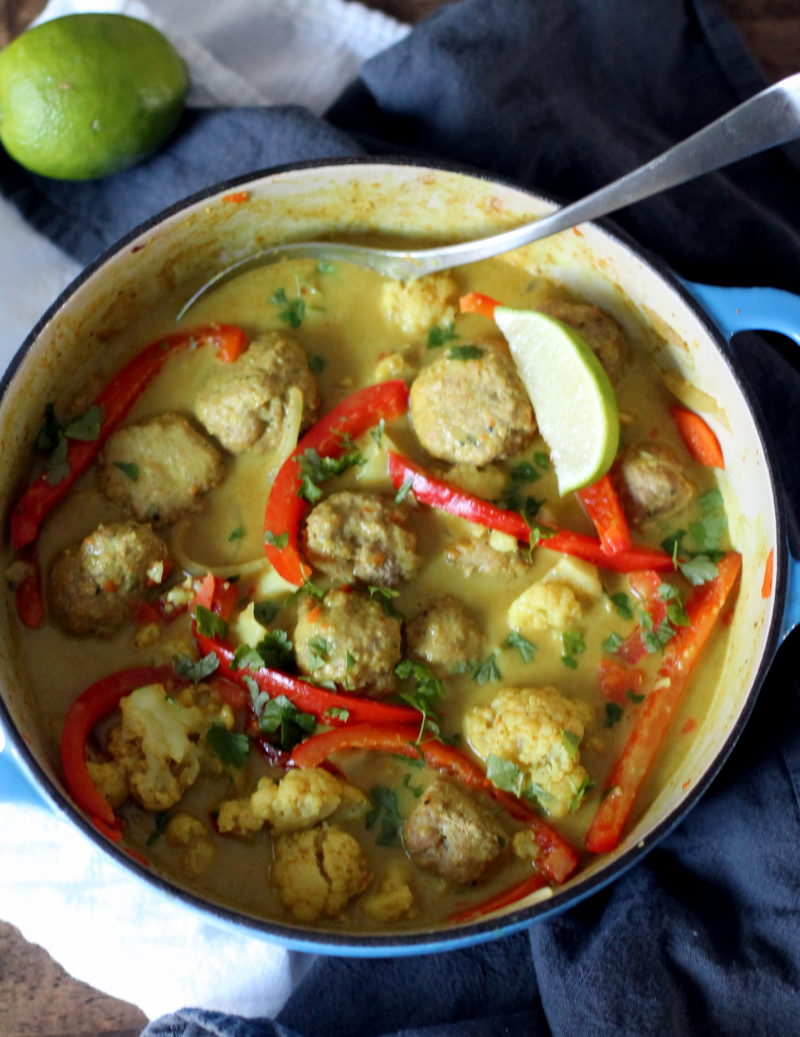 Massaman Curry Meatball Skillet
Prep Time 10 minutes
Cook Time 40 minutes
Total Time 50 minutes
Ingredients
Meatballs
1 lb ground chicken
1 cup bread crumbs
1 egg
1 teaspoon curry
2 teaspoons dried basil
1/2 teaspoon garlic powder
1/2 teaspoon ground ginger
1/4 teaspoon salt
Curry Sauce
1 tablespoon coconut oil
1 large onion peeled, halved and sliced
1 large red bell pepper sliced
1 head cauliflower cut into florets
2 tablespoons Massaman Curry Spices
1 can coconut milk
Instructions
Preheat the oven to 375 degrees.

in a large bowl combine the ground chicken, breadcrumbs, egg, curry, basil, garlic, ginger, and salt. Use your hand to combine and then form balls of about 1.5 to 2 inches in diameter. Place them about 1 inch apart on a large baking sheet and place in the oven. Bake for 20 minutes. Then remove from heat and set aside.

Meanwhile, make the curry. Heat the coconut oil in a large skillet over medium high heat.

Add the onion, red pepper, and cauliflower and cook for 5-7 minutes or until the vegetables have softened.

Add the Masssaman Curry seasoning and toss well to coat.

Stir inthe coconut milk and reduce heat to medium.

Add the meatballs and cook for 10 to 15 minutes, or until the sauce has thickened.

Serve over rice, garnished with cilantro and lime.
Similar Recipes: