Having the motivation to come home and cook dinner every night is not always easy. More often than not I really just don't feel like it. Thankfully meal planning really helps me stay motivated, since I hate to see things go to waste and I don't have to make a last minute decision on what to make for dinner. But even when I have my week planned to a T there are times where I just don't have the motivation. Work is draining, especially when you spend an entire day or 3 just crunching numbers in spreadsheets.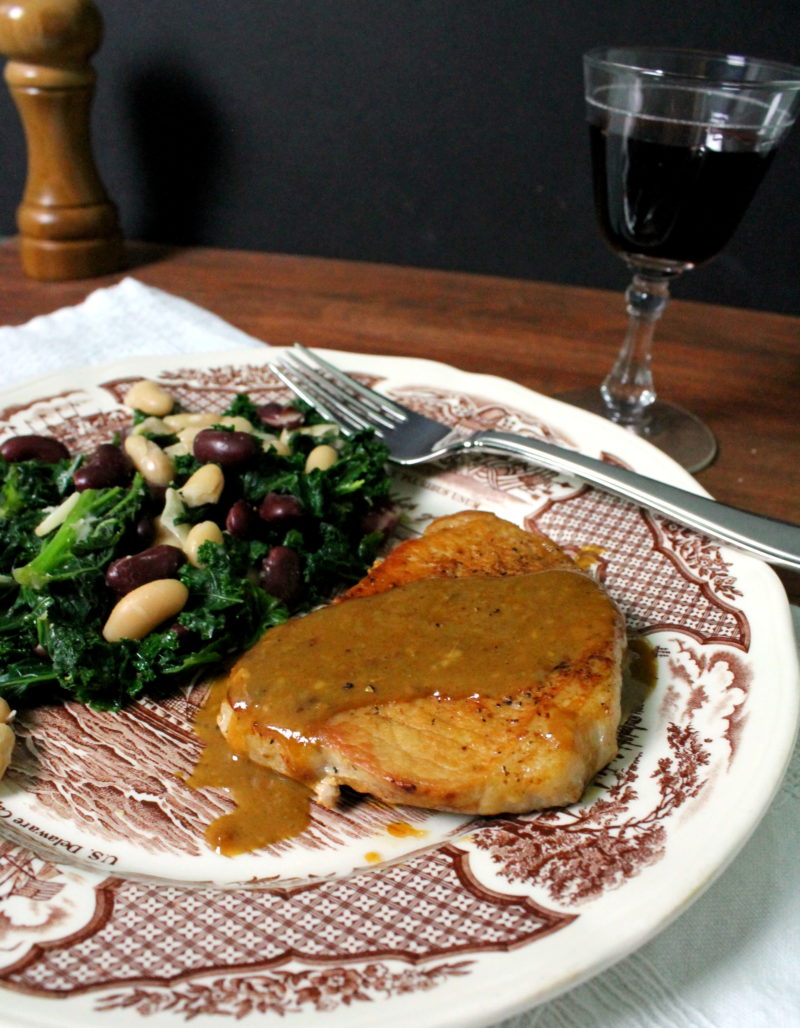 These are the days that I fall back to the simple recipes, the ones that take minutes to slap together, and while they don't feel very exciting they get the job done. On one particular occasion last week I totally threw out my initial dinner plan and just went with a simple 2 part meal and less than 10 ingredients total. It turned out to be a big hit with both Chuck and Lady A (did I mention one of my best friend sis living with us for a while? It's been a lot of fun having her around). I was totally surprised by this because I never expected beans and greens to really be something that was requested, like ever.
Sometimes the simplest recipes are the ones most well received.
While I know I've said this before it continues to surprise me that these simple, rustic, homey recipes are the ones that people really actually want to eat. These are the things that people are craving. Sure complicated and fancy can be fun, but the grass roots simple stuff is what reminds us of home.
So I guess what I'm saying is to not forget those simple recipes that your parents or grandparents made you, sometimes those are the best.
Easy Mustard Pork Chops
Ingredients
4 boneless pork chops
Salt & Pepper
3 tablespoons olive oil, plus more for drizzling
1 tablespoon whole grain Dijon mustard
2 tablespoons white wine vinegar
2 teaspoons honey
1 tablespoon water or broth
Instructions
Pound pork chops between 2 layers of platic wrap to ½" – ¾" thickness. Season liberally with salt and pepper.
Heat oil in a large skillet over medium high heat. Add the pork chops to the pan and cook for until browned, about 3 to 4 minutes before flipping. Cook for another 3 to 4 minutes on the other side until browned and cooked through. Transfer to a plate and set aside.
In the same pan reduce the heat to medium low. Add the mustard, vinegar, water and broth to the skillet. Bring to a simmer and cook, stirring constantly while scraping the browned bits from the bottom of the pan. The sauce should be well blended and thickened. Remove the pan from heat.
Serve pork chops with sauce drizzled on top.
Greens & Beans
About 10 cups packed greens (such as spinach, mustard greens, kale, or broccoli rabe; about 1 pound), thick stems removed, cut into 1-inch strips
4 tablespoons extra-virgin olive oil
3 garlic cloves, chopped
1/4 teaspoon crushed red pepper
1 15-ounce can cannellini beans, rinsed, drained
1 15-ounce can red kidney beans, rinsed, drained
Salt & pepper to taste
Bring a large pot of water to a boil. Add greens to the pot and cook for 1 to 2 minutes, until wilted slightly (sturdier greens will need 2 to 3 minutes). Remove from heat and drain, reserving about ½ cup of the cooking liquid.
Heat oil in large skillet over medium heat. Add garlic and crushed pepper and saute for 1 minutes, until the garlic begins to turn golden. Add the greens, tossing with tongs to coat with oil.
Add the reserved cooking liquid and beans. Simmer, stirring reqularly until beans are heated through and liquid is almost absorbed, about 2 minutes.
Season with salt and pepper to taste, and serve.