I think that it's good to start off this tour with Dublin, since we actually started there. Not being a city girl I wasn't in LOVE, but as far as cities go this is probably one of my favorite. It has a very old world feel, but with so much innovation at the same time. One of the major things that I noticed was the lack of skyscrapers. There are none, unless of course you count the Guinness gravity bar, which is completely glass and gives an amazing view of the entire city below. And since I'm already discussing Guinness I may as well start with Guinness Beef Stew, which is like any other stew, rich delicious, and reminiscent of home. I made this dish last Monday, however it did not turn out the same. It wasn't as thick as the one that I had in Ireland, but it overall wasn't bad. One of the major differences is because the weather was so nice I ended up putting the whole thing in the crockpot, instead of actually following the directions completely. I think my next foray into this dish I will definitely follow the directions precisely.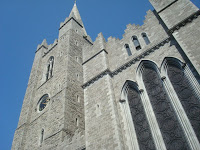 St. Patricks Cathedral
One thing I did not expect to see here were so many different nationalities, and food styles, I know it was probably a little naive but I totally expected the whole country to be pasty white, with wisps of red, and the same style of food. There were just as many pizza, Chinese, and kabob places as any other big city, as well as your typical American fast food joints, which we found out later in our trip, and not surprisingly, actually serve different sides in other countries.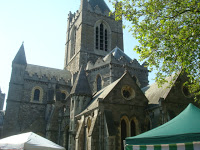 Christ's Church

On this first day I was surprised with how much we actually accomplished after running on little to no sleep. We visited the Christ church, St. Patrick's Cathedral, and green, Temple Bar, Guinness Brewery, and O'Connell Street. We did a hop on hop off bus tour, paying 21€ for two days of hopping. I liked the tour because not only were the drivers knowledgeable and comical but you got to see nearly every sight in the city on the route, with the added bonus of being able to get off then pick up where you left off, or if your feet were tired from walking you could just enjoy the ride from the open air second story. In actuality we probably didn't even need the bus because it didn't take us long to walk across the entire city, in fact we did it several times, but as I said it was nice to have the option.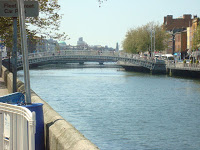 Ha' Penny Bridge