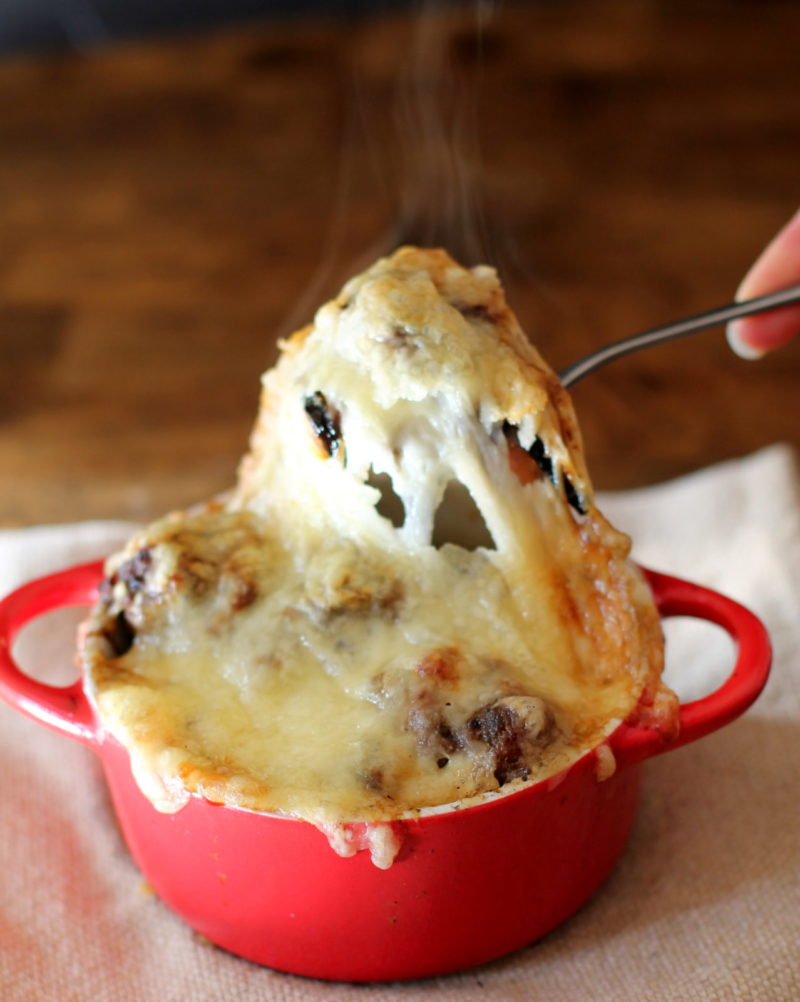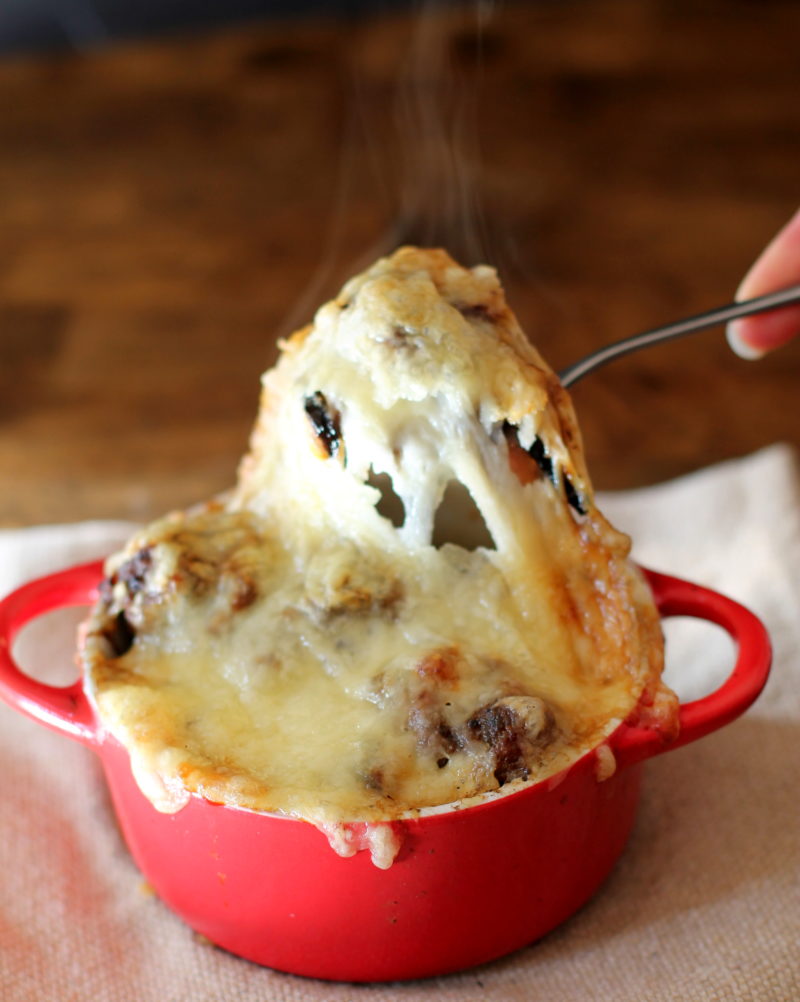 Who doesn't love a big crock of French Onion Soup?
I don't know about you, but it is one of my favorites!
If you couldn't tell by previous variations of this recipe that have appeared on these pages. You know like, French Onion Gnocchi, French Onion Pasta, Apple French Onion Soup, or French Onion Burgers. French Onion Meatballs were bound to come up at some point and this variation might just be my favorite.
The base of the dish is slowly caramelized onions, steeped in a hearty homemade beef broth. Personally, I like to cook the onions a bit longer than most. Traditionally, french onion soup onions are cooked to a point between translucent and brown. I prefer a nice deep golden color. The onion and beef broth blend is then tossed with Swedish style meatballs, and topped with a blend of shredded gruyere and swiss cheeses. The whole thing is then popped into the oven until hot, bubbly, and melty.
When picking the gruyere cheese I opt for something creamy as opposed to hard. It makes a difference in the melty-ness, which is quite a priority in this dish. The harder stuff just won't give you a good cheese pull. I love this one.
I love the way the Swedish meatballs lend a vibrant pop of flavor to the dish. Additionally, love that they replace the bread in the dish making it a great low-carb option. Seriously, these meatballs make the dish. They are one of my favorites!!
My boys love this one. They drink up the broth and then attack the meatballs like they are going to disappear at any moment. It's nice to have a meal we don't have to fight them over.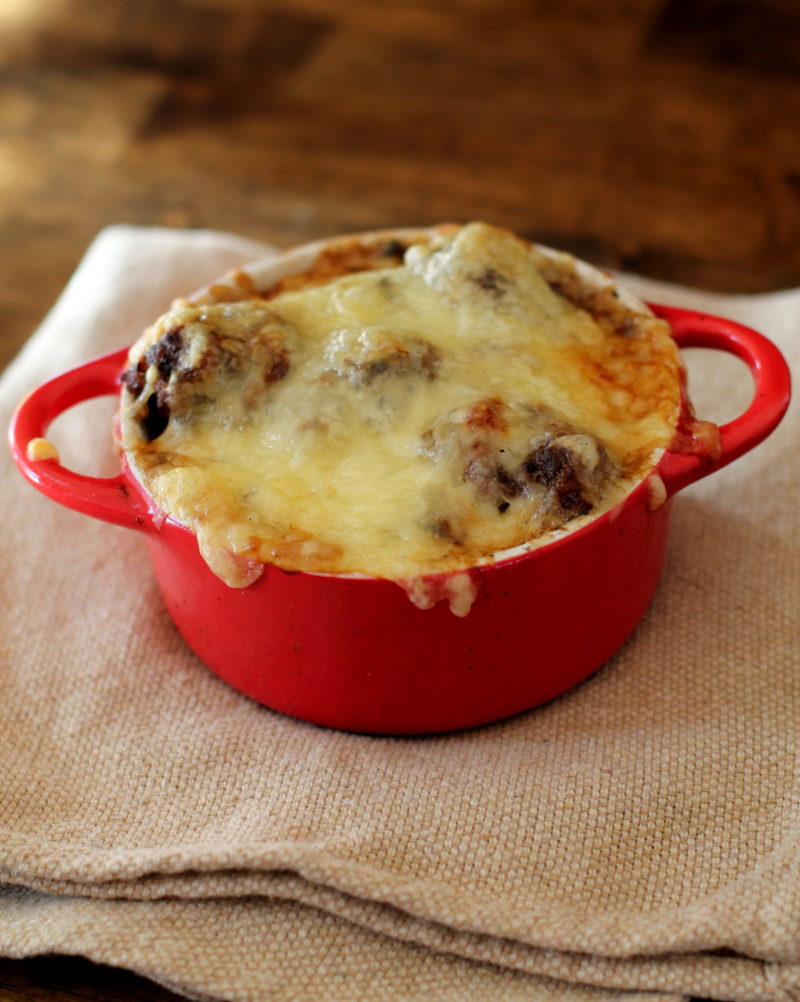 On this particular night, I served the French Onion Meatballs with a side of salad, and roasted broccoli (the boys are obsessed with broccoli right now). You could opt to serve it over rice, pasta, or mashed potatoes for a more hearty meal. You could even add a starch to the broth and meatballs if that's your thing.
French Onion Meatballs
Ingredients
3 tablespoons butter
2 tablespoon olive oil
2 ½ lbs yellow onions
1 tsp salt
1 tsp pepper
1 teaspoon of dried thyme
1 bay leaf
1 quart beef stock
1 cups fresh grated gruyere cheese
½ cup fresh grated Swiss cheese
For Meatballs
½ cup day old bread pulsed in a food processor until crumbly (Use Parmesan Cheese for Keto option)
½ cup milk
2 pounds beef
2 teaspoons Kosher salt
2 teaspoons ground allspice
1 teaspoon caraway seeds
1 teaspoon black pepper
1 teaspoon onion powder
1 egg beaten
Instructions
In a large Dutch oven, heat the oil and butter over medium heat.

Once melted add the onions, stirring to incorporate, reduce the heat to medium-low. Cover and cook for 15-20 minutes.

Add the salt, pepper, bay leaf, thyme, and broth. Bring to a simmer and cook for another 20 to 30 minutes. Adjust seasonings and remove from heat.

While the onions simmer prepare the meatballs:

Preheat the oven to 425 degrees.

Combine the milk and breadcrumbs in a small bowl and let stand while preparing the other ingredients, about 5 minutes.

In a large bowl add the ground beef, salt, spices and egg. Pour the milk-bread mixture over the meat.

With your hands gently crumble the meat and other ingredients together to incorporate. Once well combined use your hands to roll tablespoon sized balls. Place the meatballs on clean baking sheet.

Place in the oven and bake for 20-25 minutes.

Remove the meatballs from the oven and let cool until you can touch them. Place them gently into the skillet with the onions and broth. Toss well to coat.

Cover with shredded cheese and place in the oven for 10-15 minutes or until the cheese is melty and browned.

Serve warm.
Similar Recipes: