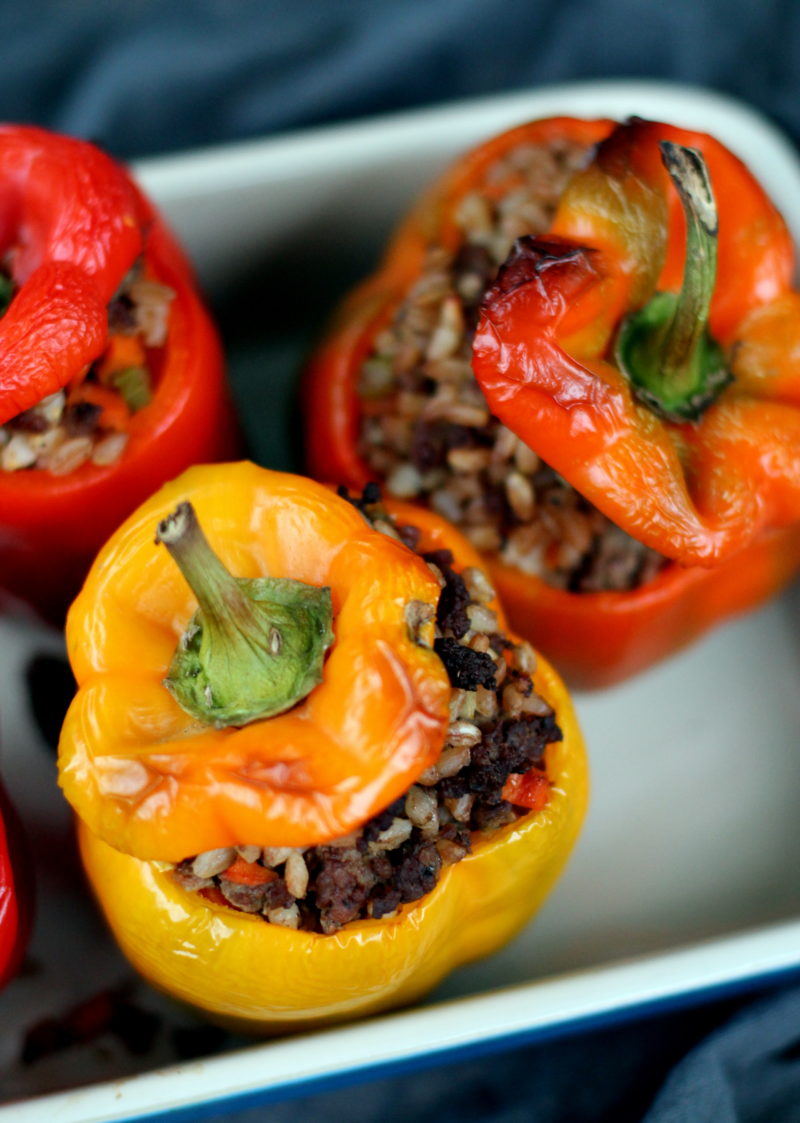 Sausage & Farro stuffed peppers are a seasonal favorite around here. I mean any type of stuffed peppers tends to be a favorite, but these top the list. Mostly because they are easy, delicious and pretty.
Stuffed peppers is one of those things that we only make them during peak season. Much like tomatoes, peppers that are not fresh and local have ZERO flavor. A really sweet and flavorful pepper is required for such a pepper heavy dish. I think this is why so many stuffed pepper recipes are filled with lots of sauce and cheese. People are far too use to sub-par peppers.
People are far to use to sub-par vegetables in general. I'm not talking about that wonky eggplant with a weird appendage that your aunt grew as being subpar either (it's probably the going to be one of the best eggplants you've ever eaten). I'm talking about the vegetables that were grown on the other side of the continent and then transported to your grocery stores. These frankin vegetables are bread to increase yields, not flavor. Then they are grown in nutrient and microbe deficient dirt (which is plied with pesticides, herbicide, and chemical fertilizers just to get them to grow). Often tended my people who make only pennies on the dollar for each vegetable. Only to be picked before they are ready, transported long distances, and often chemically ripened at the store.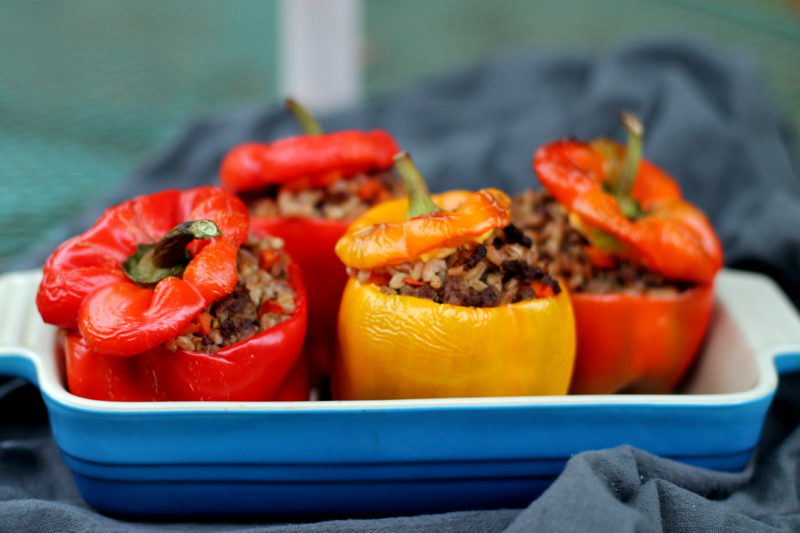 These are the vegetables that make my stomach turn. They make me sad for our planet, for the poor fools who thing this is the actual flavor of vegetables. I'm sad for the *organism variety*, that is lost, for the heirlooms lost forever.
What you eat every single day is a political statement, whether you mean it to be or not.
You have no choice in this. You decide who/what you support by what you eat, and where you spend your money.
Phew, we were talking about stuffed peppers, weren't we? Sorry. Mama's feeling passionate lately.
The moral of the story is to get yourself a really fresh pepper. The sweetness from the pepper balances the spices in the sausage for a perfect meal.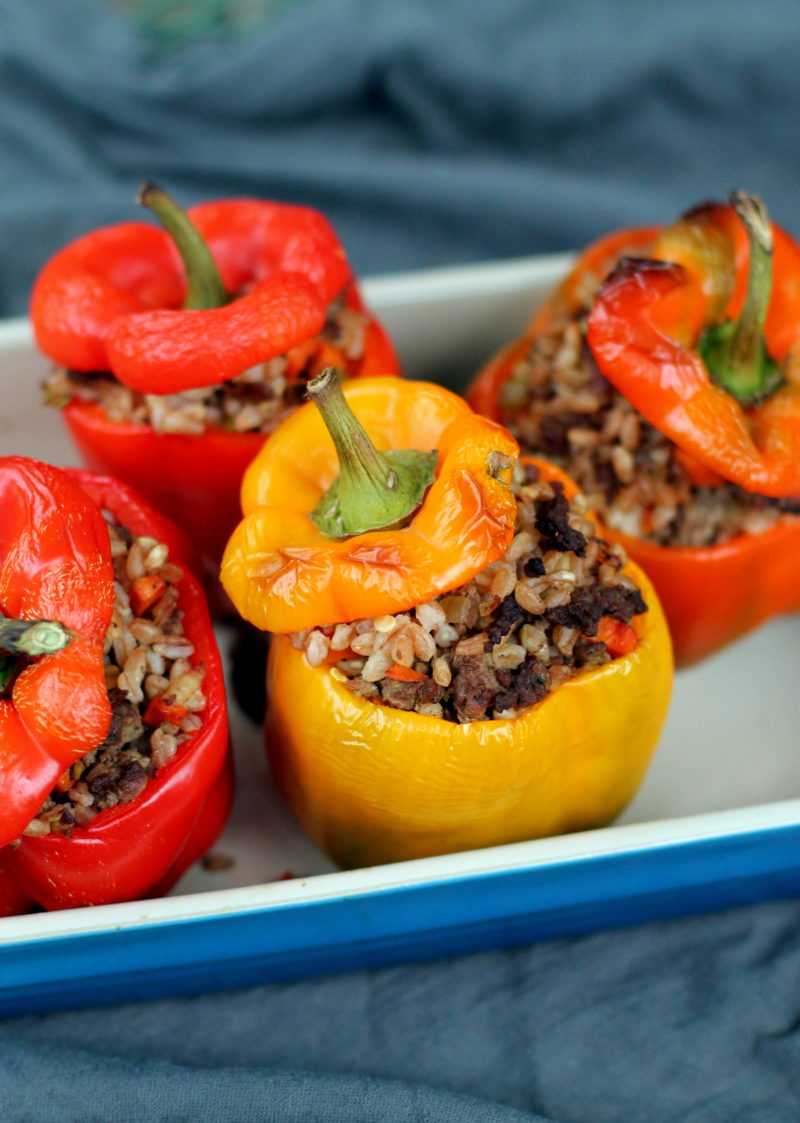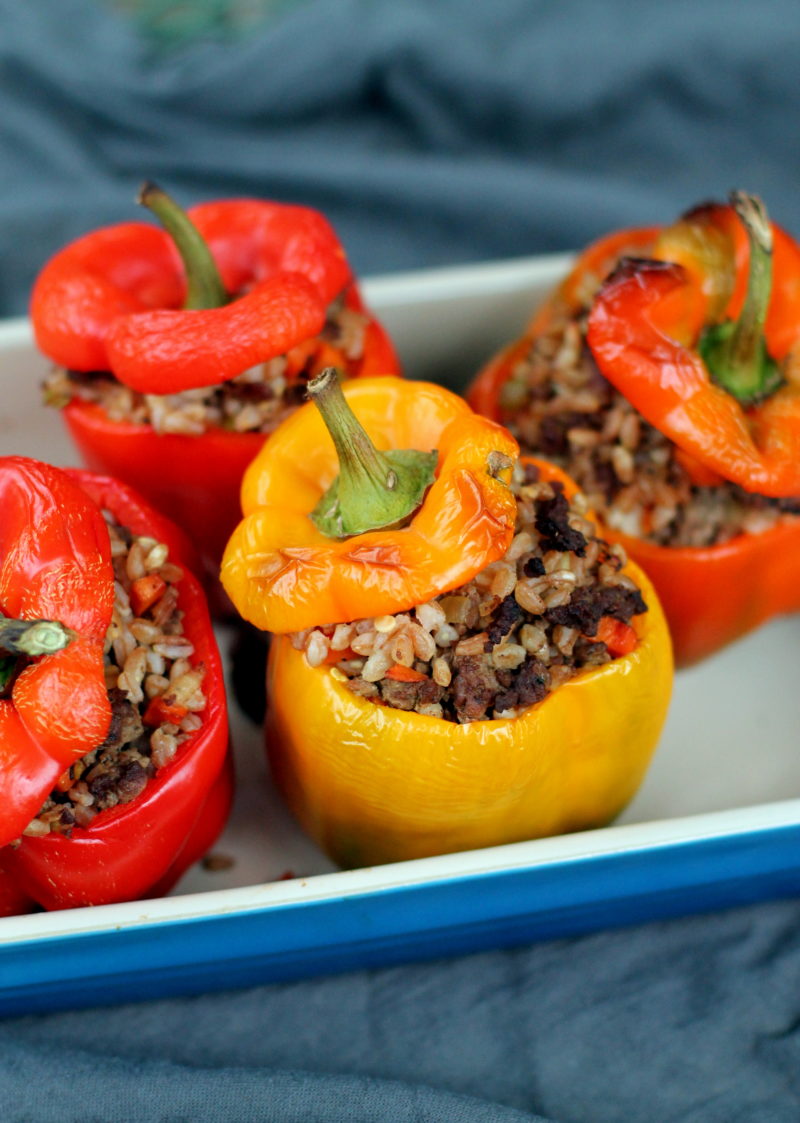 I love using different grains like farro, spelt or barley for stuffed peppers just as another way to change it up. It adds a level of texture and interest that you just don't get from rice. I also added in the carrots, celery, and onions for this reason, and because there's never too many vegetables in my book.
Sausage and Farro Stuffed Peppers
Prep Time 5 minutes
Cook Time 45 minutes
Ingredients
4 bell peppers
1/2 cup farro dry
1 1/4 cups vegetable broth or chicken broth
1 Tablespoon butter
1 small onion peeled and diced
1 stalk celery diced
2 medium carrots peeled and diced
2 cloves garlic minced
½ lb Italian sausage hot or sweet
½ teaspoon dried rosemary
½ teaspoon dried thyme
Salt and pepper to taste
½ cup sharp cheddar cheese
Instructions
Preheat oven to 375 degrees

Cut the tops off the peppers straight across, deseed both sides and set aside. (If you want your peppers softer place them in the oven ahead of stuffing for 10-20 minutes, remove stuff and bake again).

In a medium sized saucepan add farro and toast over medium heat for about 2 minutes. Stir in broth, and bring to boil. Reduce to simmer, cover and cook for 17-18 minutes, or until farro is almost cooked through (some broth may be left), but still slightly firm to bite. Transfer to a large bowl to cool.

While the farro cooks, prepare the filling: Melt butter in a large skillet over medium high heat.

Add onions, celery, and carrot and saute for 2-3 minutes. Add garlic and sauté for another minute.

Add the sausage, rosemary and thyme to same skillet. And cook through, breaking it into small pieces as you go.

Adjust seasonings and remove from heat.

Combine the cooked sausage mixture with the cooked farro and toss well to combine.

In a small baking pan place the peppers open side up and spoon the suasage farro mixture into the peppers until full. Top with cheese and arrange the pepper tops for garnish.

Place in the oven and bake for 25-30 minutes or until the cheese is melted and browned.

Remove from heat and let stand for 5 minutes.

Serve warm.
Similar Recipes: