One of the things that I love most about fall and winter is the excuse to turn on the stove. I absolutely love slow cooked recipes that not only help keep the house warm but also make it smell amazing! This recipe is one of those wonderfully easy recipes that just require a bit of extra time in the oven. It also makes for a pretty stunning meal at a dinner party.
I imagine each person getting their own small squash for the entree. Accompaniments can be a simple salad, some roasted broccoli rabe, and maybe some pear and brie toasts. All delicious, all simple, and all seasonal.
I'm not going to lie this winter has been pretty hard on me. With a toddler and a newborn, my time to prepare meals is pretty limited, which makes eating local and seasonal just that much harder. You have no idea how tempting it is to just open a jar of sauce and toss it over pasta night after night. I'm doing my best to fight that urge and come up with meals like this that come together easily and use up more of the produce that we have stocked up from summer (my mom grew 98 spaghetti squash, can't let them go to waste!).
Since this recipe uses the bulb part of the squash, I typically will chop off the neck and roast it on a separate tray for later use. Which means the cooking time is typically lengthened just because the stove is so full. I try to get that done earlier in the day so that it can cool slightly. Fun fact: it's much easier to stuff something that is actually cool enough for you to handle. At some point during the day, I can easily brown the sausage and set it aside. Usually, I cook a double batch of barley or rice to use as leftovers for recipes like this or veggie fried rice. Then it's as simple as tossing them together with some finely chopped kale and stuffing them into the squash. The final round of roasting happens right before dinner is served.
Yes, cooking with babies like this sometimes just has to happen in bits and pieces. However, this also means that you can make all the parts ahead and do the final roast on the night of your dinner party. Do you see the convenience?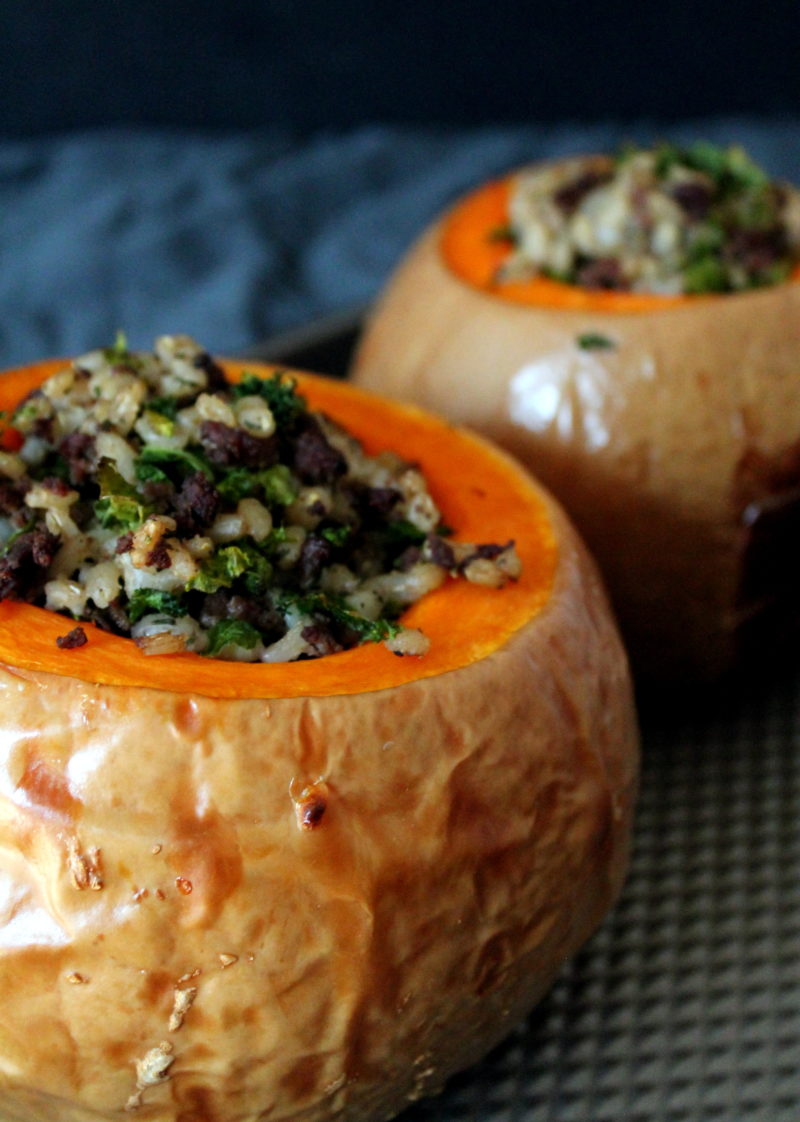 P.S. I used venison sausage for this recipe, but feel free to use whatever sausage you like.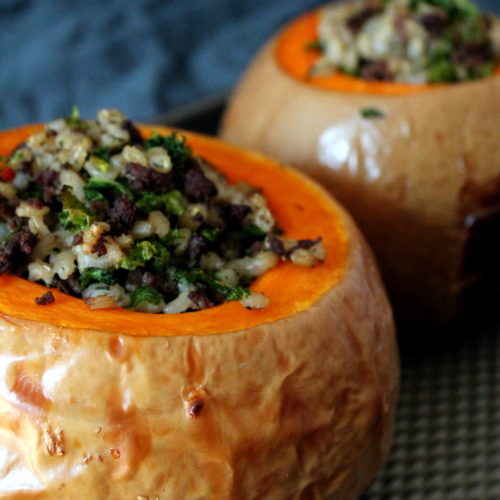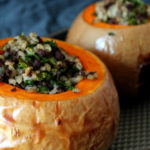 Sausage Stuffed Butternut Squash
Prep Time 10 minutes
Cook Time 1 hour
Total Time 1 hour 10 minutes
Ingredients
2 large or 4 small butternut squash
Oil
1 small onion diced
½ lb ground sausage
2 cups cooked barley
1 cup finely chopped kale
Salt and pepper to taste
Instructions
Preheat the oven to 425 degrees.

Separate the bulbed end of the squash from the neck and remove the seeds, leaving behind a bowl-shaped squash. Set the neck aside.

Drizzle oil on the flesh of the squash and spread it around to give it a nice coating. Place the cut side down on a cookie sheet and roast for 35 to 40 minutes or until the flesh is just softened. The squash should still be firm enough to hold its shape when pressed on the outside. Remove from heat and let cool for 5 to 10 minutes.

Meanwhile, in a large skillet saute the onion until just translucent, about 1 minute. Add the sausage and cook until browned, crumbling with a spatula or wooden spoon.

Once browned, remove from heat. Add the barley and kale and toss well to combine. Adjust seasonings.

Spoon the sausage mixture into the hollow squash until full.

Place back on the baking sheet open side up and roast for another 15 to 20 minutes or until warmed through.

Serve immediately.
Similar Recipes: