I love growing my own food.
It is one of the most rewarding hobbies I have ever had. It can, however, be challenging, there are bugs and bunnies to combat, as well as other pests, fungus's, blights, weather, and in my particular case poor soil. All of these things can, of course, be remedied with the proper knowledge and skills, often acquired through reading or talking to people who have combated the same problem.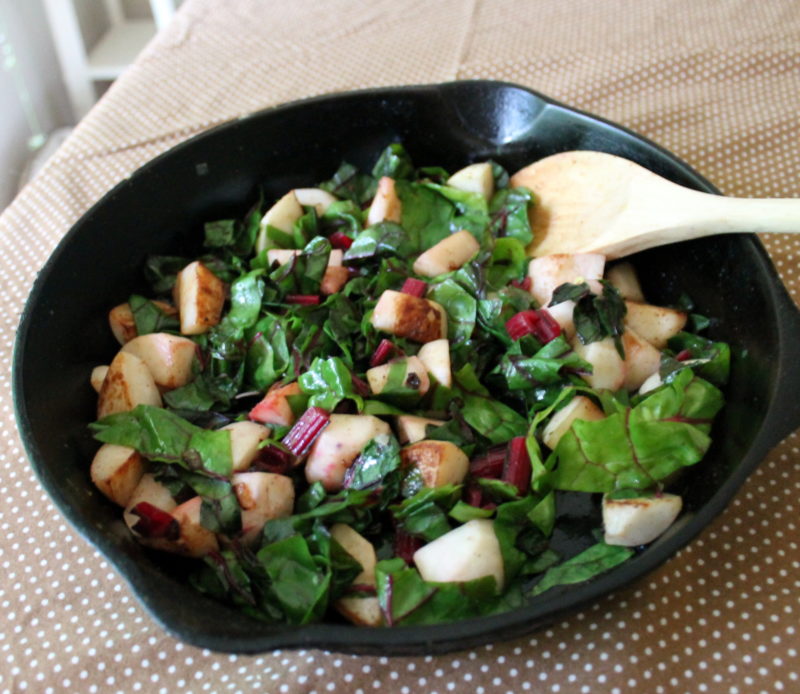 One of the major challenges seems to be learning to use everything up when it's still fresh and good. Learning to properly dry herbs, can, pickle and ferment is always helpful, but the real challenge coming up with unique recipes that use up what's ready to be harvested. It's kind of like a chopped challenge. You may have an idea of what's ready to harvest, but there's often a surprise and then you're left to figure out what to do with it. Then add in the idea of trying to use up the whole plant and then you really have a challenge.
This recipe is the result of just this challenge. If you follow me on Instagram you may have seen the beautiful photo of fresh garden produce that I snagged this weekend. It was a really awesome picture if I do say so myself.
Once I had it all picked I had to figure out what to do with it. For the herbs it was easy, what I wasn't planning on using for dinner was hung to dry. The cucumber was sliced and eaten as a snack while we waited for dinner. The Swiss chard and turnips were put into this recipe along with some fresh garlic that I had pulled earlier in the week.
While this is a simple dish that was quick to prepare it was especially delicious with the fresh veggies and made a wonderful side dish.
Sauted Swiss Chard with Turnips
Ingredients
1 tablespoon olive oil
1 shallot, diced
1 bunch fresh turnips, peeled & chopped
1 bunch Swiss Chard, ribs separated from leaves & chopped, leaves chopped
salt & pepper to taste
Instructions
Heat oil in a medium-sized saute pan over medium-high heat.
Add shallot and saute for 1 minute.
Add turnip and saute for 3 to 4 minutes, or until the turnips begin to brown.
Stir ing the Swiss Chard (ribs and leaves) and cook until wilted, about 2 minutes.
Remove from heat, season with salt and pepper and serve.