This is a pasta dish served with shrimp over a rich and sweet Sundried Tomato Cream Sauce. It is to die for!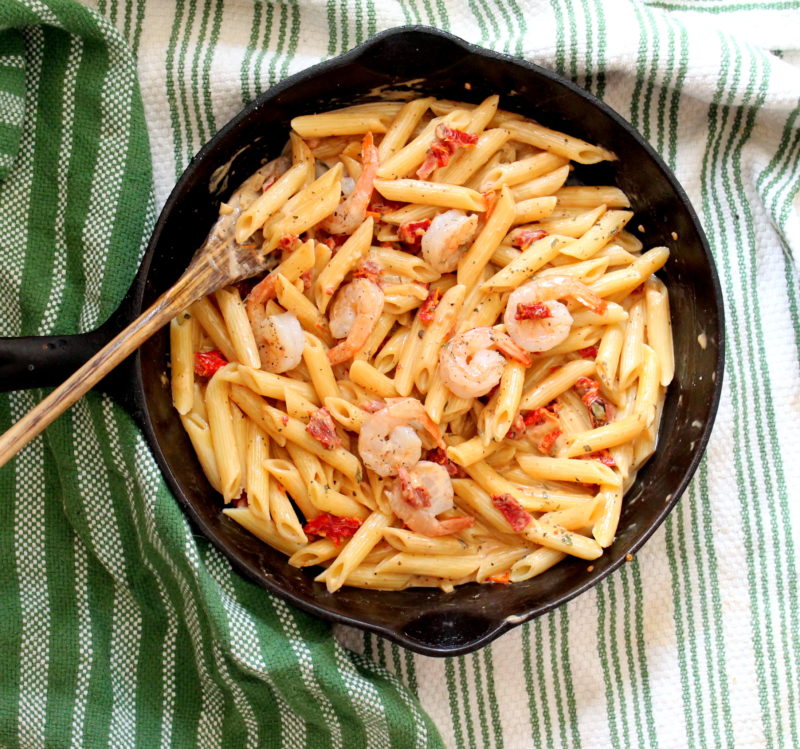 I've admitted before that I am pretty much in love with this recipe that I first saw on Closet Cooking, I even made my own version with Chicken Basil Meatballs. Well I'm still pretty obsessed with it, though I'm trying to keep the amount of pasta, and cream sauces down to a minimum around here. I have a dress to fit into in just a few short months!!!
One particular evening while Chuck was out of town for work I gave into the craving and made the recipe I have for you today. If you recall one of my very first Dinner for One recipes was pretty similar to this dish, except the main flavor component in that one was my other love – pesto. Here is the original recipe.
I can't believe I am actually posting that link, with the old theme colors and the horrible photos. I've learned a lot since then about recipe writing and photography. I mean check out this updated version of the recipe. Hello beautiful! It still amazes me how far I have come. A big shout out to Pinch of Yum's Tasty Food Photography for so much good info!
But I should really get back to this amazing recipe.
It has all the hallmarks of a perfectly decadent meal for one; delicious fresh seafood, over aldente pasta and a rich, creamy, and slightly sweet sauce. A sauce so good that you could probably just eat that for the meal sans pasta or anything else, but for a balanced meals sake we will let the pasta and shrimp be its vehicle.
If you haven't tried this sauce yet, I am demanding that you drop everything and just do it. You will not be disappointed I promise you.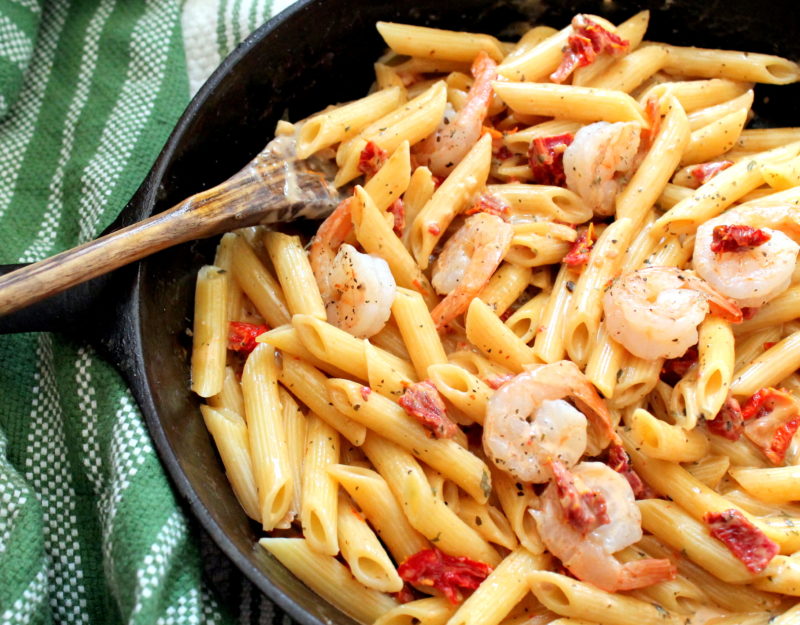 D4One: Shrimp and Sundried Tomato Cream Sauce Pasta
Ingredients
2 ounces dry pasta
1 tablespoon oil (olive or the oil from the sundried tomatoes works)
4 ounces medium shrimp, peeled and deveined
1 clove of garlic, minced
1 tablespoon oil packed sundried tomatoes, chopped
¼ cup chicken broth
2 tablespoons whipping cream
1 tablespoon grated parmesan cheese (plus more for garnish)
Salt and pepper to taste
½ tablespoon fresh chopped basil for garnish
Instructions
Cook the pasta according to package instructions until aldente.
Meanwhile heat the oil over medium high heat in a large skillet. Add the shrimp and cook for 2 minutes a side or until the shrimp is pink and firm. Remove from the skillet and set aside.
In the same pan add garlic and sundried tomatoes and cook for one minute.
Add the broth to deglaze the pan, scraping the browned bits off the bottom.
Stir in the cream, bring it up to a low simmer and reduce the heat to low. Stir in the parmesan cheese and cook for 2 to 3 minutes until thickened.
Remove the pan from heat and stir in the shrimp and cooked pasta until everything is will coated.
Adjust the seasonings and top with grated parmesan and basil to serve.