Amongst the many things, I learned from having a baby is that staying in touch with friends can get hard. We are struggling to make time to sleep and shower over here, let alone get dressed enough to see people. However, we still need to see our people, like in person. We need the excitement of actually getting dressed, the support, and the conversation with actual adults.
I'm sure many new parents can relate, especially when your kid is crying to go to sleep at 6:30 pm. How do you go out to see people? Well, you don't.
We have always been happy to serve dinner for people at our house, and a lot of those dinners get pretty fancy. You can do that when your two adults without kids. These days we have dialed it back to make it something actually attainable with a small child in the mix. Simple dinners at our house allow us to actually see our friends as well as put the little guy to bed whenever he needs it. The best part is once he's down. momma can actually have a glass of wine.
Another thing to note is to plan a weeknight dinner. I feel like guest expectations are a little lower for a Thursday or Friday night dinner party then they are for a Saturday, plus they are usually more available. Additionally, it gives us hosting parents more time to recover, which believe me, we need.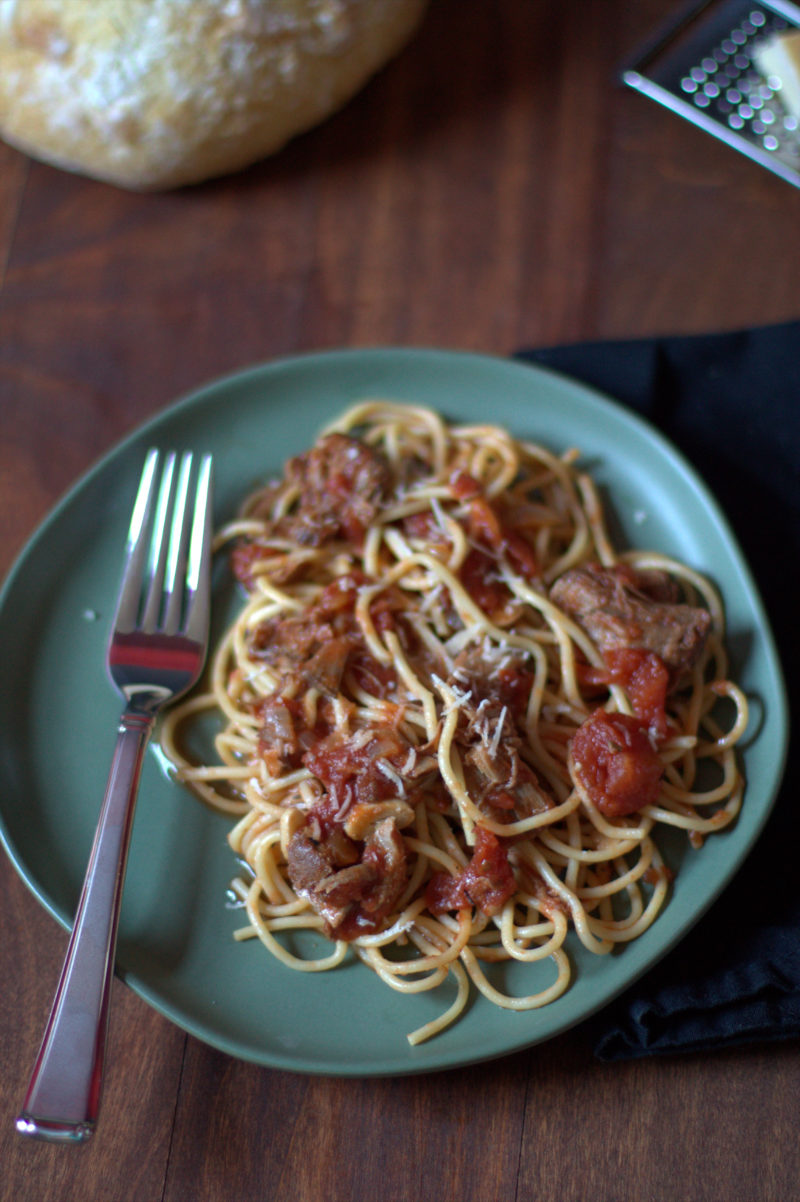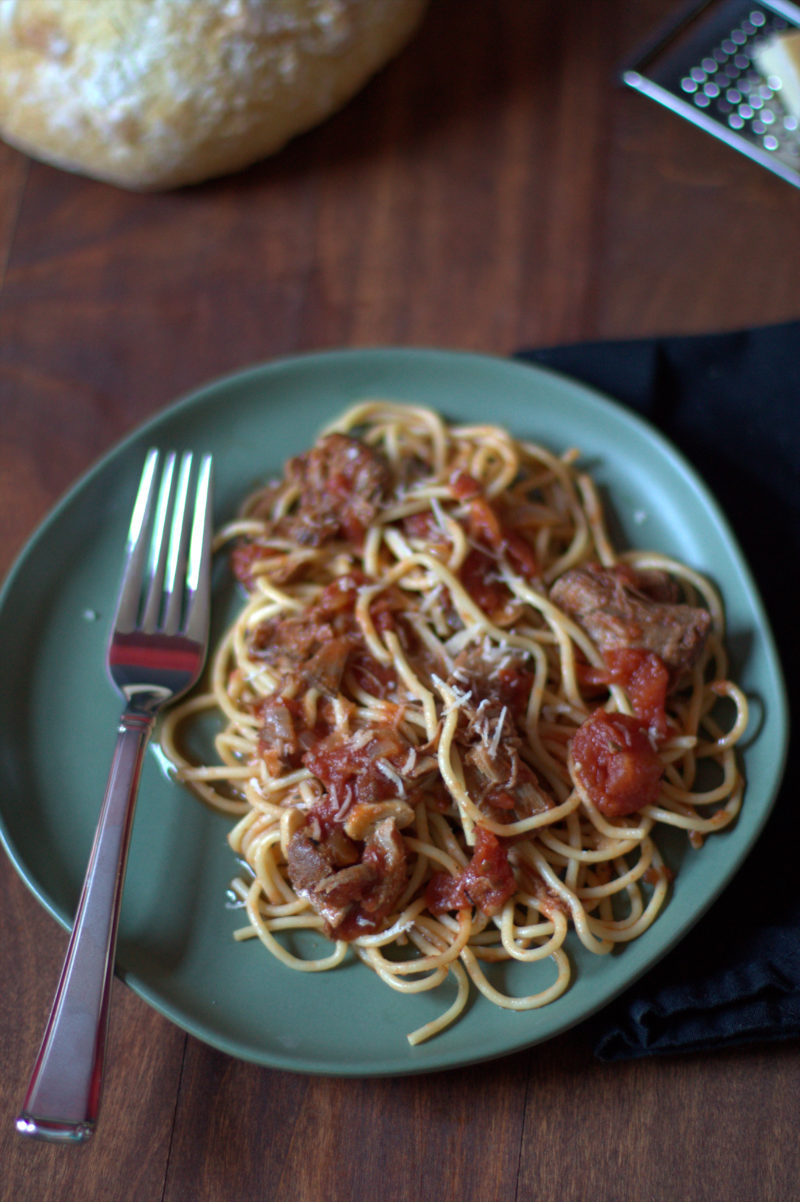 So, how exactly do I pull off a weeknight dinner party? I make it simple.
A great main that fragrantly slow cooks in the crockpot while we are off doing other things. Simple sides, like pasta rice, bread, and salad. I like to enlist my guests to bring something easy. I try to make it something they don't have to cook, like a dessert from a local shop, the bread or salsa, and chips. They are almost always happy to contribute, especially when they know a great meal is coming along with it.
Recipes like this easy pork ragu are among my favorites for these types of meals. They come out perfectly in the slow cooker and have so much flavor already built in. The sauce is thick, and chunky, which gives it a real stick to your ribs feel. The meat is tender, succulent so flavorful, having soaked up everything it can from all of the herbs and spices during that long slow simmer. This recipe is truly a showstopper for the satisfaction it will bring your guests as well as its ease in preparation. It also makes a big batch so it can feed a lot of people, or can be used as leftovers the next day. What tired parents don't love leftovers?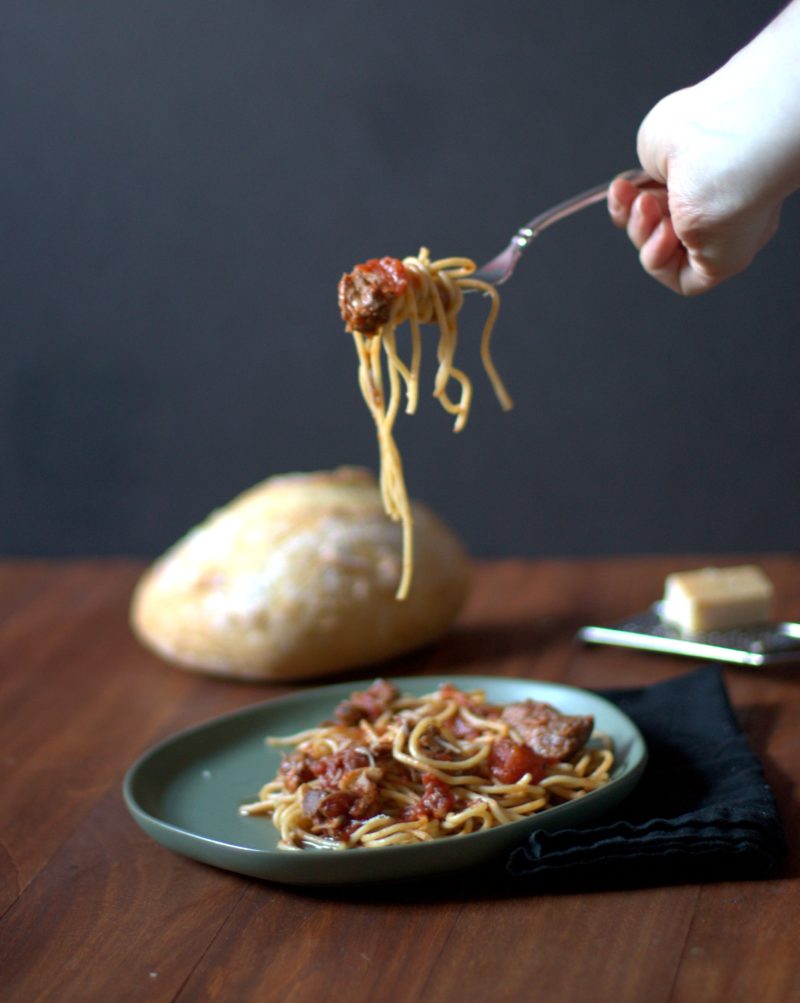 I like to serve this ragu in winter over pasta or a creamy polenta with a side of fresh bread, salad, and sautéed broccoli rabe. With all that food you probably won't need dessert, just sayin'.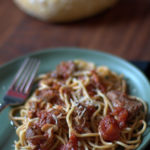 Slow Cooker Pork Ragu
This Slow Cooker Pork Ragu Recipe is a really simple recipe that makes entertaining during the week a snap.
Prep Time 20 minutes
Cook Time 8 hours
Total Time 8 hours 20 minutes
Ingredients
One 3-pound pork shoulder roast trimmed
1 teaspoon kosher salt
1/4 teaspoon ground black pepper
3 tablespoons oil
2 medium red onions chopped
5 cloves garlic chopped
1 cup white wine
1/2 cup chicken broth
One 28-ounce can crushed tomatoes
8 sprigs thyme
2 sprigs rosemary about 6 inches each
1 bay leaf fresh or dried
Pinch red chile flakes
Freshly grated Parmesan for garnish
Instructions
Heat 2 tablespoons of oil in a large Dutch oven over high heat.

Dry the pork with a paper towel and season well with salt and pepper. Place the pork in the dutch oven and brown well on all sides. Once browned remove the meat to the crock pot.

Reduce the heat to medium and add the remaining 1 tablespoon of oil to the pan. Add the onions, and garlic and cook until softened and browned, stirring occasionally, about 5 minutes.

Deglaze with the wine and cook until reduced, about 3 to 4 minutes, scraping the bottom of the pan. Transfer to the crock pot.

In the crock pot add the broth, tomatoes, herbs, and chili flakes to the pot. Cover and cook on low for 8 hours or high for 4 hours.

Remove the pork and shred into bite-size pieces using two forks. Remove any herb stems or large leaves the sauce and add the pork back to the pot. Stir well to combine.

Serve over pasta, polenta or equal garnished with parmesan.
Similar Recipes: