Bolognese sauce is one of my absolute favorite dishes. When made the authentic Italian way it involves a slow simmering pot on the stove all afternoon, filling the house with its glorious smells of tomatoes, herbs and spices. I like to serve it over pasta with fresh made bread (because who doesn't love fresh bread to sop up that sauce with?) and a salad. However, like most working ladies, I don't always have time to have a pot of something simmering on the stove all afternoon, so to the chagrin of many an Italian grandmother I made up this weeknight version.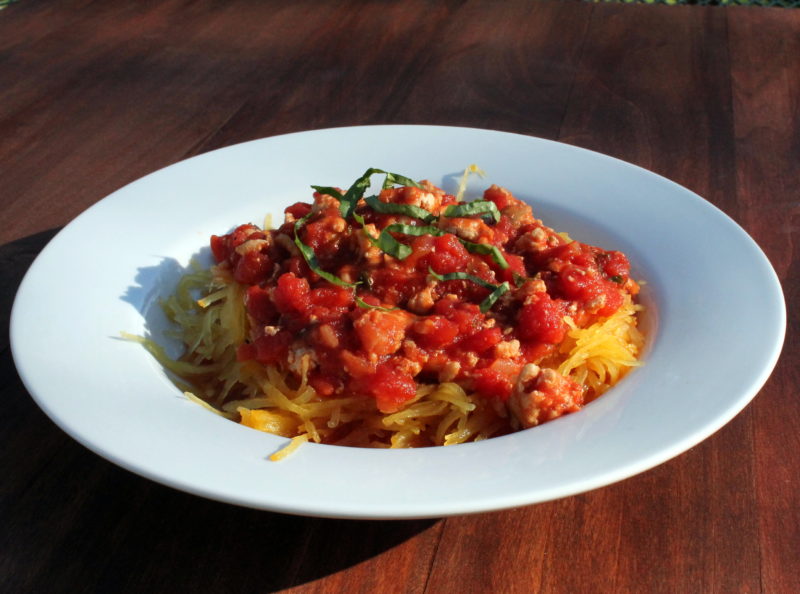 It comes together quicker than traditional recipes and is versatile enough to use whatever type of meat you happen to have in the house. It's also a good place to sneak in some shredded zucchini, chopped eggplant, or mushrooms if you're looking to boost your families veggie intake.
For a balanced weeknight meal I like to serve this over spaghetti squash. With a 50(ish) minute cooking time the squash comes out of the oven and has a few minutes to cool before the sauce is ready to serve. It's a little healthier than and just as easy as pasta.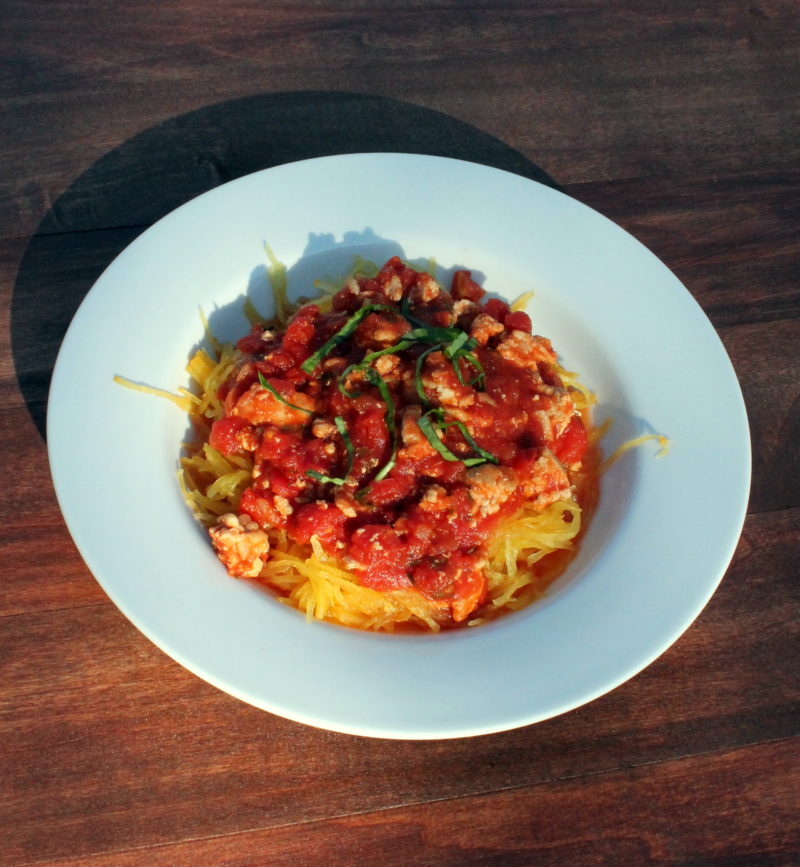 I know what you're thinking over there. An hour for dinner on a weeknight? Who's got that kind of time? You do. I promise. Once the squash is in, and the ingredients are in the pot then all you have to do set timers and walk away for a while. These kinds of dishes give you those extra minutes to do a load of dishes, check homework, or prep lunches for tomorrow. Trust me you will love this for a weeknight meal, and so will your family. It's healthy, hearty and heartwarming.
Isn't that what we are all looking for in a great weeknight meal?
I think so.
Weeknight Bolognese Sauce
Ingredients
2 tablespoons extra-virgin olive oil
1 medium onion, peeled and chopped
1 celery stalk, chopped small
1 carrot, chopped small
3 garlic cloves, peeled and chopped
1 pound lean ground meat (turkey, beef, venison etc.)
1 cup broth (preferably beef)
1 (14.5 ounce) can diced tomatoes
1 (15 ounce) can tomato sauce
1 tablespoon dried parsley
2 teaspoons dried basil
Salt and pepper to taste
Instructions
In a large skillet heat the olive oil over medium high heat. Add the onion, carrot and celery and cook until softened, about 4 to 5 minutes. Stir in the garlic and cook for an additional 1 to 2 minutes.
Add the ground meat to the pan and cook, stirring regularly and breaking up the meat into crumbles. Continue this until the meat is browned through, about 10 minutes.
Stir in the broth, tomatoes, sauce, parsley and basil.
Bring the sauce up to a boil then reduce to a simmer. Continue to simmer for about 30 to 40 minutes, or until the sauce thickens.
Adjust seasonings and serve.
Similar Recipes: