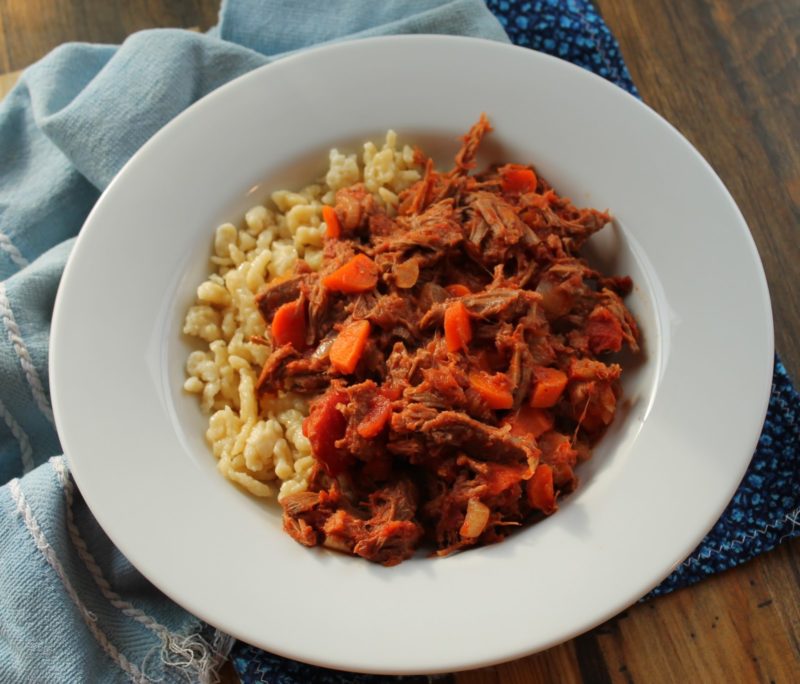 Sometimes and an impromptu dinner party is the best kind of dinner party.
We were sitting on the couch enjoying our day off when we got a text from a friend who was in town staying with other friends. He told us yet another friend was there from across the country and was coming down. He asked if we could come over later that night.
The aspiring chef that I am had already put a roast in the crock pot to cook for just this recipe and I knew there would be left over's if it was just Chuck and I. So I asked instead if they wanted to all come to our place to eat before we all went over to their house for an evening of heady drinking. Of course, they said yes, who wouldn't?
I was nervous that there wouldn't be enough so I put out some cheese and crackers because we always have it on hand. I shouldn't have; I ended up putting enough for a dinner of 4 in the freezer. It appears that this is one of those recipes that can easily feed a crowd. It's a homey, stick to your ribs kind of meal too so perhaps it should be paired with a nice light salad instead of the cheese and crackers that I served it with. Oh and a good German beer. This is a German-style recipe after all, and the heat from the paprika goes well with a nice hoppy beer, at least that's what I thought.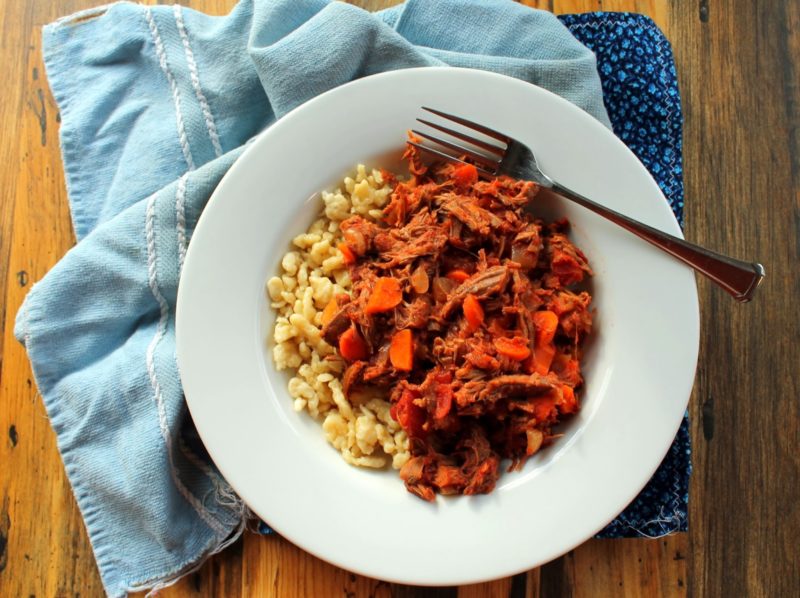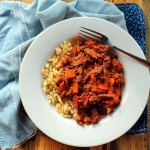 Hungarian Goulash
Prep Time 10 minutes
Cook Time 8 hours
Total Time 8 hours 10 minutes
Ingredients
1 lb Beef Chuck Roast
1 tsp salt
¼ tsp black pepper
2 tbsp Hungarian paprika
2 tbsp butter
2 large carrots peeled & chopped
2 onions peeled & chopped
2 bay leaves
4 large tomatoes diced 2 cans diced can be used instead
2 tablespoons flour optional
Instructions
Season the meat with salt, pepper and paprika.

Melt butter in a large sauce pan over medium high heat. Sear the meat on all sides until a nice crust forms, about 2-3 minutes per side.

Place the meat in a crock pot and add the carrots, onions, bay leaves, and tomatoes. Cover and cook on low for 6 to 8 hours (high for 4 hours).

For a thicker sauce combine flour with ¼ cup broth or water and blend well. Add to the slow cooker and cook for an additional 30 minutes on high.
Similar Recipes: