Fall is easily one of my favorite times of year, not just for the beautiful trees, and change in the weather but for the abundance of fresh produce. The final tomatoes are becoming ripe, squash, pumpkins, and apples are ready to be picked and even some greens are poking back out. The cooler temperatures mean that turning on the stove is no longer a horrendous endeavor and suddenly we can start bake and roast again.
Nothing makes my foodie heart happier than a day split between the garden and the kitchen. I mean harvesting something that you've grown, and preparing it fresh for your family and friends has got to be the most satisfying accomplishment.
It's these simple pleasures that really fill you up.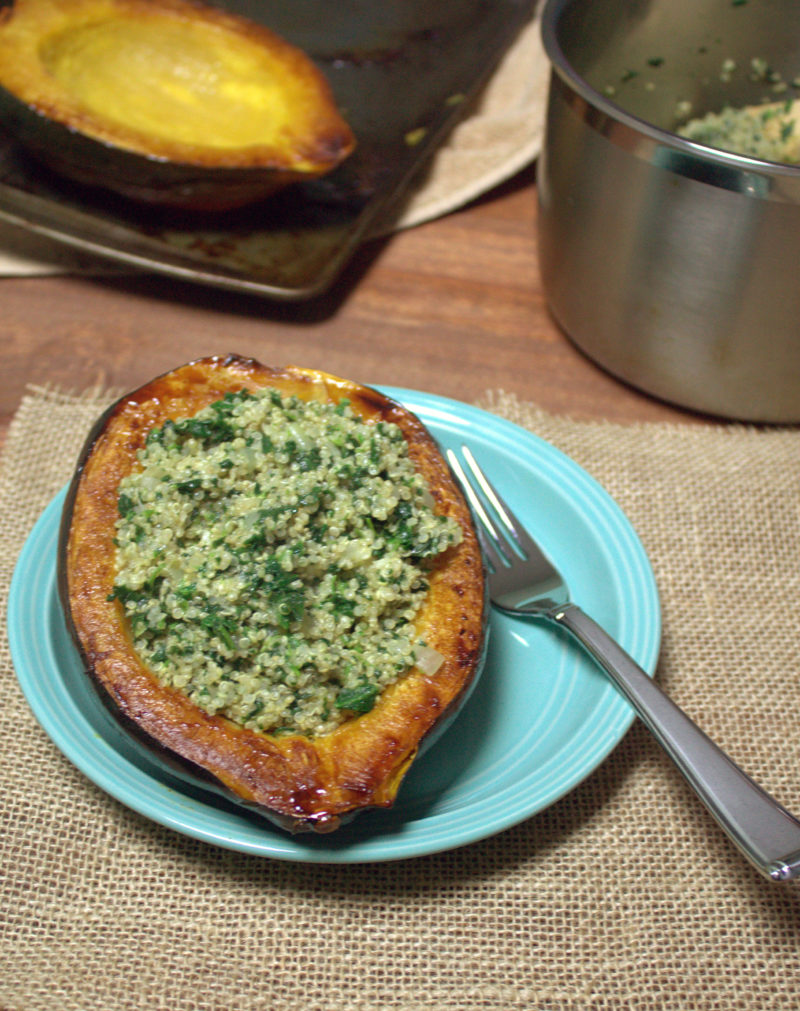 While the beginning of fall marks the decline of garden activity, my mind is just revving up with ideas for next season. Its crazy I know, but again that feeling of satisfaction that comes from this little patch of land, is something I can't get enough of. It's like a hunger growing inside me to keep doing this thing. There's always so much to learn and test out and while I hate to ask time to speed up I can't wait for the next growing season to start (but seriously don't speed up ok? I can't keep up as it is).
This particular recipe comes from the need to eat the fresh squash, some of it will go into storage, because these babies will last a while at least, but it's so good right now too. It's also a very versatile recipe.
Being a vegetarian (or almost vegetarian) who lives with an avid meat eater can bring on some different challenges at dinner time. It's not just about picky-eaters syndrome either, it's a whole other conversation. That's why I love recipes like this one. It's so easy to add a little sausage or ground turkey to the mix for just one or two people and leave it out for the rest, making the whole dinner question just that much easier.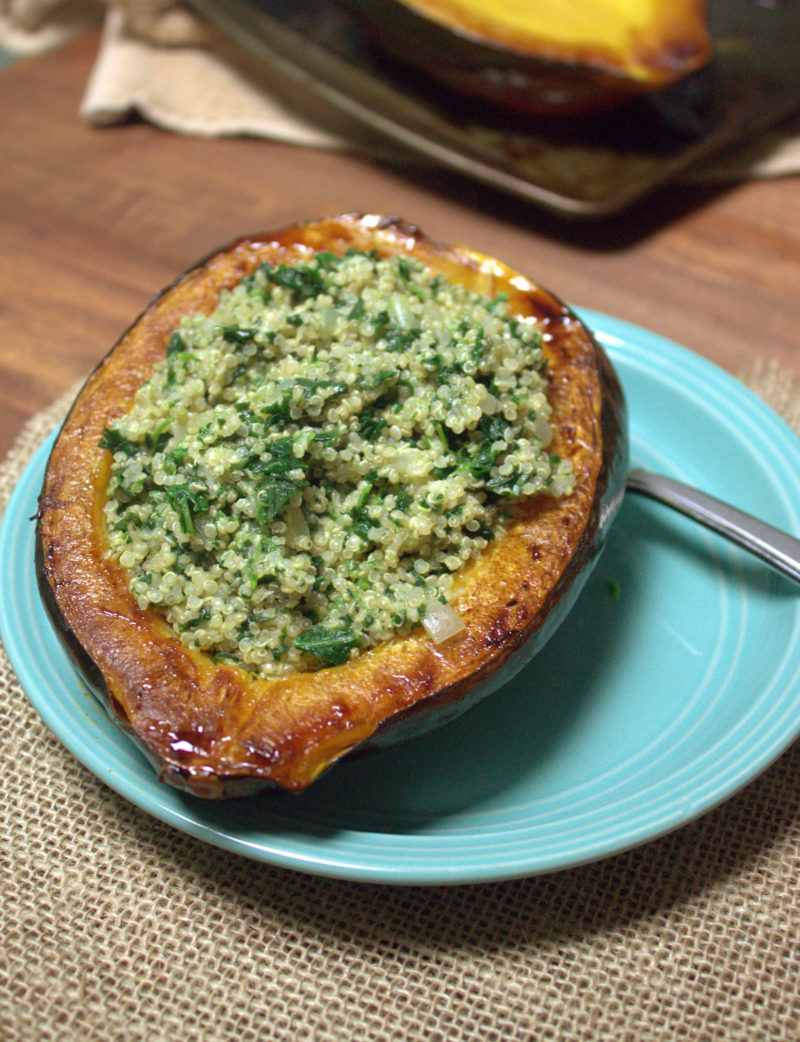 Spinach & Quinoa Stuffed Acorn Squash
Ingredients
1 Large Acorn Squash
1 tablespoon olive oil
1 tablespoon unsalted butter
1 small onion, chopped fine
2 cloves of garlic, minced
1 cup rinsed quinoa
1 ¼ cups vegetable broth
5 cups baby spinach, chopped
1 tablespoon fresh grated parmesan + more for garnish
Salt & Pepper to taste
Instructions
Preheat oven to 400 degrees F.
Cut the squash in half from stem to bottom and scoop out the seeds. Rub the flesh with olive oil and lay it flesh side down on a rimmed baking sheet.
Roast until golden brown and tender, 30 to 40 minutes.
Meanwhile, melt butter in a large saucepan over medium-high heat. Add the onion and garlic and sauté until fragrant and soft, about 2 to 3 minutes.
Add the quinoa and cook for an additional minute.
Add the broth, stir and then bring to a boil. Reduce the heat to a simmer, cover and cook for about 20 minutes.
Stir in Spinach and parmesan until well blended.
Adjust seasoning with salt and pepper and remove from heat.
When the squash is done cooking remove them from the oven and flip them over. Carefully fill the seed cavity with the quinoa-spinach mixture.
Top with additional cheese if desired and serve.