The early spring foraging in our area is starting to round down now. The morels were overheated by the ridiculous heat wave last week, the fiddleheads have long passed and the leeks, while still around aren't as good now. And these are just a few of my favorite things. While I'm sad to see it go, I'm also excited for all the wonderful veggies about to be available in the garden.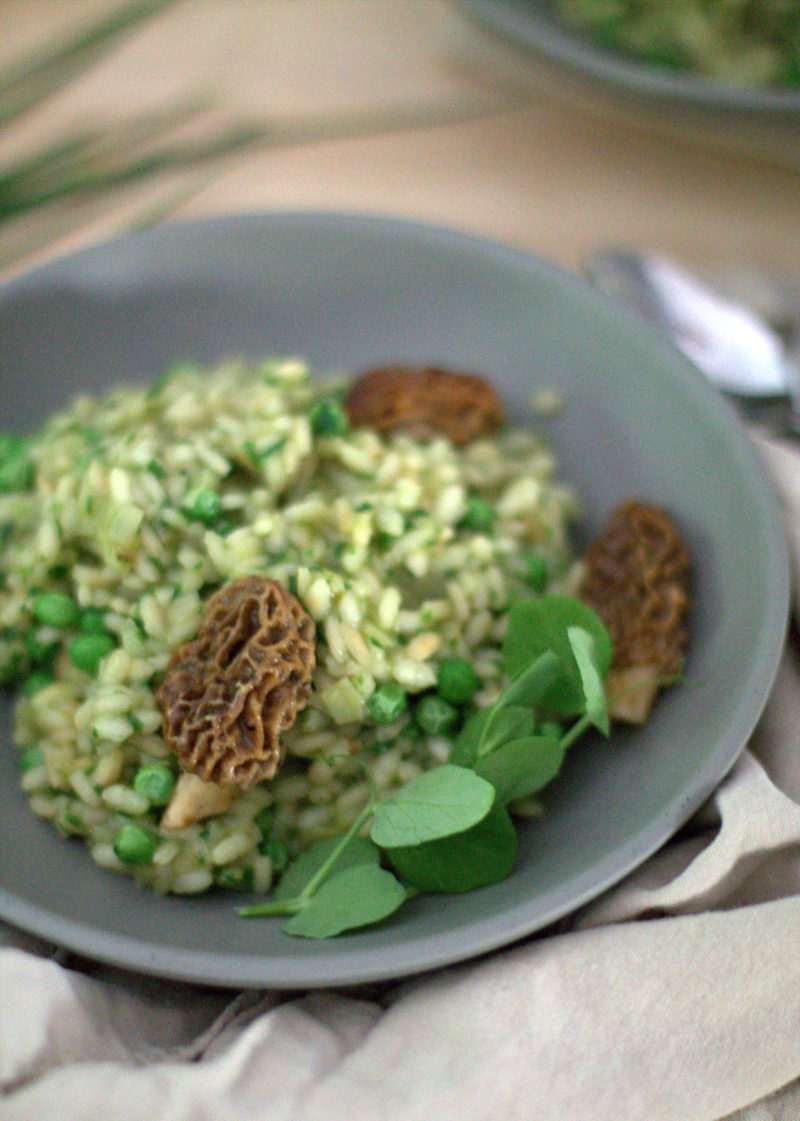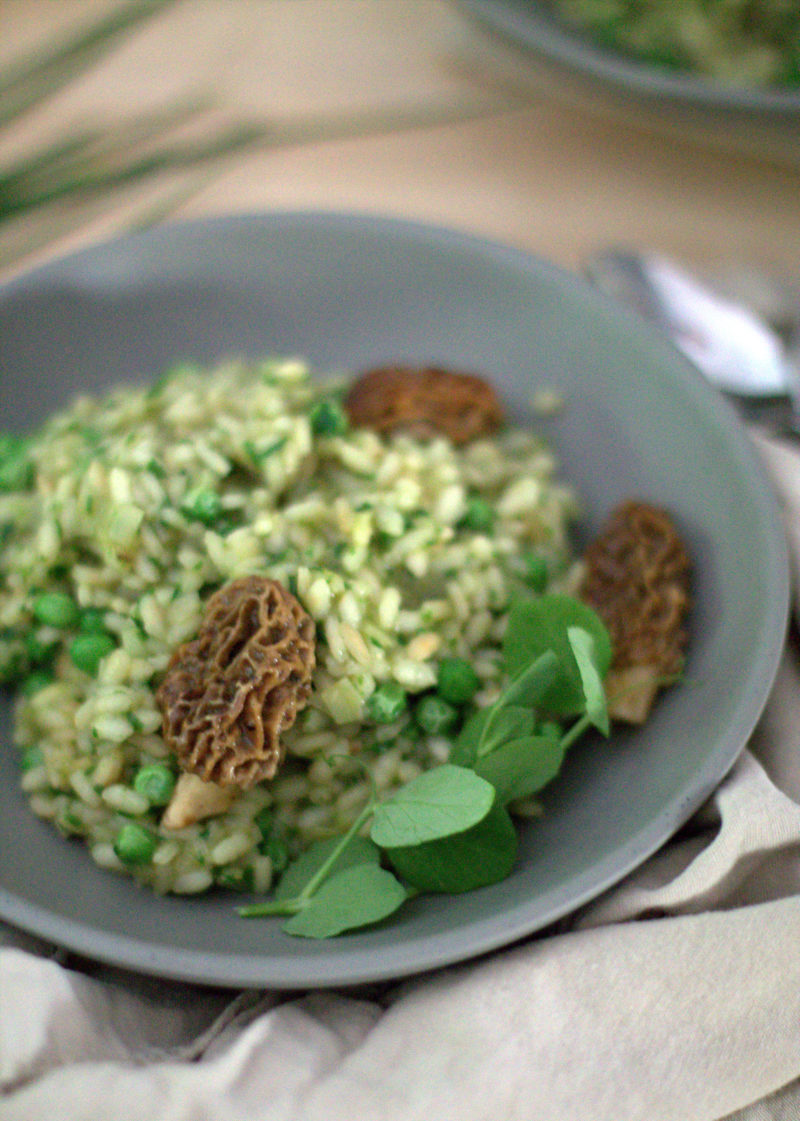 Spring really is a magical time of year. It's like the earth breathes a big sigh of relief and opens itself up to all of the wonder new life. I've been feeling overwhelmed lately and this reminder is just what I need.
Every time the spring rains roll in they come away leaving a wake of fresh new growth and greenery. They remind me that while this season of life might be hard it's just one short time period and will pass all in good time.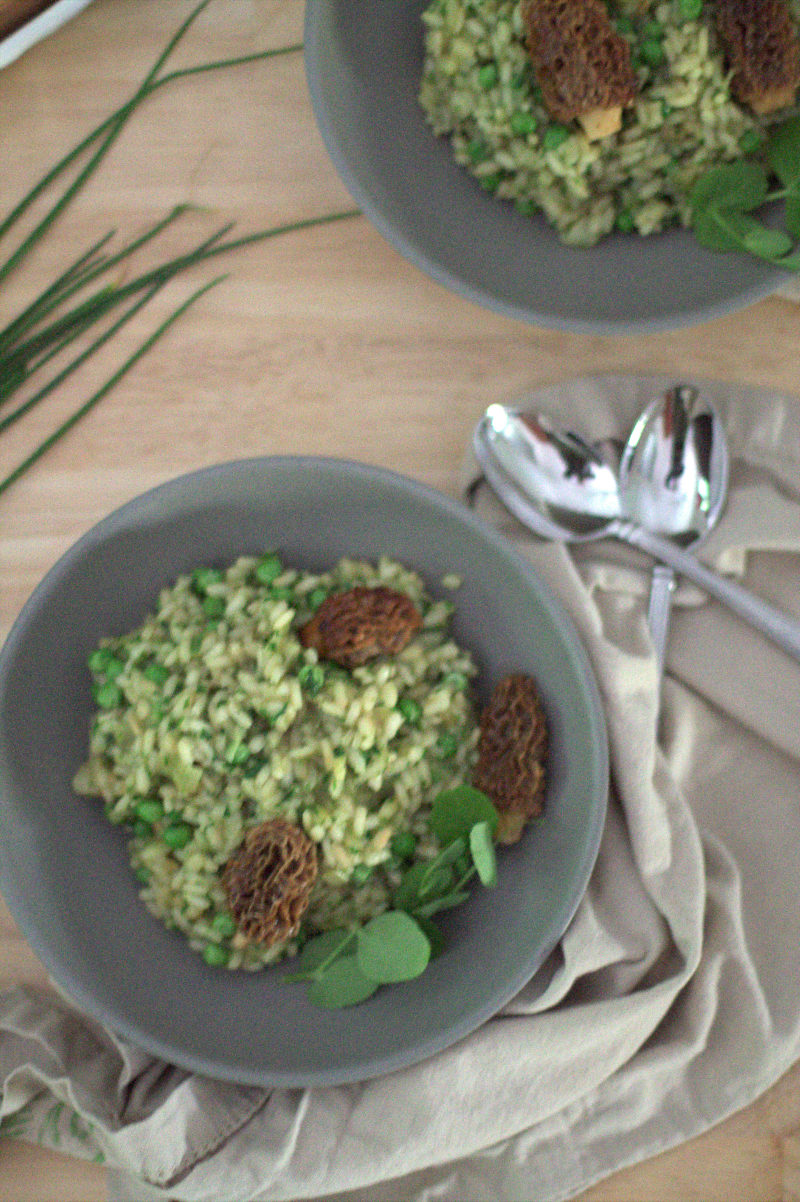 I'm remembering to take it as it comes, just one day at a time.
This dish is one that brings together some of that early spring bounty mentioned above. I had completely intended on including steamed fiddleheads in the photos, only to find them sitting on the counter all bright green and delicious after we had already made it half way through eating. This is the way of things when you're hungry right? We ate a few before popping them in the fridge for the followings night's dinner. Waste not want not, am I right?
What I love about this dish is that the strong flavor of the leaks so wonderfully balanced by the lightness of the morels and the crunchy bite of the fiddleheads. You could add a sprinkle of parmesan if you choose, but it really doesn't need it. I paired this with a simply made venison steak and a salad for dinner. This makes a lot of risotto so we were able to enjoy it for lunches throughout the week as well.

Note: I only used the leaves from the ramps in this recipe, because in our area they have been over foraged. If you happen to purchase ramps, or are able to sustainably harvest the bulb replace the leek with the ramp bulbs instead.

Spring Harvest Risotto
Ingredients
Roughly 16-20 ramp greens
1 heaping cup cleaned fiddlehead ferns
6 tablespoons unsalted butter
2 tablespoons extra-virgin olive oil
1 leek, white parts only, chopped fine
1 cup dry white wine
5 cups vegetable stock divided
1½ cups Arborio rice
1 cup morels, cleaned
Finely grated Parmesan for garnish
Chopped chives for garnish
Instructions
Bring a large pot of water to a boil and blanch ramp greens for about 1 minute, or until they turn bright green. Transfer to a strainer and run under cold water until well chilled. Place the blanched greens into a blender and blend on high, adding some liquid (water or additional broth) as necessary until a smooth puree is formed. Set aside.
Bring the pot of water back to a boil and blanch the fiddle heads for 2 to 3 minutes. They should be bright green when done. Transfer to a strainer and run under cold water until well chilled. Drain, and set aside.
Heat the stock in a medium sauce pan until warmed, but not boiling.
Melt 4 tablespoons of butter and 2 tablespoons olive oil in a large saucepan over medium high heat, until foamy. Add the leeks and sauté until lightly browned, 2 to 3 minutes.
Add the rice and stir until all the liquid is absorbed and the rice is slightly toasted. It should have a slightly nutty aroma after about 2 to 3 minutes.
Stir in the wine and cook, stirring often until the wine has reduced to less than half.
Add half of the stock and cook, stirring occasionally until only a small amount is left. Add stock a cup at time, and cook while stirring until mostly absorbed before adding more. Do this until the rice is mostly done, but still has some bite in the middle.
Stir in the reserved pureed ramp leaves and cook for 1 to 2 minutes, stirring constantly. The rice should become creamy and loose. Remove from heat.
Melt the remaining 2 tablespoons of butter to a skillet over medium-high heat. Add the morels and cook tossing lightly until they have begun to brown and soften, releasing their juices, about 2 to 3 minutes. Transfer to a bowl and set aside.
Place the rice into bowls and top with morels, fiddleheads, chives, and Parmesan cheese.
Serve immediately.