So this Capsule Wardrobe thing has been around for a while and a lot of people are participating in it which has gotten me to think about it (obviously right?). Well I never thought I could a capsule wardrobe because I like to wear a wide variety of things, but after seeing Chrystina's post on a Reverse Capsule wardrobe, my mind started to change. A reverse Capsule I can totally put together! I actually had a lot of fun going through everything I wore in spring. It also helped me toss a few things that I don't really need and actually think about the things that are in my closet.
The impending move (remember we are looking for houses) has made me really think about all of the stuff we have and what we want to bring to our future home. There are a lot of things in my closet that needed to be let go before the move and the capsule wardrobe idea really got me to address that.
So there you have it the basics of what I wear most. You can probably tell that I have a pretty standard outfit of plain tank tops or t-shirts. My office is pretty cold so I have a few standard sweaters listed here despite it being pretty warm out, and that's something that probably won't change throughout summer. I am lucky in that I can wear jeans to work, but there are a few nicer tops that I wouldn't wear if it weren't for working in an office, those are the 4 tops pointed out in the second to last row, because let's be honest I'm not really wearing more than one of those t-shirts on the top part of the chart on any given weekend day.
What is a little deceiving about this photo is the number of actual tank tops that I own. I wear so many tank tops and year round, because I like layers. If we are being honest here (and we are) I thought I should include a picture of the actual tank top collection. Please ignore the lack of handles on the drawers, it's a work in progress.
For bottoms I pretty much just wear jeans and maxi skirts. I have a number of maxi skirts but these were my favorite for the winter and spring. For shoes it's been all about the boots and flats. I'm excited to start adding my sandals back into the mix.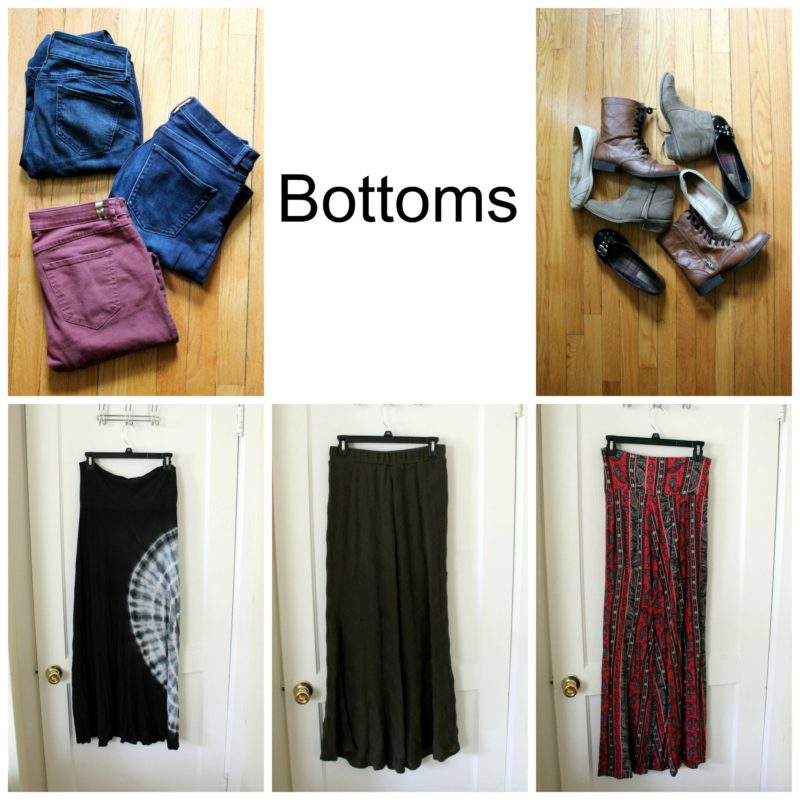 I tried on a lot of clothes during this process as an attempt to get rid of some stuff and I learned a few things. First off I have to admit something I'm a "skinny bitch" for the most part, and have always fit into clothes from the juniors section. The women's section never fit me quiet right, and was more expensive so I was happy to shop in juniors. That is until recently. It appears that at 27 years old I am finally a woman (HA!), because the junior's clothes look silly on me and pinch in all the wrong places, while women's clothes actually fit and feel good. The last few months I have tried to rebuild my wardrobe with clothes that actually fit me, but many of my favorite junior's pieces were still hanging around. This exercise really pushed me to ditch a lot of those clothes.
Other things of note: I own a number of heals that look like they've never been worn.  It's just sad thinking of all that wasted money. Purses are in a similar situation, I use the same 2 all the time, one is leather and has lasted for a long time, so I think it's time to invest in a brown version to replace the knock off one that has seen better days. I have a massive sentimental t-shirt collection, you know t-shirts form high school and college events? Yeah those need to go, I need to admit to myself that I'm never going to make that t-shirt quilt, and even if I do what would I actually do with it?
One of the major realizations that I had during this process is that the number of clothes that I actually wear was a lot smaller than I had previously thought. It really made me see just how many items I had that I did not need to hold on to. Getting rid of things feels so freeing. Everything once again fit's in their drawers or allotted spaces. Pretty much everything was able to be donated, and only a few things needed to be thrown away. While I realize that I could make some money from some of the clothes, it's just not worth it to me. I buy things cheap, and wear them out fast, that's if they aren't hand me downs already. It's faster and easier to donate, and hopefully it helps someone else out.
I've already got my summer capsule in my head, and I'm excited to see if it actually holds up to my expectations, if so I might just do the real capsule wardrobe project for fall this year.