Hunting is a huge part of our lives here in the ginger home. Not only did I grow up in a hunting family, but Chuck did as well, and because of this venison makes up a large part of our diet, over the years we have developed a large number of recipes this is one of my favorites.
We love breakfast sausage in our house and this recipe is adapted from a universally used breakfast sausage recipe. We do however like to switch it up and use maple syrup instead of brown sugar, or sometimes add a pinch more cayenne to spice things up. I have also been know to through a pinch of cinnamon in on a day when the sausage will accompany something like french toast.
There are plenty of options for adding fat to your ground meat, each with its own pros and cons.
Bacon:
This is often a preferred method since it's one of the easiest to find, and you can easily add some extra flavor to the grinds through the use of maple or smoked bacon. The negative side of this option is that bacon can be high in salt, so it might be best to remove added salt to the recipe until you have the chance to try it out.
Pork Fat:
I like using pork fat however it is not something that is easily found, so you might have to talk to the butcher at your local supermarket and have them specifically get it for you. Also you have to make sure you thoroughly cook the meat in order to avoid things like trichinosis that come from the meat and fat of pigs.
Beef Fat:
This is my favorite option and the one that I employ more often. I like it because it allows you to serve the sausages when they are cooked rare unlike the pork fat, and the natural bland flavor gives you a base to create whatever kind of grounds that you want. It is also more readily found in typical supermarkets.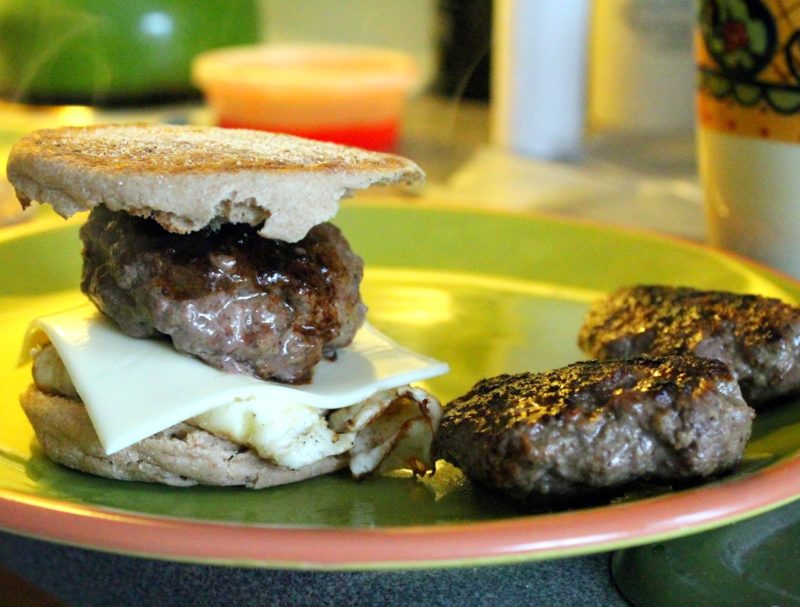 (Adapted from Alton Brown)
Venison Breakfast Sausage
Ingredients
2 lb venison (Diced into ¼' to ½' cubes)
2 ounces fat (Diced into ¼' to ½' cubes)*
2 teaspoons kosher salt
1½ teaspoons black pepper
1 teaspoon ground sage
1 teaspoon dried thyme
¼ teaspoon dried rosemary
1 tablespoon light brown sugar (or ½ tablespoon maple syrup)
½ teaspoon nutmeg
¼ teaspoon cayenne pepper
Instructions
Combine the all ingredients in a large bowl and toss to mix well.
Using the fine blade of a grinder, grind it all together and store in a sealed package.
The mixture will sit in the fridge for up to 1 week, or freeze for up to 3 months.
Similar Posts: