Okay, so this might very well be my new favorite recipe.
I know I say that a lot but seriously you guys this one is sooo good.
I was checking out our chest freezer last week in an attempt to make room for the new meat that's coming in now that it is hunting season and I stumbled on a couple extra pounds of breakfast sausage. It's considered bad luck to have last year's catch in the freezer when you add this year's so I had to come up with a way to use it and fast!
This idea for a recipe popped into my head and I knew it would be good. Though, I didn't know at the time just how good it would be.
Spoiler; it's amazing.
I mean you know it's good when your husband won't leave the stove, nearly burning off his fingers to steal tiny bites while it cooks. Yes, he is an adult, I swear.
Potato is the base of this dish, like with any hash, but the addition of the venison sausage and apples adds a whole other level of flavor and texture. Breakfast sausage is key here because it has all the right spices to mix with the flavor of the apples.
What I did find surprising is that the dish wasn't overly breakfasty (yep that's a word now) despite using breakfast sausage. Granted, I did serve it with a side of broccoli because we like to eat green things in this house and maybe that made it feel more like dinner. If you wanted to make it a bit more like a breakfast I think serving it with eggs and a side of real maple syrup would do that just fine.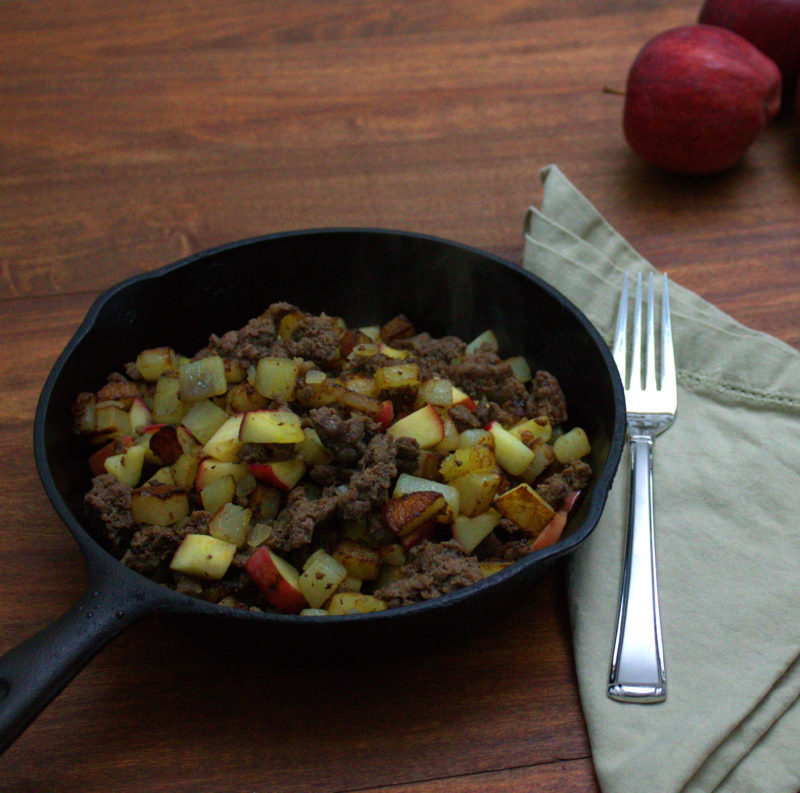 If you are looking for more information on how to make venison sausage including a discussion on the types of fat to use in the meat mixture check out my Venison Breakfast Sausage post.
Venison Sausage Hash with Potatoes & Apples
Ingredients
1 tablespoon olive oil, plus more
1 medium onion, peeled and chopped
1 lb prepared venison sausage
1 large russet potato, peeled and chopped
2 cloves of garlic, minced
1 medium apple, cored and chopped
Salt and pepper to taste
Instructions
In a large skillet, heat the oil over medium high heat. Add the onions and saute for 30 seconds.
Add the sausage to the pan. Use a wooden spoon or spatula to break up the sausage into crumbles while it cooks, roughly 3 to 4 minutes. Drain the fat if necessary.
Remove the sausage onion mixture from the pan and set aside. You may need to add a little more oil to the pan so that the bottom is coated.
Allow the oil to heat up before adding the potatoes and garlic. Cook the potatoes, stirring regularly, until they are tender, about 8 to 10 minutes.
Stir in the apples, and cook for an additional minute before adding the sausage mixture back to the pan. Stir well to combine and heat through.
Adjust seasonings and serve immediately.