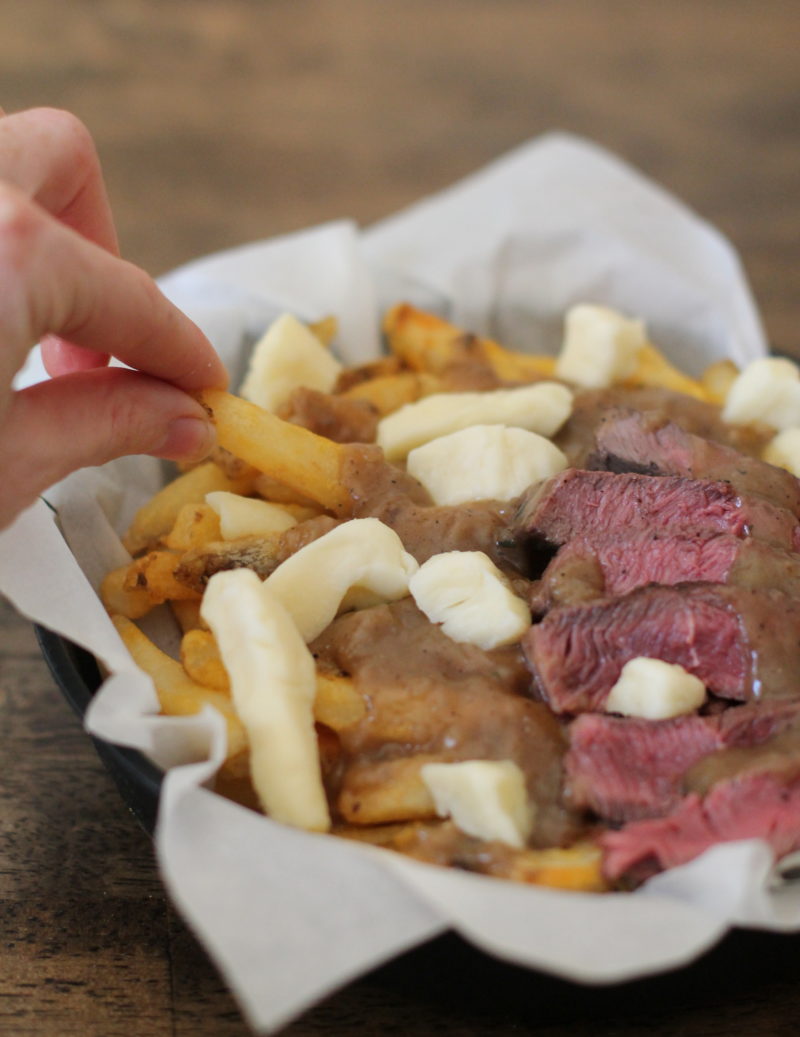 Growing up in upstate, NY there's a few, shall we say area delicacies that you run into from time to time. Poutine is one such delicacy. Hailing from Quebec much of the Northeastern United States has adopted this dish as a local tradition, and it can be found in numerous restaurants around. For my version I added venison, because who wouldn't love a venison poutine?
If you're not from around here you are probably wondering what in the heck poutine is. And that picture probably isn't answering too many questions, am I right? Poutine is a dish comprised of fries and cheese curds covered in brown gravy. Basically it's a conglomeration of cheese fries and gravy fries and it's fabulous. Find a more traditional recipe here.
In all honesty, I hadn't really seen poutine around very much until I went to college up in Northern New York (we are talking like 30 minutes from Canada here), but also, my family never went out to dinner. As an adult I often see this dish everywhere from tap rooms, to diner's, so I know it was around. In full disclosure, I was disgusted by the prospect of cheese curds and gravy combined, but after a little cajoling I gave them a try. Two bites and I was easily converted to a believer in the wonder that is poutine.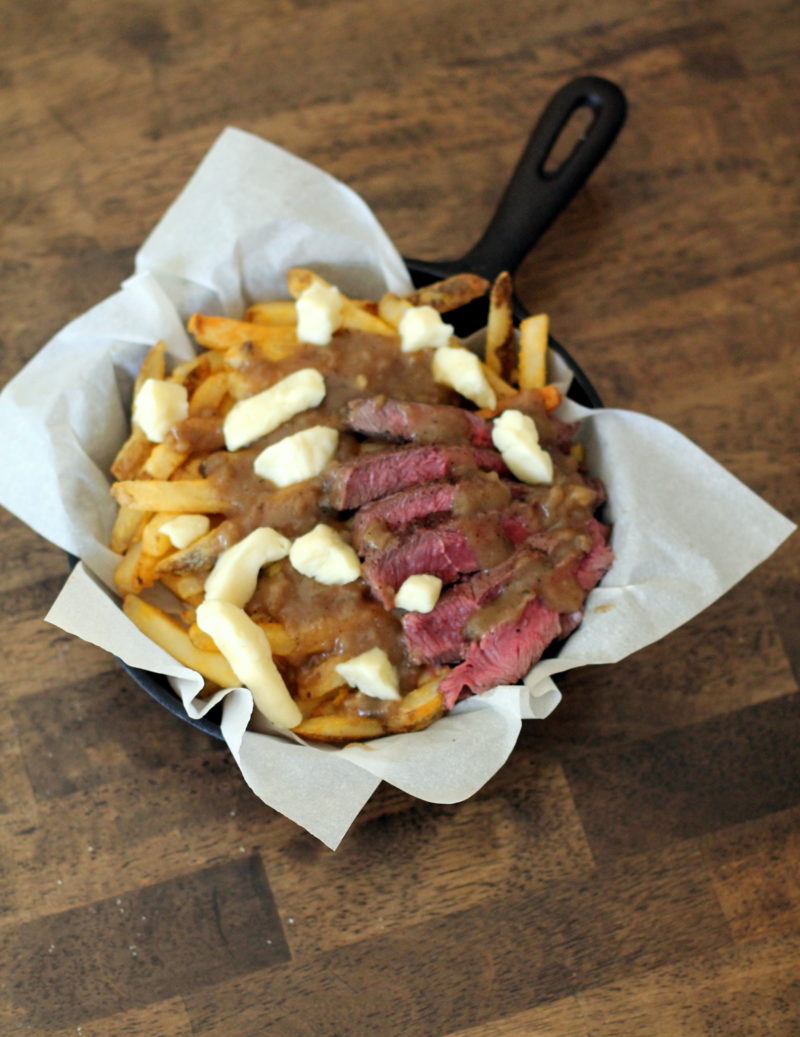 In this recipe, the gravy is a little different from the traditional simple brown gravy. After the venison steak is cooked, the drippings in the pan are used to make an ultra-flavorful gravy that really lends itself well to the cheese curds. I've also been known to add a little onion in for good measure, but that's up to you.
The thing that really makes this recipe different is the addition of the venison steak on top. Combined together this venison poutine could basically be a whole meal in and of its self (vegetables be damned).
Venison Poutine
Prep Time 5 minutes
Cook Time 26 minutes
Ingredients
1 lb frozen or homemade fries
1 lb venison steaks at room temperature
2 tablespoons butter
Salt and pepper to taste
1 tablespoon flour
2 teaspoons red wine vinegar
2 cups beef veggie, or venison broth
1 lb plain cheese curds
Instructions
Prepare French fries according to package instructions (or as desired).

Preheat oven to 375 degrees.

Meanwhile, warm a large oven safe pan over high heat. Just as it begins to smoke add 1 tablespoon of butter and reduce to medium-high.

Generously season the steaks on all sides with salt and pepper before placing in the pan. Sear well on all sides, about 1-2 minutes per side. Place in the oven to reach desired doneness (1" thick steak Rare: 8 minutes, Medium: 13 minutes, well done: 20 minutes).

Once cooked as desired remove the steak from the pan and set aside to rest.

While the steak rests return the pan to the stovetop on medium high heat. Add the rest of the butter and flour. Stir well and let cook for 1 minute, or until the mixture begins to brown and smell nutty.

Add the vinegar, and broth and use a wooden spoon to scrape the browned bits from the bottom of the pan.

Let cook until reduced, 2-3 minutes, stirring regularly. Remove from heat and set aside.

In a large serving tray place fries and half the cheese curds. Drizzle with gravy, slice and place the venison steak on top, add the rest of the cheese curds and gravy as desired. Serve immediately.
Similar Recipes: