Recently, quite a few people have requested a copycat recipe for Panera's Southwest Chicken Tortilla Bowl. Considering that the copycat that I did for their soba noodle broth bowl has consistently been one of my top posts, how could I not oblige? Dear readers, I have heard you.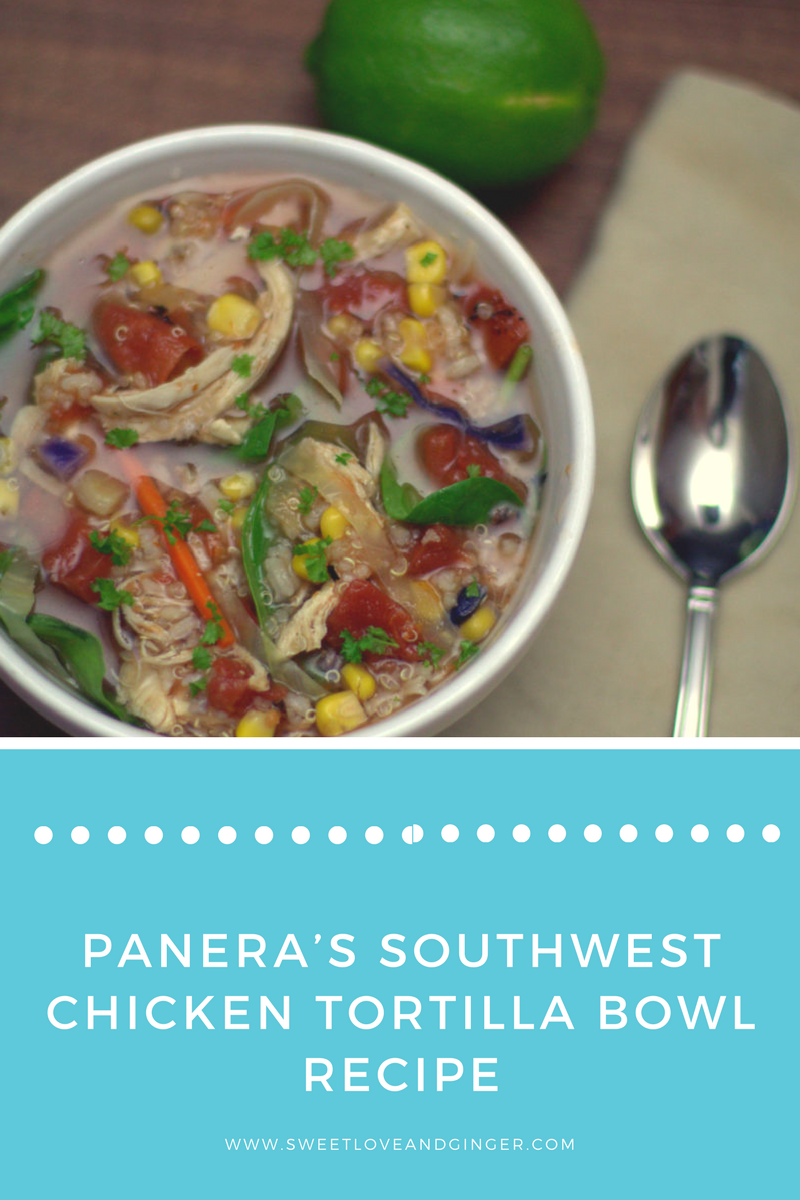 Here's the thing, I actually haven't been to Panera in probably over a year. Chuck and I have been making a real effort to not eat out much, and when we do we prefer to go local. We are blessed to live in an area filled with numerous farm to table restaurants and amazing local chefs. I mean how could you not enjoy eating breakfast in a little café while watching chickens and goats play outside your window?
Anywhoodles, I made a specific trip to Panera to try out this dish a couple weeks ago just so that I could put this recipe together for you. I tried my hardest to stay true to the actual ingredients in the dish, without getting too crazy. Panera is smart, they make ahead a bunch of vegetable and sauce mixes that can be used to whip up a number of different recipes in a flash. This, however, can be a challenge for the home cook, who is not interested in buying an entire Asian cabbage for the 1 tablespoon that this recipe would call for. Considering this I paired down the number of ingredients but felt I was still able to get the flavors pretty darn close. I had the same issue when working on the Soba Noodle Bowl recipe, but that also came out pretty darn good if I do say so myself.
For this recipe, I did not use smoked chicken, like Panera does, while I have a smoker and could easily do this, not everyone else can. Also, I didn't feel that it had a huge effect on the dish overall. You be the judge. If you really think it needs some additional smokiness I suggest using smoked salt in place of regular salt.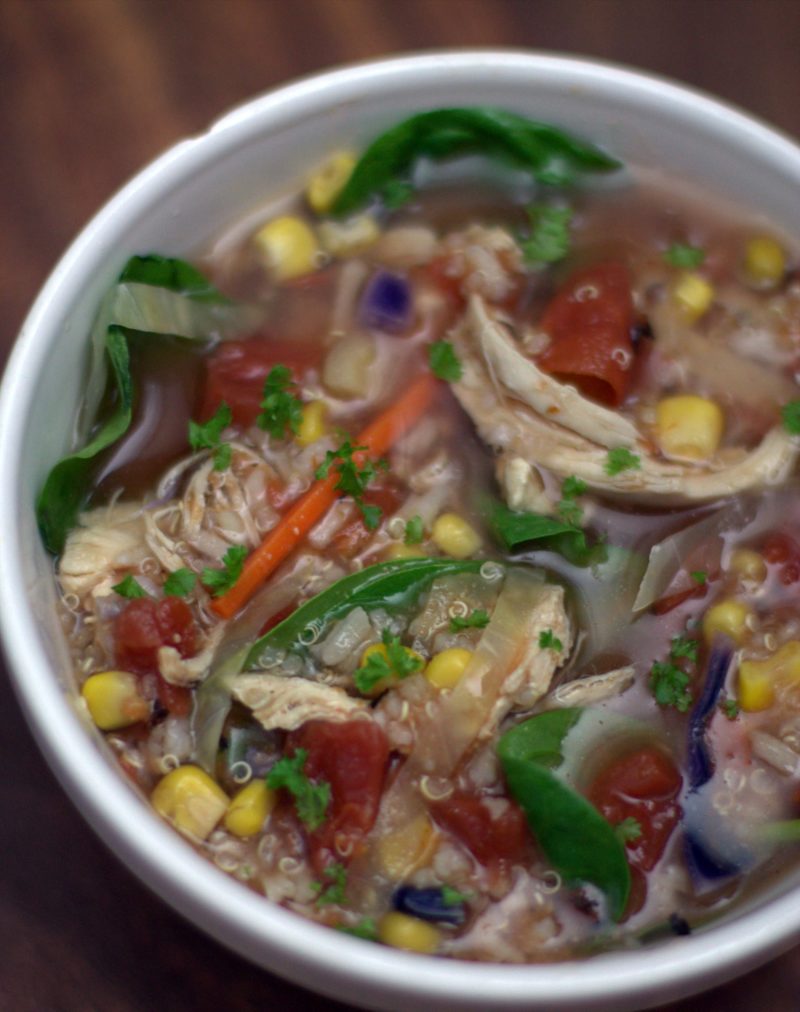 You will also notice that in the pictures I did not include the tortilla strips. Don't sue me!! I had them all done and sitting there on the stove, and totally forgot to take pictures with them in the bowl! I know, I know, what kind of food blogger am I? Honestly, I'm the kind who gets hungry after fiddling with a recipe all morning and just wants to eat. Photography has never been my strong suit here (remember those early days?), you know that. I'm all about the food.
Ok enough discussing the recipe (and my blogger transgressions), on to the recipe.
First things first, here's that smoked salt again, and if you don't feel like making the wonton strips here's where you can find those.

Panera's Southwest Chicken Tortilla Bowl
Ingredients
4 tortillas
2 tablespoons olive oil
Salt to taste
½ cup brown rice
½ cup quinoa
1 small onion, peeled and diced
1 clove of garlic, peeled and minced
1 teaspoon chili powder
½ teaspoon smoked paprika
½ teaspoon cumin
¼ teaspoon cayenne pepper
½ teaspoon salt
¼ teaspoon black pepper
1 small carrot, julienned
¼ cup shredded cabbage
½ a radicchio head, shredded
1 can fire roasted tomatoes
1 lb chicken (roughly 2 breasts), cooked and shredded.
6 cups chicken broth
⅓ cup frozen corn
½ cup roasted red peppers, chopped
⅓ cup pickled onions
2 cups baby spinach
1 lime sliced
Instructions
Preheat the oven to 425 degrees.
Stack the tortillas and slice in half. Cut the halves crosswise into ½ inch strips. Place on a rimmed baking sheet and toss with 1 tablespoon olive oil. Add salt to taste and place in the oven for 8 to 10 minutes, or until golden brown. Remove from heat and set aside.
Prepare the rice and quinoa according to package instructions and set aside.
In a large sauce pan or Dutch oven, heat the oil over medium high heat. Add the onion and garlic and sauté for 2 minutes, or until it becomes fragrant.
Stir in the chili powder, paprika, cumin, cayenne, salt and black pepper. Add the carrot, cabbage, and radicchio. Cook for 1 to 2 minutes, stirring well.
Add the canned tomatoes, chicken and broth, Bring to a boil then reduce to a simmer. And cook for 10 minutes.
Stir in the corn, red peppers, rice, quinoa, and let simmer for another 5 minutes.
Add the pickled onions, and spinach, stir well and remove from heat. Serve immediately with tortilla strips, and a slice of lime on top.
Similar Recipes: