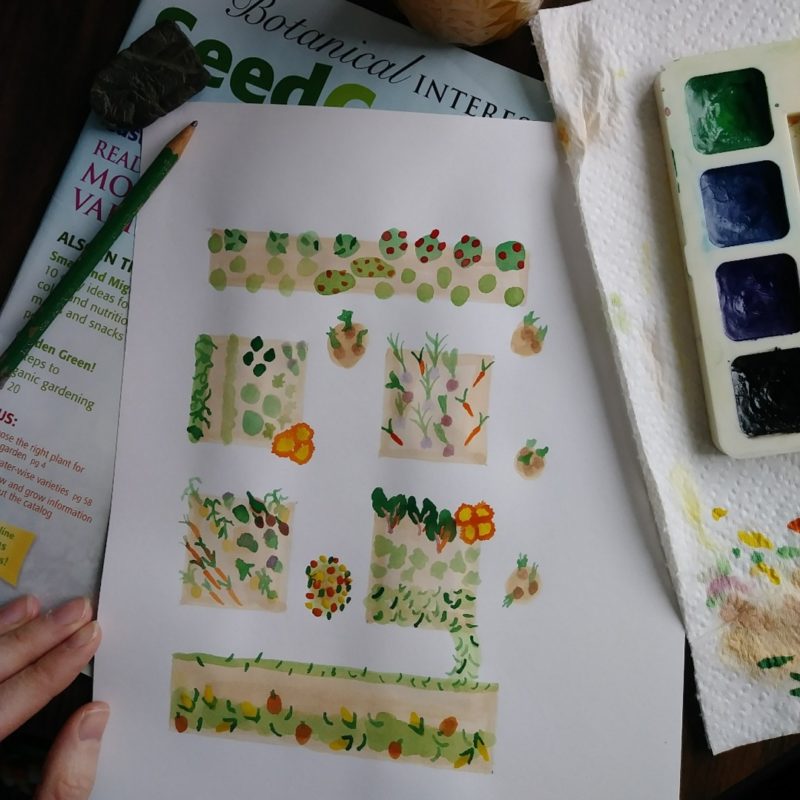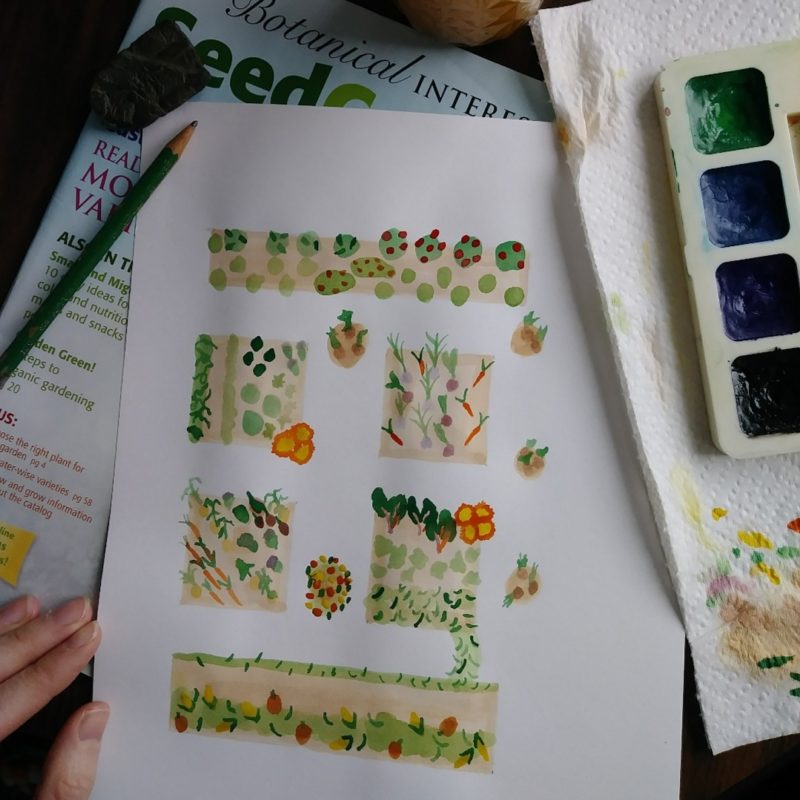 Every year like so many other gardeners I make a garden plan. I spend hours perfecting it, checking for rotations schedules, timing, heights, companion planting, soil make up and so many other things. And then I change it all around about 5 more times. Typical right?
Previous Garden Plans:
2017 Garden Plan
2016 Garden Plan
2015 Garden Plan and then the New House Plan
2014 Garden Plan 
The Vegetable Garden
This year I'm adding another bed to the garden. It will be 3'x12' opposite my 2'x12' bed.  This brings my total vegetable garden space up to 124 SF. It's not a lot of space, but we are able to make it work for us and we get quite a bit of produce out of it.
In addition to the vegetable garden, we have several flower garden beds scattered around the yard, a small herb garden, and a food forest plot, as well as raspberry, black cap, blueberry, and red currant bushes on the property. I'll talk about those more below.
The new bed will be my 3 sisters garden. I plan to use some of the seeds from my Zombie Seed Survival kit to create this bed, so it will include Painted Mountain Corn, Black Magic Zucchini, and some beans. Additionally, I plan to plant an early row of peas that we can pull out as the other plants start to take up more space.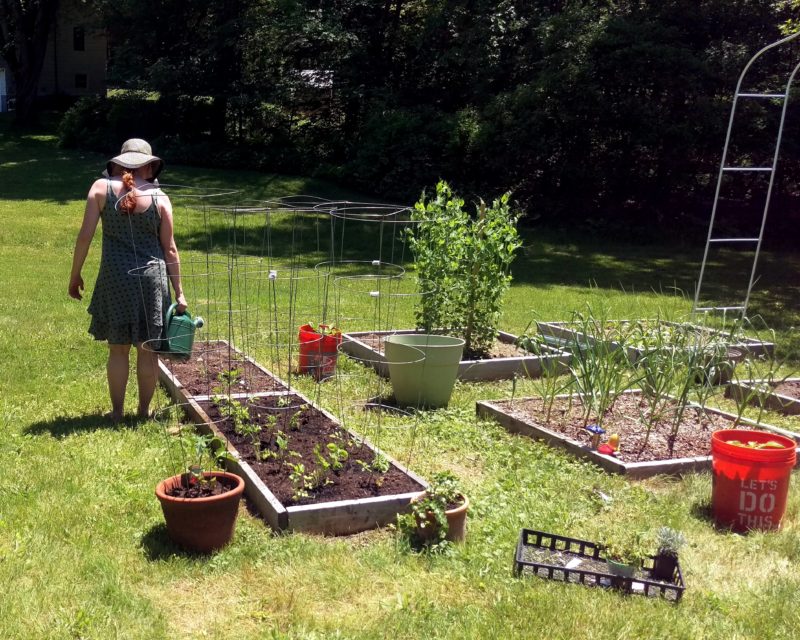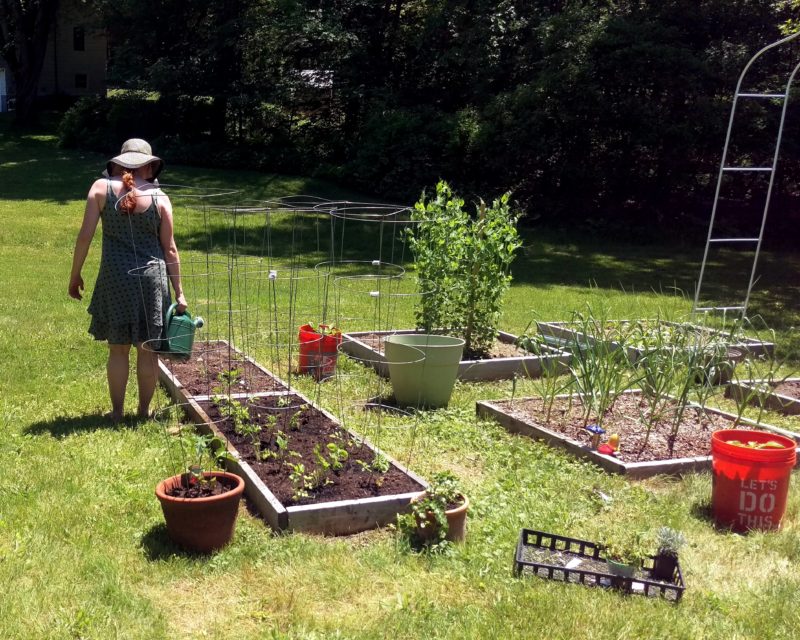 In the 2'x12' bed, I plan to again plant my tomatoes and some herbs. I realize that I should do more rotation, but due to the small space, and directionality of the sun, this is really the best place for the tomatoes. However, I will amend the beds with some good compost and organic fertilizer. I also plan to add peppers, and some flowers to the mix this year, focusing less on the number of tomato plants. Last year, I found that I can purchase organic tomatoes in large quantities pretty cheap from local farms to make my sauce and salsa for the year, so I can save my precious garden space for other things.
In the 4 square beds, there will be a mix of different vegetables that will change out for new ones in fall. I have rotated everything by one box in a clockwise fashion. Seriously, guys do it get any easier for planning purposes? The only exception is the beans and lettuces which I switched in order to place my trellis next to the 3 sisters bed. Here is the run down. In square bed 1, I have cucumbers, with carrots, beets, mixed lettuces, and brassicas. Bed 2 contains, garlic with more carrots, beets, and mixed lettuces, then fall cabbage and brassicas. In bed 3, there are the beans and more greens. Bed 4 is the onion, carrot and head lettuce bed. Yes, there are lots of lettuce, but these are quick growing so they will be the first to harvest and die off before the height of summer when the other veggies will fill out. They will be replanted for fall as well.
The Flower Gardens
The flower gardens are mostly perennial plants. It is a mix of ornamentals, cutting flowers, as well as flowering herbs. I find that the more diverse are more complex and interesting the garden.
This year I'm tossing out a packet or two of wildflower mix seeds. I'm hoping these will fill in some of the space that the perennials have yet to. Hopefully, they will work as a kind of living mulch to keep out some of the less desirable plants (creeping Charley) that continuously invade my garden space.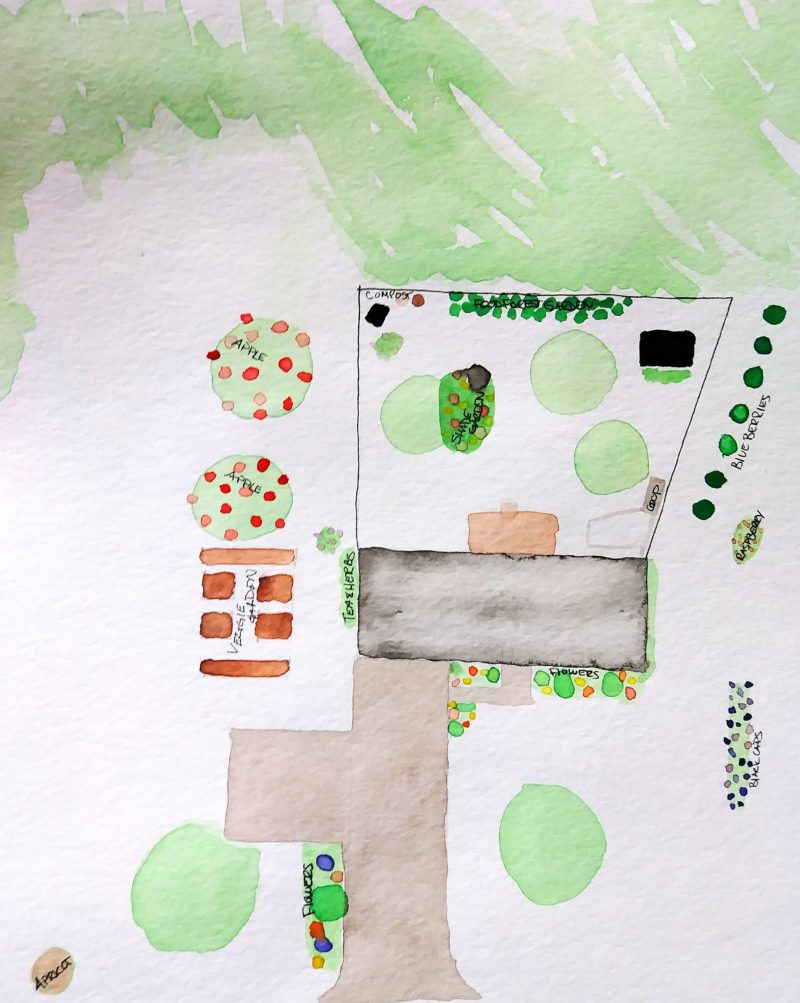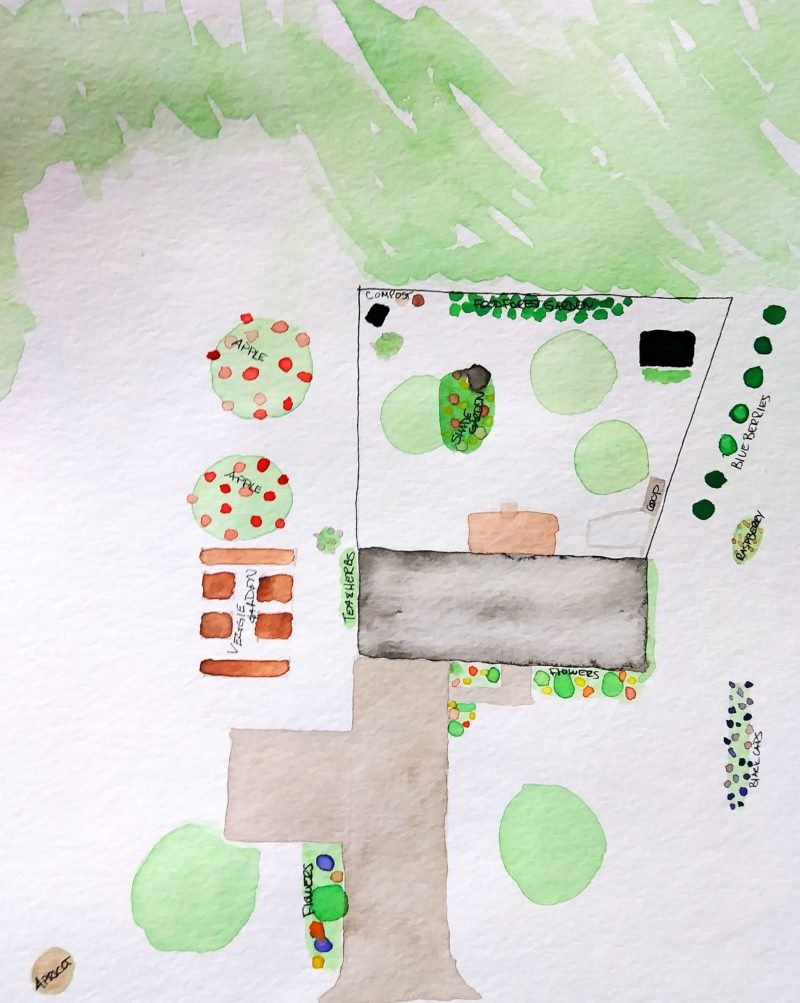 The Herb & Tea Garden
This garden is easily my favorite. It's still being developed of course, but this is where my perennial herbs and edible flowers are.
I love the combination of scents and that this space is constantly changing as the months roll by. From here I can cut more herbs than we can ever consume (seriously my oregano and thyme have gone crazy here!) as well as pick rose hips for winter tea. I also grow edible flowers to brighten salads and top fancy deserts. It's my culinary dream board and I love it.
The Food Forest Plot
Can I call this a garden? Here I have wild ginger, ramps, fiddleheads, and mint scattered throughout. It does its own thin but produces some of our favorite foods.
The Berries
These are grown in a line that creates kind of a hedge. The blueberries are between the fence and the side yard, the raspberries and black caps on the properties border. While the lone red currant bush is on the corner of the house.
And there you have it the full garden plan for 2018, pending any changes of course.
Similar Posts: