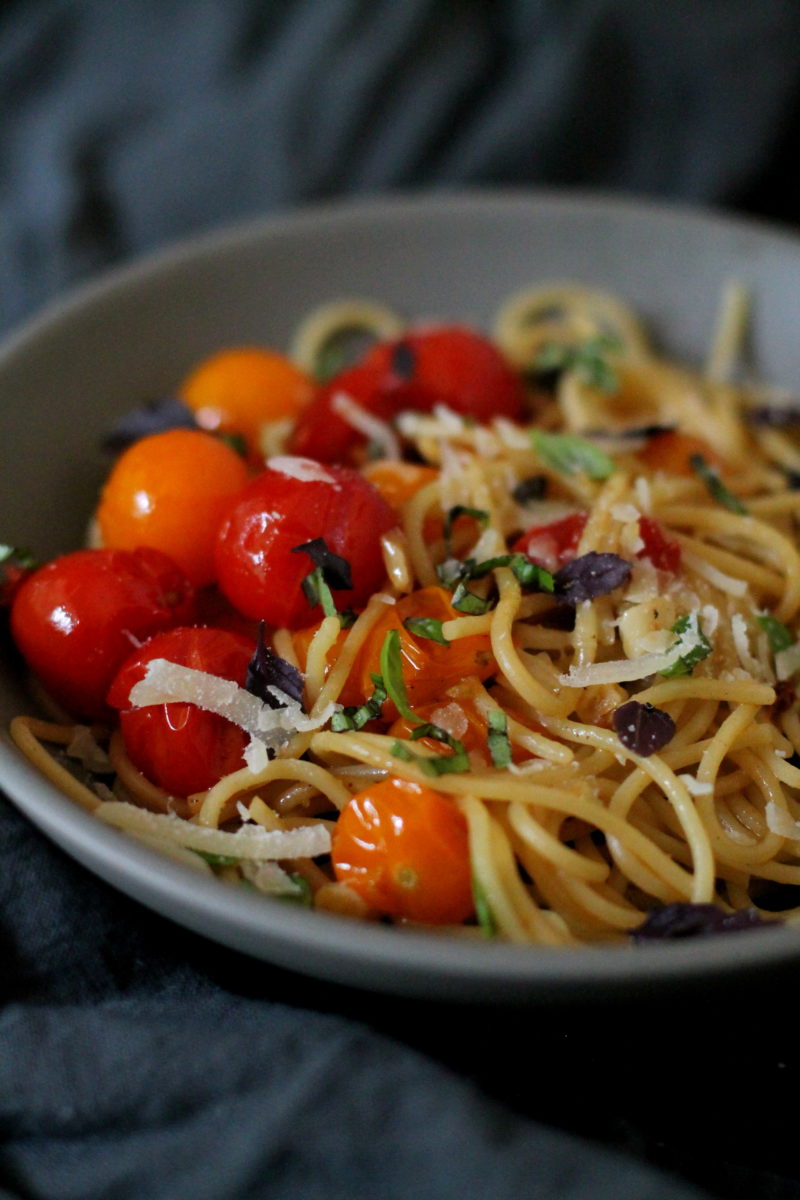 We have entered the season for fresh produce in the northeast and man am I happy about it. I've got garlic and onions curing in the garage, tomatoes leaping off the vines at me, beans, squash, and cucumbers rolling in. There are even some halfway decent carrots in the garden (I've never grown a good carrot until this year), I'm leaving them in and just pulling them as we eat them right now.
This is the time of year that just begs for simple and fresh recipes. Recipes like this one, made with a handful of ingredients and tossed over pasta. Now, I have a lot of favorite summer recipes, but this, man might take the cake, even over my tomato tarte tatin. Mostly, it is because of its ease.
For this particular recipe, I used a combination of different cherry tomatoes, from sun golds to sweet 100's and even midnight snack. The larger sized tomatoes I sliced in half, the smaller ones I left whole to burst in the pan. This gave a wonderful difference in textures. Using the different tomatoes, also gave varying bursts of flavor, the sun golds being extra sweet, and the midnight snacks, a little earthier.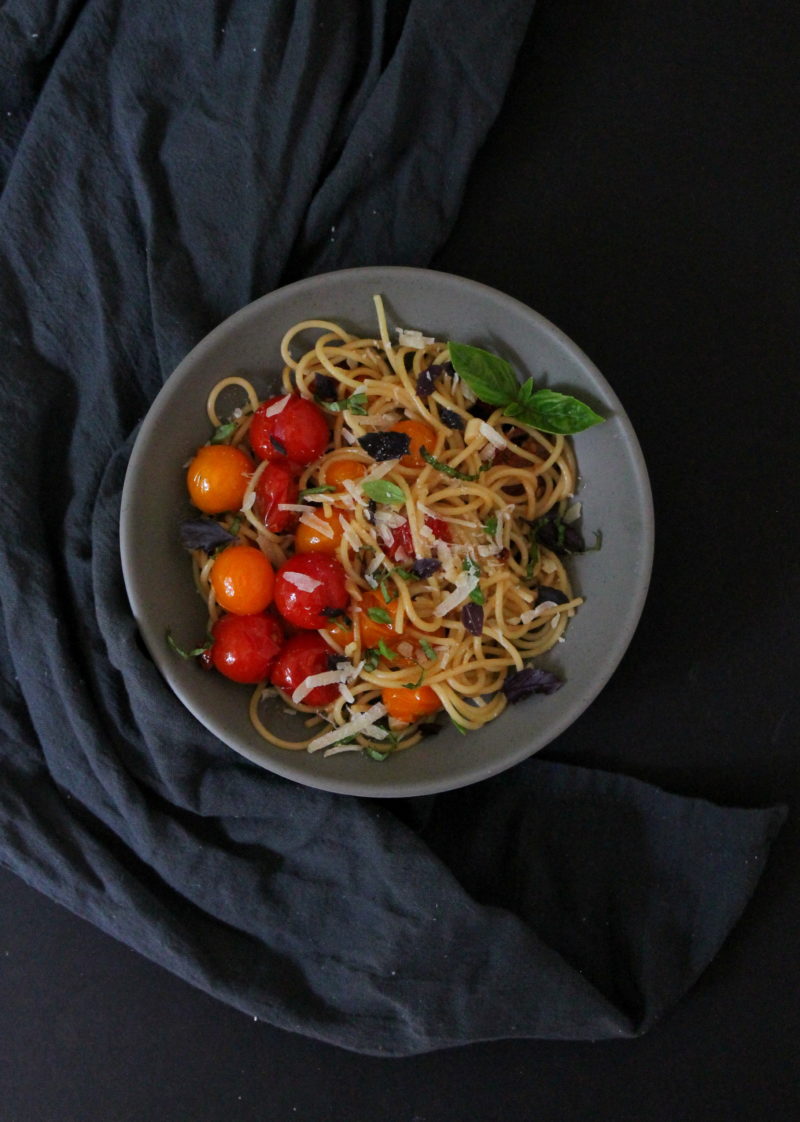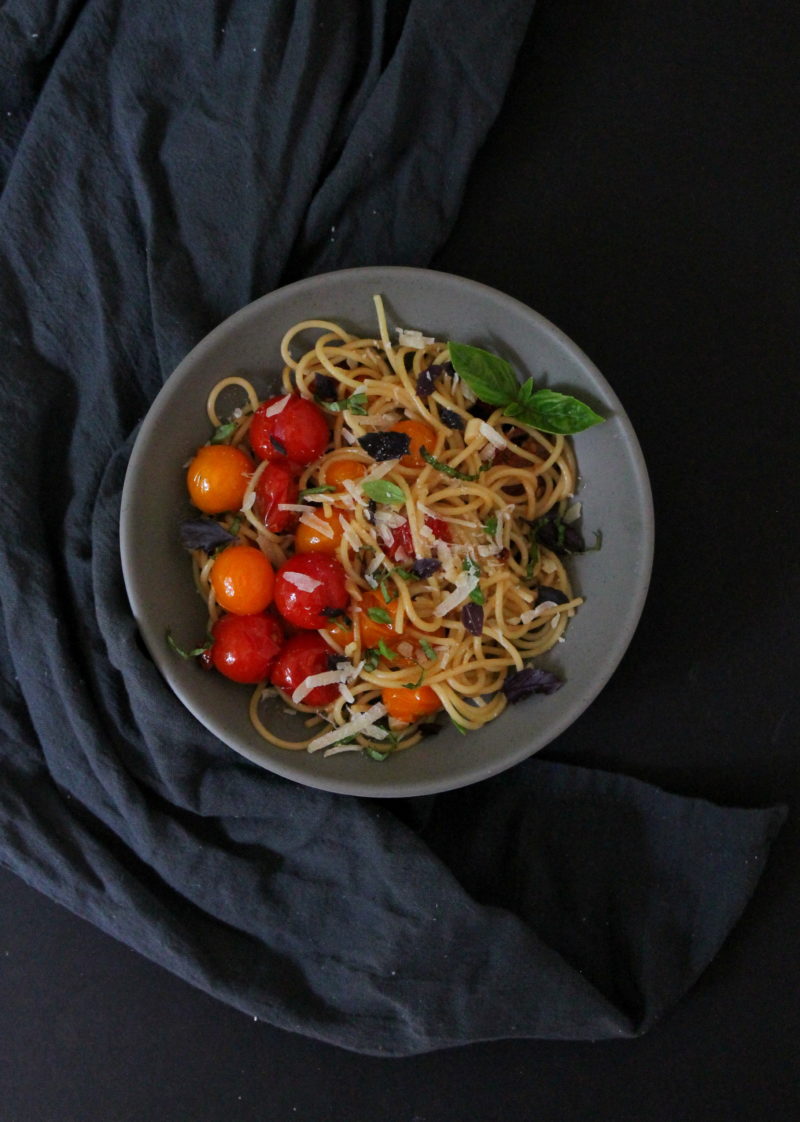 The garlic, parsley, and basil all came from the garden as well. The splash of wine was a Heron Hill Classic Chardonnay, which is also really wonderful for sipping, might I add. The parmesan and pasta were the only imports. I'm going to be working on finding a local source of parmesan or parmesan-like cheese for the upcoming #localthirty challenge.
As I get more into the research for this I'm really excited to experiment with different ways of cooking. Finding substitutes that work for us, and expanding my cooking knowledge is turning out to be much more of an adventure that I initially anticipated, but more on that in another post. We are here to talk tomatoes.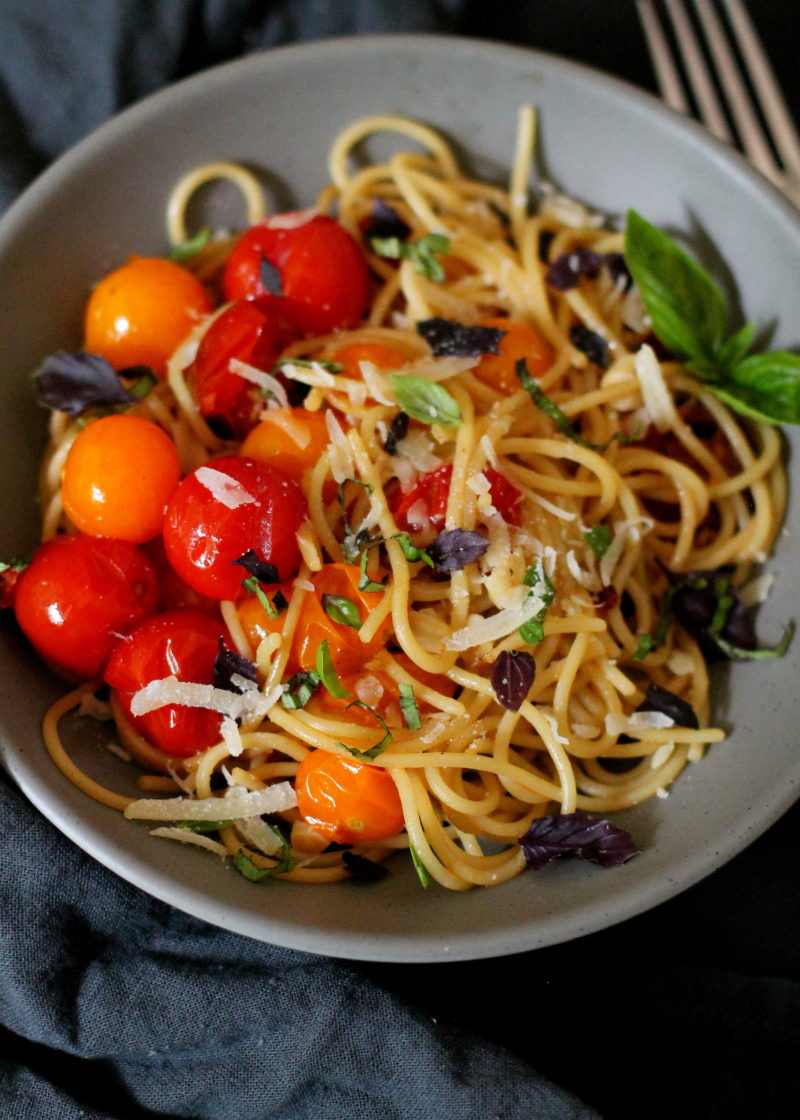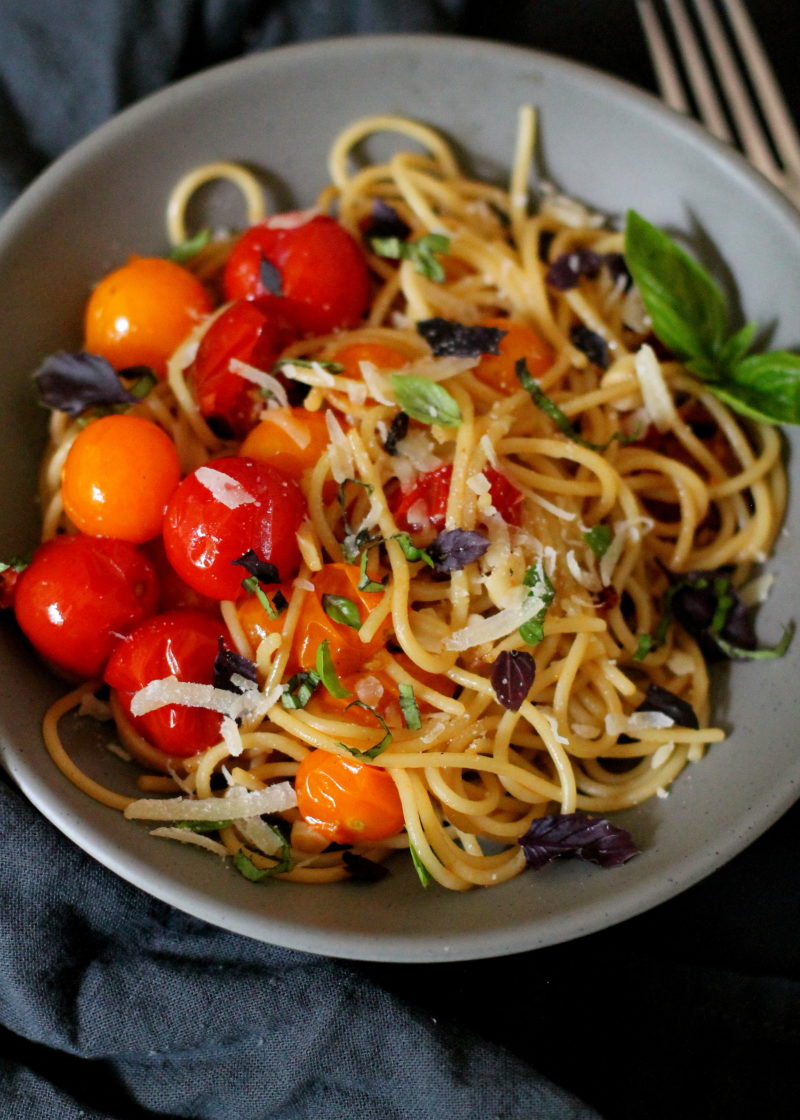 The wonderful glorious tomatoes that come in season this time of year, full of life and bursting with flavor. They really are a wonderful thing. My one small suggestion is to serve this with a hunk of fresh bread, because that wonderful sauce at the bottom of the bowl will most definitely need to be sopped up with something.
Burst Cherry Tomato Sauce with Herbs
Cook Time 20 minutes
Total Time 20 minutes
Ingredients
1 tablespoon extra-virgin olive oil
1 small head of garlic peeled, crushed and roughly chopped
1 pint mixed cherry tomatoes
½ cup dry white wine
½ lb dry pasta
Fresh ground black pepper
½ cup fresh basil chopped
1 teaspoon fresh parsley chopped
Fresh grated Parmesan for garnish
Instructions
Cook pasta cording to package instructions, to al-dente. Drain, reserving ½ cup pasta water. Set aside.

In a large skillet heat oil over medium-high heat.

Add the garlic and sauté for 1 to 2 minutes, or until the garlic becomes fragrant.

Stir in the tomatoes and let cook until the tomatoes soften and burst, about 6 to 8 minutes.

Deglaze the pan with the wine and reserved pasta water. Let reduce to half, about 2 to 3 minutes.

Add the past to the pan and toss to coat. Remove from heat.

Add pepper, basil, and parsley, toss again and serve with additional herbs and parmesan for garnish.
Similar Recipes: