Like just about everyone who's into canning, I get excited every year at the prospect of tomato season. The one time of year when tomatoes are available in abundance. The one time of year when you can get your hands on a fresh sun ripened tomato. Tomatoes harvest at just the right time and eaten right away can actually be startlingly sweet and flavorful.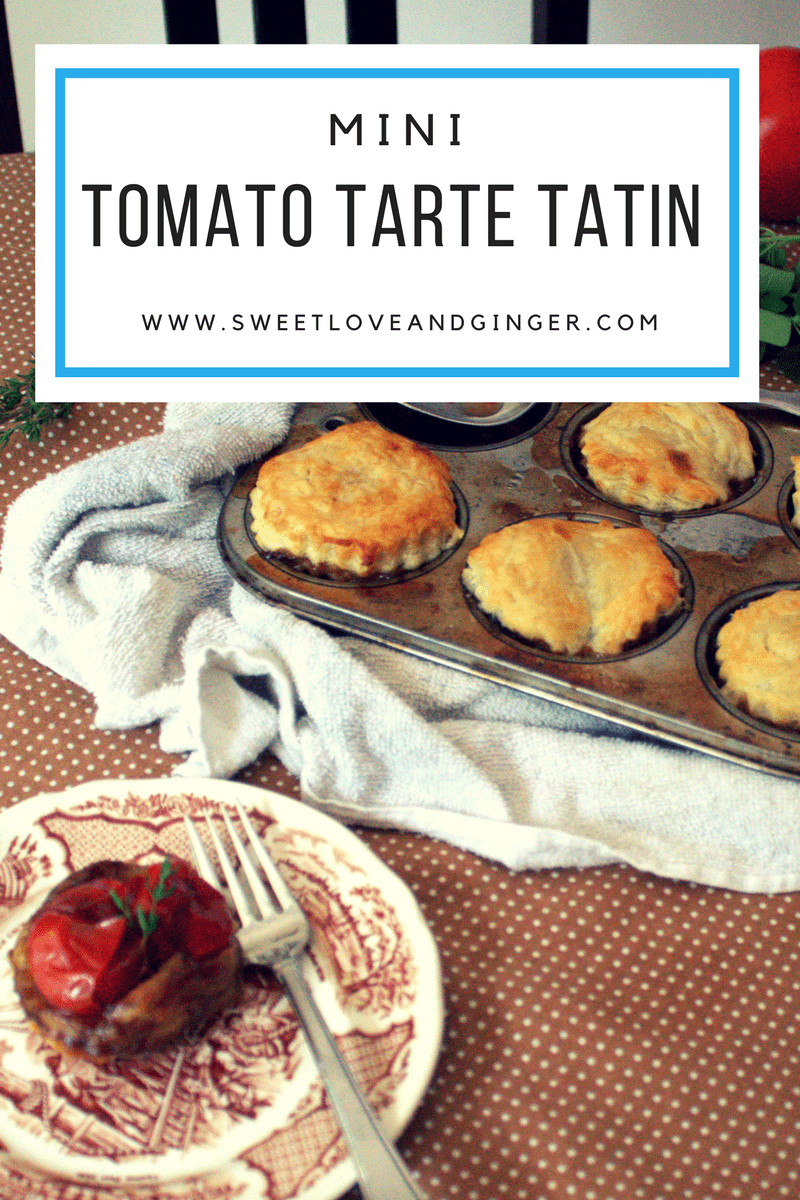 I hear from a lot of people that they don't like tomatoes. I don't blame them. We live in a world where tomatoes are always available, however, the ones you get in the store are all from the same clone. They are picked early and ripened chemically just before hitting the shelves. These tomatoes are flavorless, mushy, mealy, and are nothing like the juicy wonders that I'm talking about. I've converted a number of people to tomato lovers by handing them one fresh from the garden, still warm from the sun.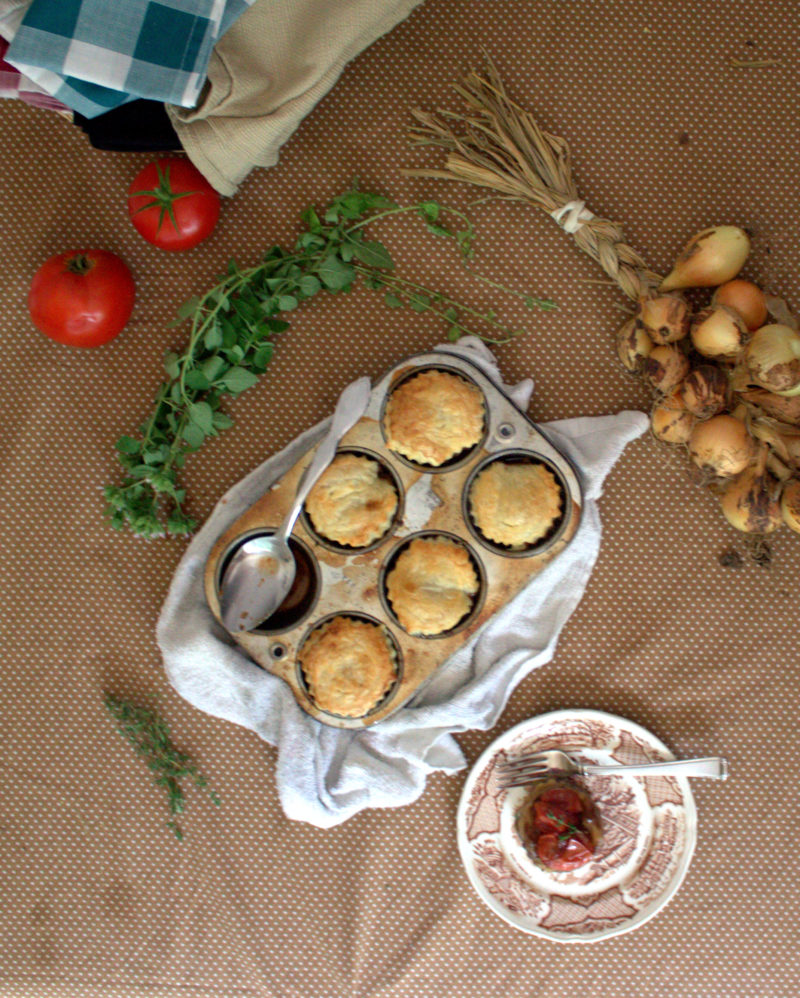 Everyone who does like tomatoes has their favorite dish. The one thing they wait all year for. There are so many recipes that highlight tomatoes, from sandwiches to salsa's, sauces, chutney's, and more. For me the one recipe I wait for all year is this one (well and my own tomato sauce). It's a dish that feels incredibly elegant, and yet is so easy to make. It's also darn pretty when served.
The original recipe came from Mimi Thorrison's blog Manger. Everything she makes is pretty and delicious of course. Typically I make a regular sized tarte tatin, as it's described on her blog, but for some reason this year I decided to make a mini version. I thought this might stop me from eating the whole thing in one sitting.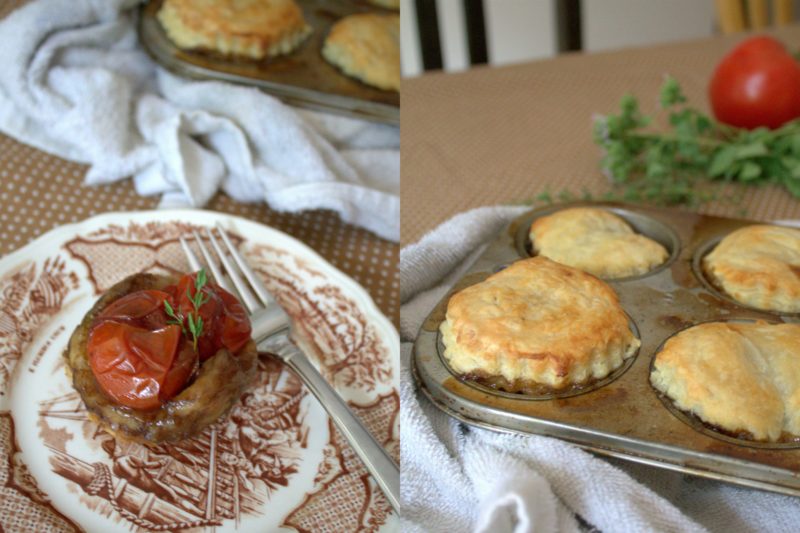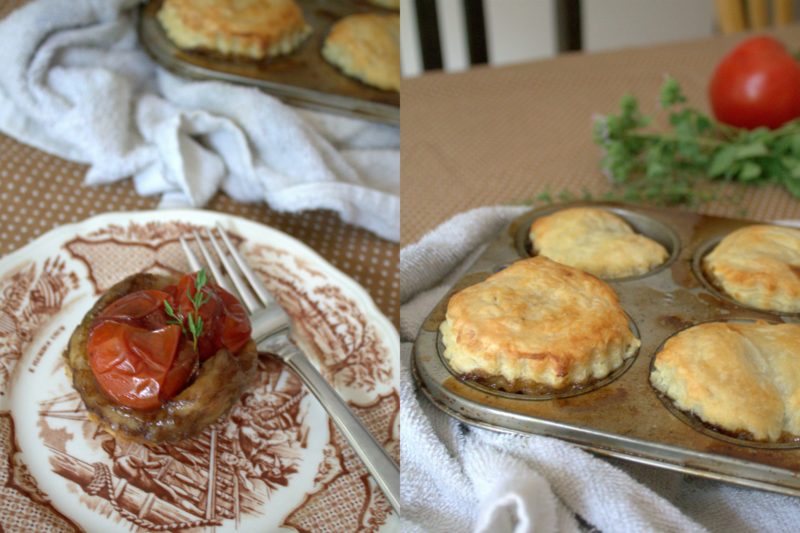 It didn't help at all if you're wondering.
If the warm and juicy tomatoes are the star of the show the caramelized balsamic, honey, and butter sauce is definitely in the best-supporting actress role. We all know tomatoes and balsamic work well together, but the browned butter and caramelized honey just take it to a whole other level. These are combined with herbs to make a syrupy sauce that bursts with flavor. The puff pastry is the vehicle that holds everything together. It not only provides the glue that holds the dish together, it also works to soak up all the wonderful sauce. You cannot swap out the puff pastry for any other kind of crust either. No pie or pastry dough will both retain its structural integrity while also becoming gooey from contact with the sauce. Besides, we all know that it's the puff pastry that's bringing the sophistication here.

Mini Tomato Tarte Tatin
Ingredients
2 tablespoons unsalted butter
2 tablespoons balsamic vinegar
2 tablespoons honey
2 teaspoons oregano
1 tablespoon sugar
Salt and pepper to taste
1 bunch cherry tomatoes, a little over a pound
1 frozen puff pastry, defrosted
A few sprigs of fresh thyme
Instructions
Preheat the oven to 400 degrees.
In a small pan, melt the butter and stir in the honey.
When it starts to thicken, add the tomatoes and cook for 5 to 8 minutes.
Sprinkle the oregano leaves and one tablespoon of sugar all over. Season with salt & pepper to taste.
Add the balsamic vinegar and reduce for 2 minutes.
Place the tomatoes, two to three at a time in a large muffin tin. Spoon the sauce out over the tomatoes.
Roll out the puff pastry and cut it into 6 equal pieces. Place the pastry on top of the tomatoes and tuck the sides in.
Place in the oven and bake for 25 minutes, or until the top is golden brown.
Let stand for 5 minutes, then use a large serving spoon to pop out the tarts onto serving plates.
Serve garnished with thyme leaves and a few spoons of the liquid left in the tin.