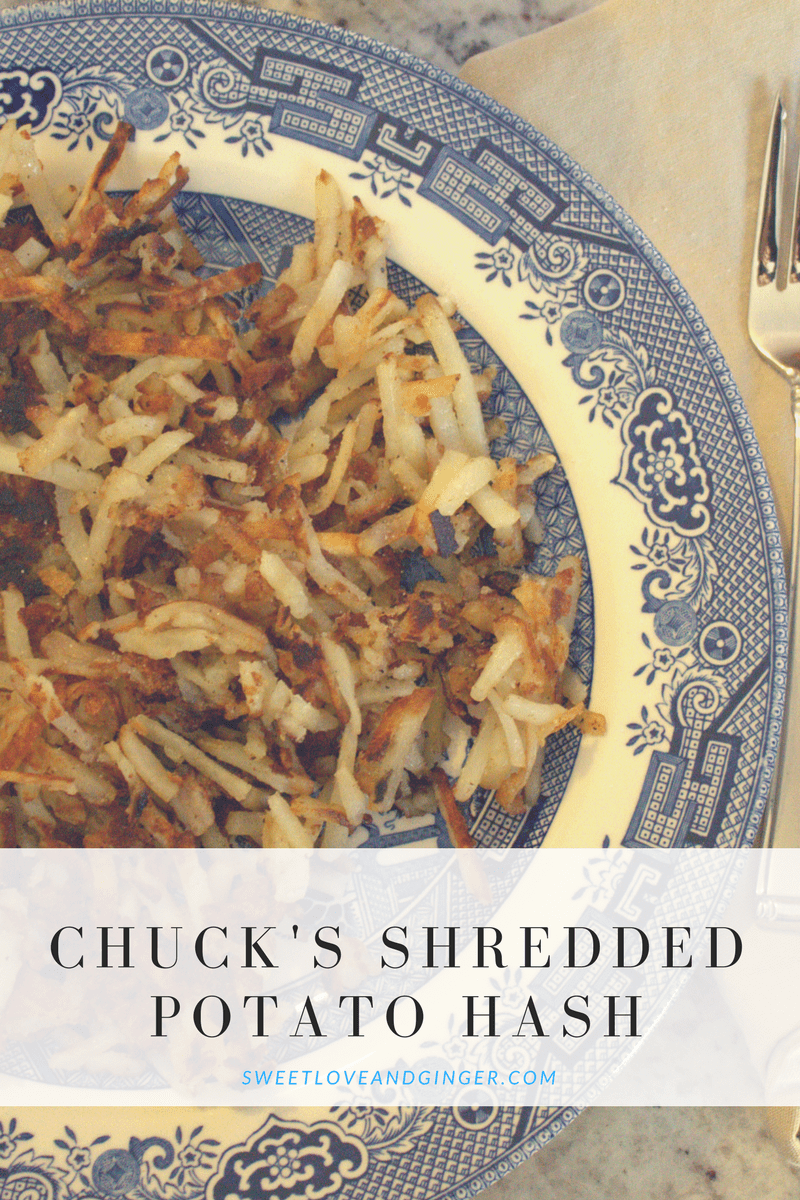 Ok guys, I'm letting you in on a big secret today. This 5 ingredient preparation of the humble potato id quite possibly my absolute favorite thing ever. So much so, that I make Chuck make it for me every single weekend that we are home. He is the house breakfast chef, after all.
This is not an exaggeration. He will attest to the excitement that comes from me every single time he fires up the cast iron.
Seriously, potatoes and tea are all I really need to be a happy girl on any given morning.
You see, I love potatoes for their comforting starchiness, but also because they are so good for you, so versatile, and pretty abundant in these parts.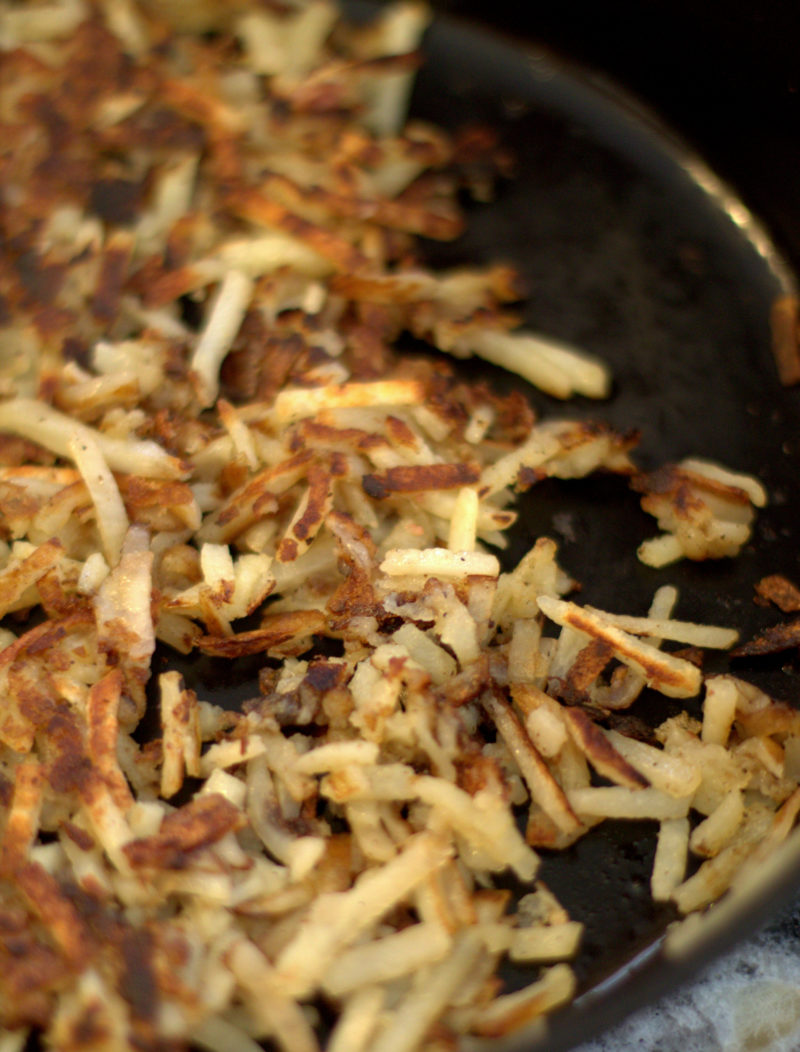 I'm hoping this year will be the year I get them to actually grow in my garden, instead of only getting a handful thumb sized guys. Not that we didn't still eat those with relish, but I want pounds upon pounds to go into storage at our house, since I probably go through a couple pounds on my own in a week. #sorrynotsorry
These shredded hash browns are a little different than you will find most preparations. They aren't caked together like latkas, or fried through and crisp, nor are they left alone in the pan to make a big clump. A little oil, high heat, and the proper amount of stirring creates a delicious pile of textured potato goodness. Some pieces are crisp, some are soft, other are a little of both, and they mix together perfectly.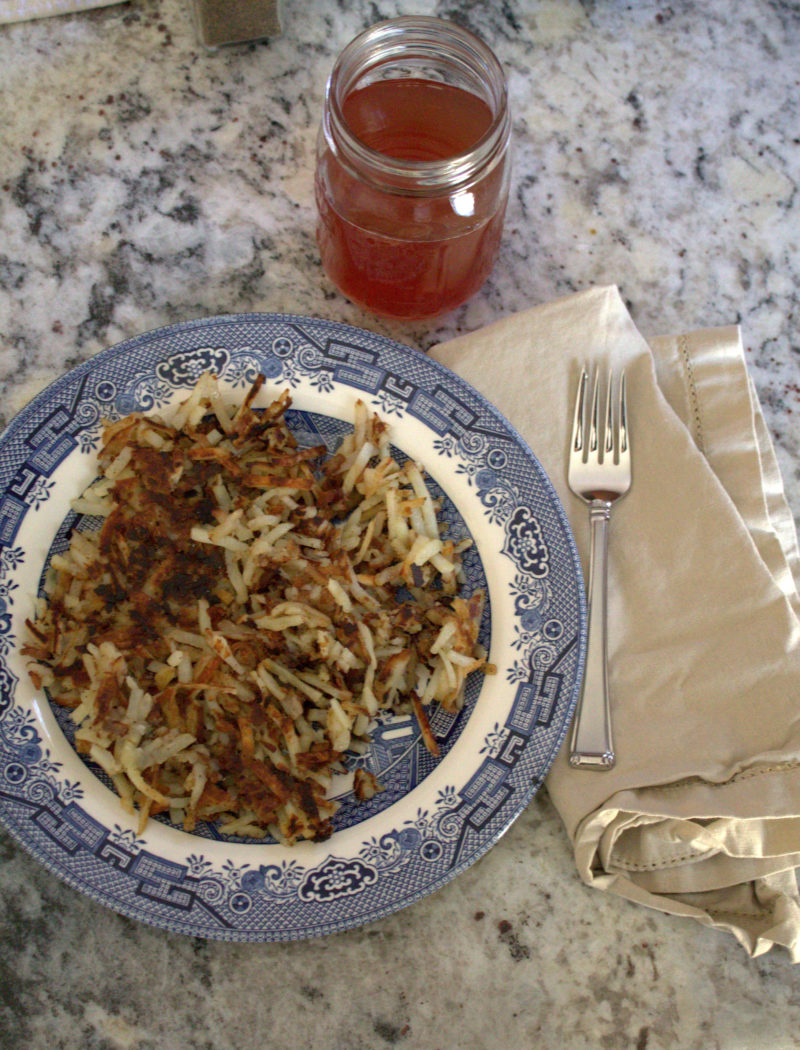 Now, you can feel free to use the shredded potatoes from the freezer section (we often do right now), but you can also shred your own potatoes (or better yet, have your food processor do it for you). I would purchase my food processor a dozen times over for just this purpose alone.
Tips for the Perfect Shredded Potatoes
Use the shredding disc attachment – surprisingly this make a longer shred slightly thicker shred than a box grater would, which has a huge effect on the crispness of the final product.
Rinse the potatoes – Immediately after shredding dunk those pale ribbons right into a big bowl of water and slosh them around a little bit. This will release some of the starch, and stop that cakey thing from happening, while also allowing them to cook more evenly.
Drain the potatoes – obviously you want them to drain, but what I'm really saying here is you want to squeeze the life out of them to get every last drop out. I like to dump the drained, hand squeezed shreds into a linen cloth and use the cloth to really crank down on them.
Dry the Potatoes – If you have the time and patience you can put the newly drained potatoes onto a new dry linen and pat them dry again before seasoning. You could try air drying, but most potatoes will start to turn brown once exposed without cooking.
Voila, perfectly shredded potatoes. I know that's way more difficult than pulling a bag out of the freezer, but you save a lot of money and get a lot of satisfaction from shredding them yourself.

Chuck's Shredded Potato Hash Browns
Ingredients
1 lb russet potatoes, shredded
½ teaspoon salt
¼ teaspoon pepper
½ teaspoon garlic powder
Instructions
Coat the bottom of a skillet with a thin layer of oil and heat over medium high heat.
Once the oil begins to shimmer, add the potatoes to the pan and spread them in an even layer. Let them cook for 1 minute before using a spatula to mix them.
Once well mixed spread them back out in an even layer and let them cook for another 2 to 3 minutes, the underside should get nice and browned.
Use the spatula to get under them and flip the potatoes in sections until they are completely flipped. Let them cook for another 2 to 3 minutes, until the underside is crisped and browned. Remove from pan and serve immediately.
Related Recipes: