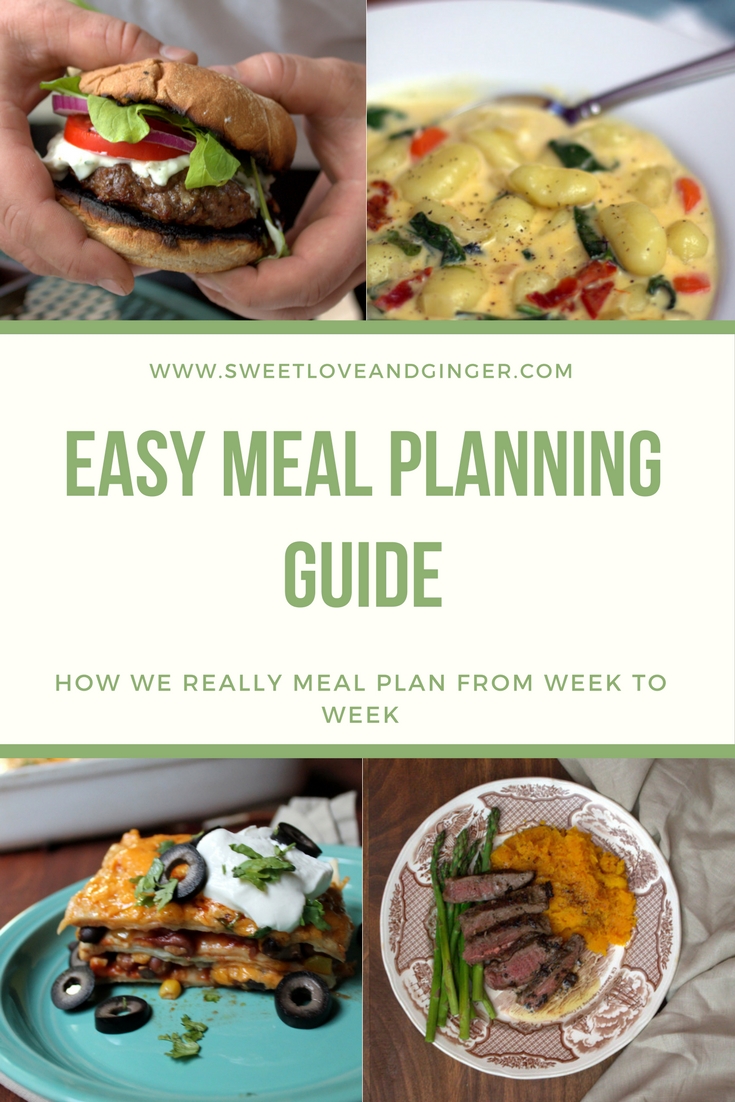 Anyone who has hung around here a while knows that I have a thing for menus. However, I don't love meal planning as much as I love coming up with dinner party menus. For some reason, they just don't seem as fun. Go figure. That doesn't however, mean I skip them altogether.
I think meal planning is important for a number of reasons. First off, it saves money by providing a plan while shopping that stops me from buying extras that will go to waste. Similarly, it stops me from needing to make extra trips to the store, which saves even more. I have a clear picture of what I need to do when I get home, so it's not 10 pm and I'm just realizing I haven't eaten anything. So really taking 10 minutes to meal plan also saves me daily stress at meal times. Also, it gives me a reminder of whats happening during the week. Am I getting home late one night (that means I need a crockpot meal), or are we eating with someone else? See more stress relief. Finally, it helps us stay healthy, by thinking ahead about what we are eating we tend to choose healthier meals that we would in the moment.
I know a lot of people avoid meal planning because they see it as drudgery, but the truth is that it can be quick and easy. For all the benefits I think it's worth a couple extra minutes each week. Here are the few basic steps that I take each time I meal plan.
Pull out the Template
Yep, we have a basic weekly template that our meals always seem to fall under. It makes planning so much easier. The template that I use is below, but some other good ideas include meatless Mondays, taco Tuesdays, Seafood Friday (Lent anyone?), Souper Sunday, etc.
Monday – Meal Prep Monday – If I want to roast a chicken or cook something big for lunches I plan to do it on Mondays so it's available the rest of the week
Tuesday – Keep it light –  I have a weekly workout class so I like to keep dinner light, such as a big salad or hearty soup, instead of a big bowl of pasta or something.
Wednesday – Vegetarian (I try to have at least one vegetarian meal a week)
Thursday – Crockpot meal (this is usually my late night at work)
Friday – Something Carby – Friday's almost always leave us craving junk food. I head off the drive to order take out by planning to make homemade pizza, or mac and cheese.
Saturday – whatever (usually leftovers or we are out doing things, worst case scenario I keep sandwich makings in the house or we order out)
Sunday – The big meal. I like to spend Sundays doing a slow braise or something more involved that we can enjoy for an early dinner (Linner if you will). It's just tradition.
Review your Schedule
Which days will I be home late from work? Are we meeting anyone out for dinner this week? What day is my yoga class? All these things affect what I plan for dinner. A lot of that is reviewed in the above template, but I thought it deserved its own bullet.
Check the Weather
Cold, rainy weather calls for soup, stews or casseroles. Whereas warmer days mean salad or something on the grill.
Talk it Out
I only do this if I can't think of what I want to cook. I'm lucky that Chuck is pretty laid back, but if you are cooking for others you may want to take their opinion into account.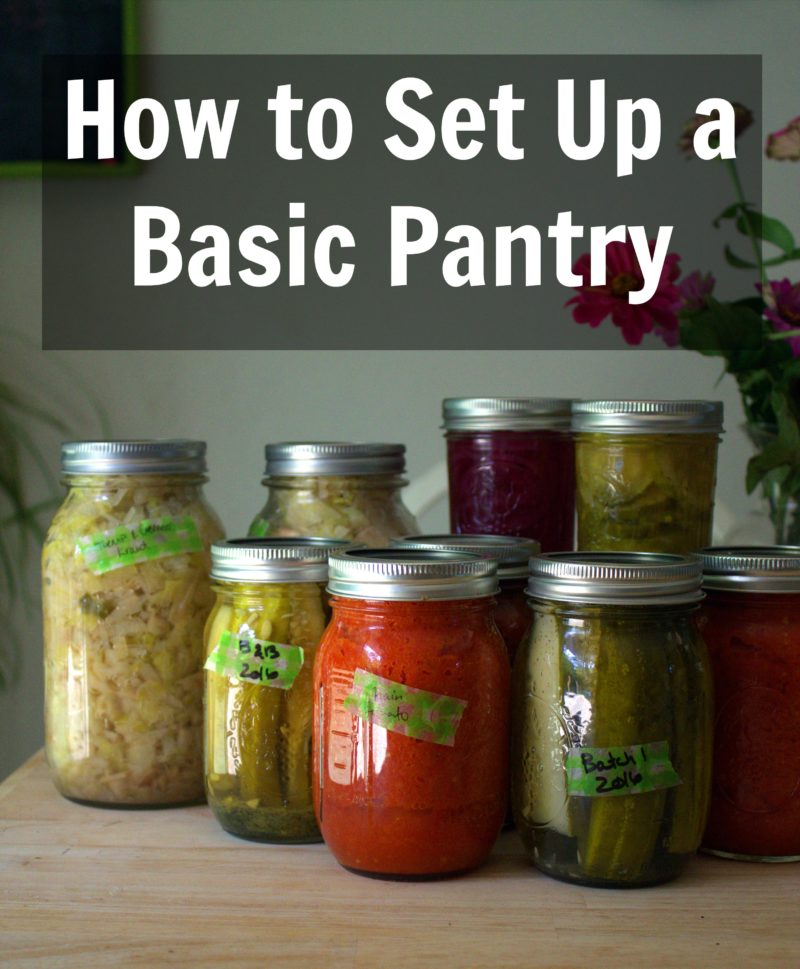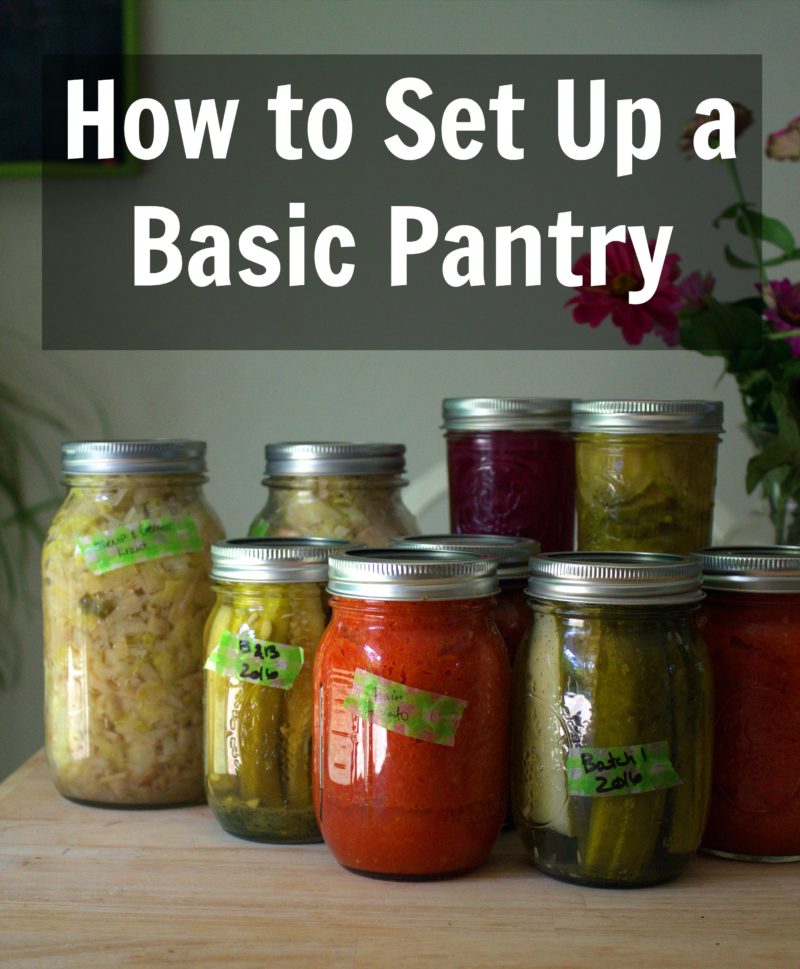 Learn how to set up a basic pantry. 
Look through the Pantry
We produce a lot of our own food, so of course, I go through our own supplies first. This is especially necessary for the summer when there is fresh stuff available with a shorter shelf life. Even if you don't do this it's a good practice for you to check out what you have that needs to get used up first.
Check the Sales
I keep track of the basic prices of things that we buy often, stocking up when they are on sale. Also if there is a great sale on something, then I will want to work that into my list of recipes for the week.
Plan the meals
This one is obvious I pick a dinner for each day. I also make sure that there will be enough for leftovers or I know I have to add some extra stuff for lunches to my shopping list.
Review all the recipes
You're going to need a list of all the ingredients you need for the week. It's also a good time to make sure that the recipes you chose fit into the schedule.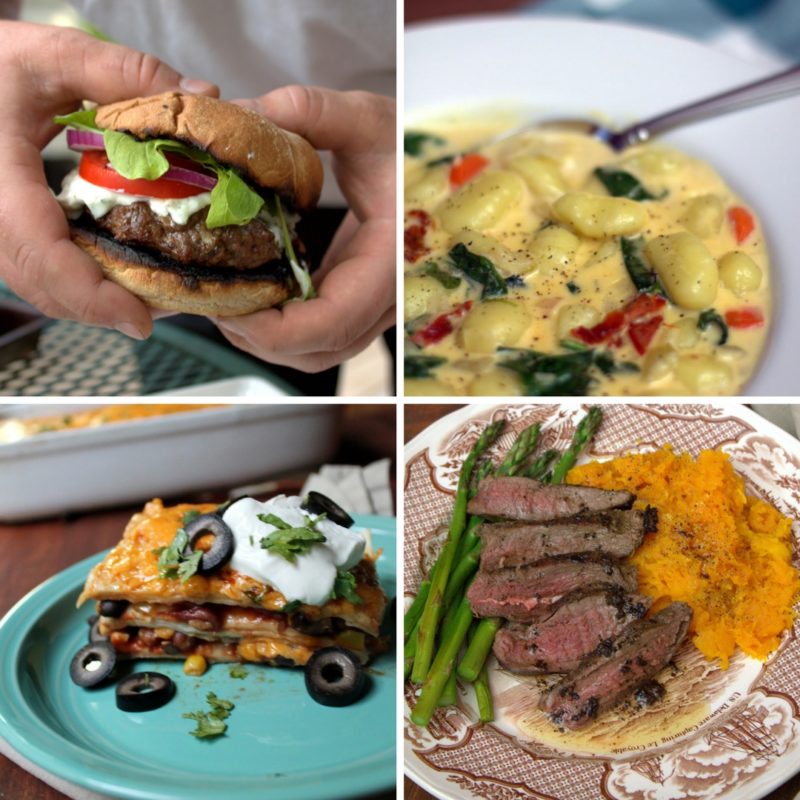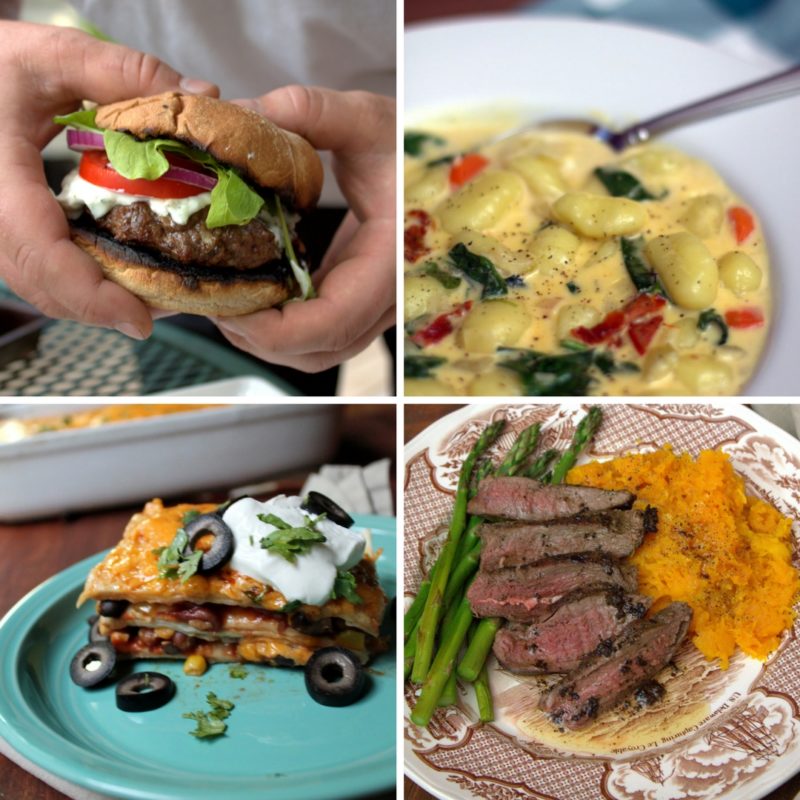 Compile the grocery list
Since you've already checked your back stock, you should already know what doesn't need to be on the grocery list. So now all that's left to do is make the final list and get shopping.
Tip: Take a few extra minutes to organize your shopping list. Group the items on your list by section in the store (example: produce, meat, dairy, etc.). It will reduce your time spent in the store and keep you from missing something on your list.
Post the grocery list somewhere visible
Again it's that whole reducing stress thing. When you see it all the time you know what you need to do and things just run more smoothly. At least that's how it works in my house. I made a chalkboard that hangs on the wall, similar to this one for that purpose.
Conclusion
I know it looks like a lot of steps, but remember this is what I do, your method can have way more or way fewer steps depending on what works best for you. Also the more you actually do this the faster you will become at it. These days it takes me all of 5 minutes unless I'm trying new recipes with weird ingredients. For all the benefits, meal planning is worth the extra time. Give it a try this week and let me know how it goes.