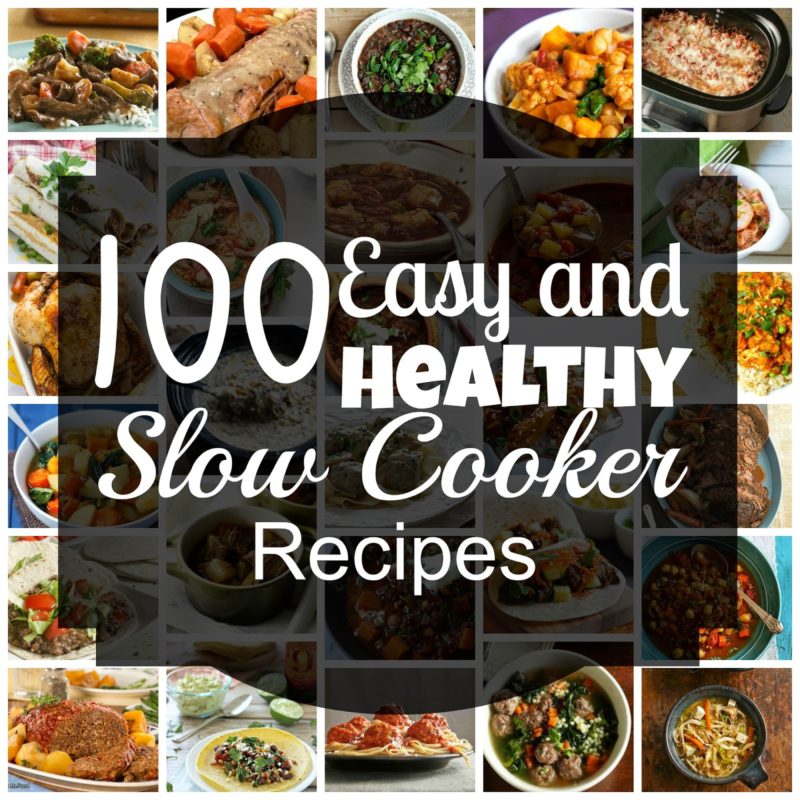 The winter season is known for snow, cold, and darkness. Coming home to a steaming meal is one of those things that just makes it all ok. I started curating this list of awesome crock pot recipes a long time ago (think years) because tossing everything in a crock pot and letting it do the work while I am off having a good time is just too easy.
The goal of this list is to provide a number of quick and easy recipes that are also hearty enough to be an entire meal, and provide a healthy, well balanced diet. I focused on fresh seasonal vegetables, or preserved products to help keep the winter theme, while avoiding the usual sodium loaded, and high fat prepackaged ingredients (thing soup mixes and cream of x soups).
A
Few Tips & Tricks:
– Only fill the crock pot 1/2 to 2/3 full. Overcrowding can cause food to cook unevenly.- If you aren't always a morning person like me prepare your meal the night before and put everything in a covered container in the fridge. Then in the morning all you have to do is dump the contents into the crock pot and turn it on. Note: Do not put the entire crock pot or the interior dish in the fridge, turning on the crock pot while is is at such a low temperature can cause some serious damage to the crock pot (Yes I speak from experience).
 – A lot of these recipes can be made ahead and frozen, so that all you need to do is pull them out of the freezer and dump them into the crock pot when you are ready. – You don't always have to brown the meat. it will cook just fine without being browned in a pan first. Browning it in the pan helps the meat retain it's juices instead of drying out in the crock pot.
– Trim the fat before cooking. The extra fat on meats can cause the sauces or broths in the dish to become oily and greasy.
– Keep the lid down. Ever peek and stir lengthens cooking time, and is usually unnecessary since the slow cooking allows the flavors to combine without stirring.
This is the crock pot that I use and love.

I would recommend it to anyone.
Ok, that's enough tips & tricks, after all you are here for the actual recipes right? There are exactly 100 recipes in this list that are all broken out into 9 categories (Chili, Soups, Stews, Roasts, Pasta & Rice, Stir-fry's & Curry, Seafood, and Sandwiches/Wraps/Tacos). I tried to give you an overview of each recipe to save you the trouble of clicking on a million links to find the type of recipe that you are looking for. I hope you enjoy it!
Chili 
Chili is one of those things that's just made for fall and winter. It is hearty, homey and the perfect stick to your ribs kind of meal. It is also perfect to make in the crock pot, since slow simmering allows all the wonderful traditional chili style flavors to meld together.
Texas Style Chili
– If we are going to talk chili we need to start off with the original Texas style version. I love that this recipe uses fresh peppers, and lean chuck for a healthier version of the old classic.
Chili with Beans
– Who does it better than Betty? Those of us not from Texas are familiar with the version of chili that includes red kidney beans.
Turkey Chili
– If you are looking for a non red meat version of the old classic this is a great one that uses ground turkey.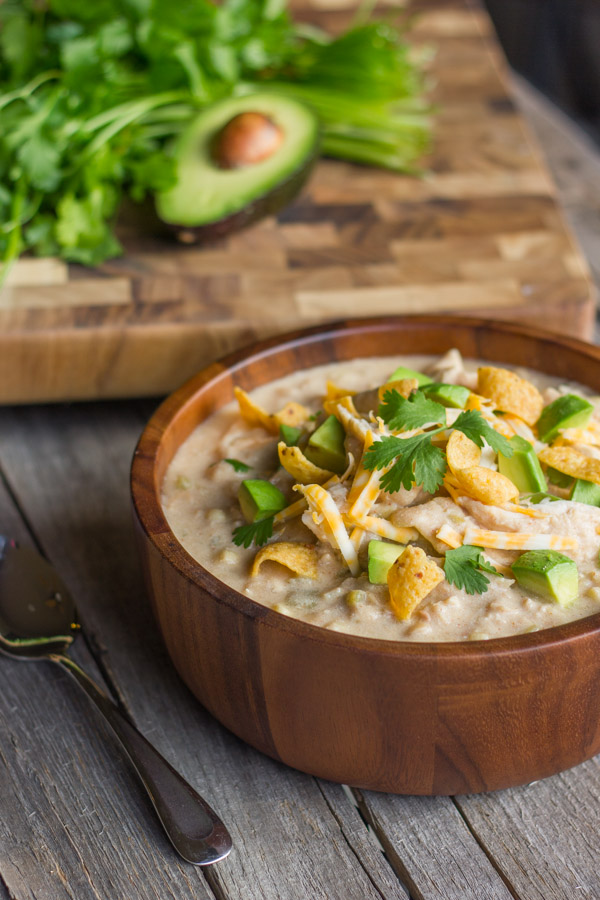 Creamy White Chicken Chili
 – Since we are talking about the classic versions of chili I believe the classic white version is necessary. This recipe has all the classic makings of traditional white bean chili with a creamy stove top sauce to thicken it up at the end.
Vegetarian Black Bean Chili
– While this recipe uses dried beans you can easily skip a step by using low sodium canned beans instead. However don't skip the sauteing step, since we all know that it really helps to pull the flavor out of onions and mushrooms.
Buffalo Chicken Chili
– This is a great twist on the classic that gets its heat from wing sauce instead of traditional chili peppers.
Italian Chili
– This recipe swaps regular old ground beef for spicy Italian sausage, herbs, and canellini beans to make it an all around Italian version.

Quinoa Chicken Chili – This protein packed recipe boasts a mix of healthy ingredients that would please anyone.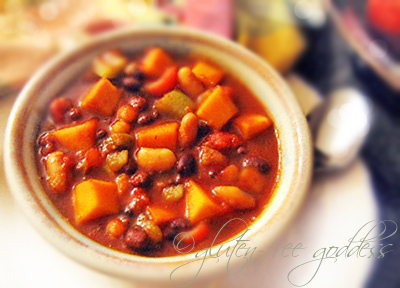 Butternut Squash Chili – This savory vegetarian chili has a slight southwestern flare that makes it a unique addition to the typical week night meal.

Vegan Spicy Pinto Bean Chili with corn & Kale – The three types of chili peppers in this dish are what gives it all of it's spice, while the corn and kale add a little more texture and flavor.

Moroccan Lamb Chili – This version is packed with flavor utilizing traditional Moroccan spices, meat and chickpeas instead of kidney beans. It's a great way to change up a classic.

Smokey Pork Chili – Mexican flavors are combined with different cuts of pork to create a unique flavored and textured chili.
Soup
What comes after chili in the winter time? In my mind it's soup. Healing broth, hearty vegetables and warming flavors all combine to provide healthy goodness. Soup is one of my all time favorite things year round, but especially on a snowy day.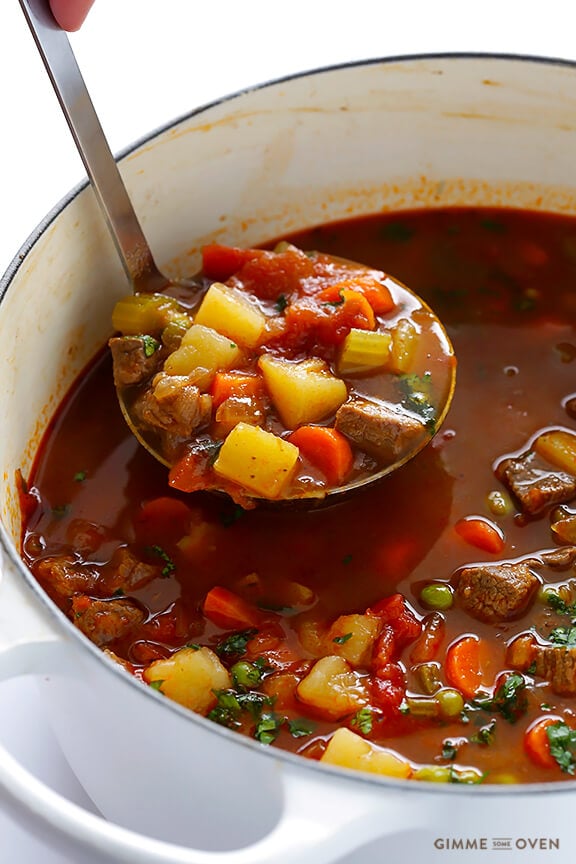 Vegetable Beef Soup – Tender beef and fresh vegetables make this recipe perfect for winter. Note that the crock pot instructions are at the bottom.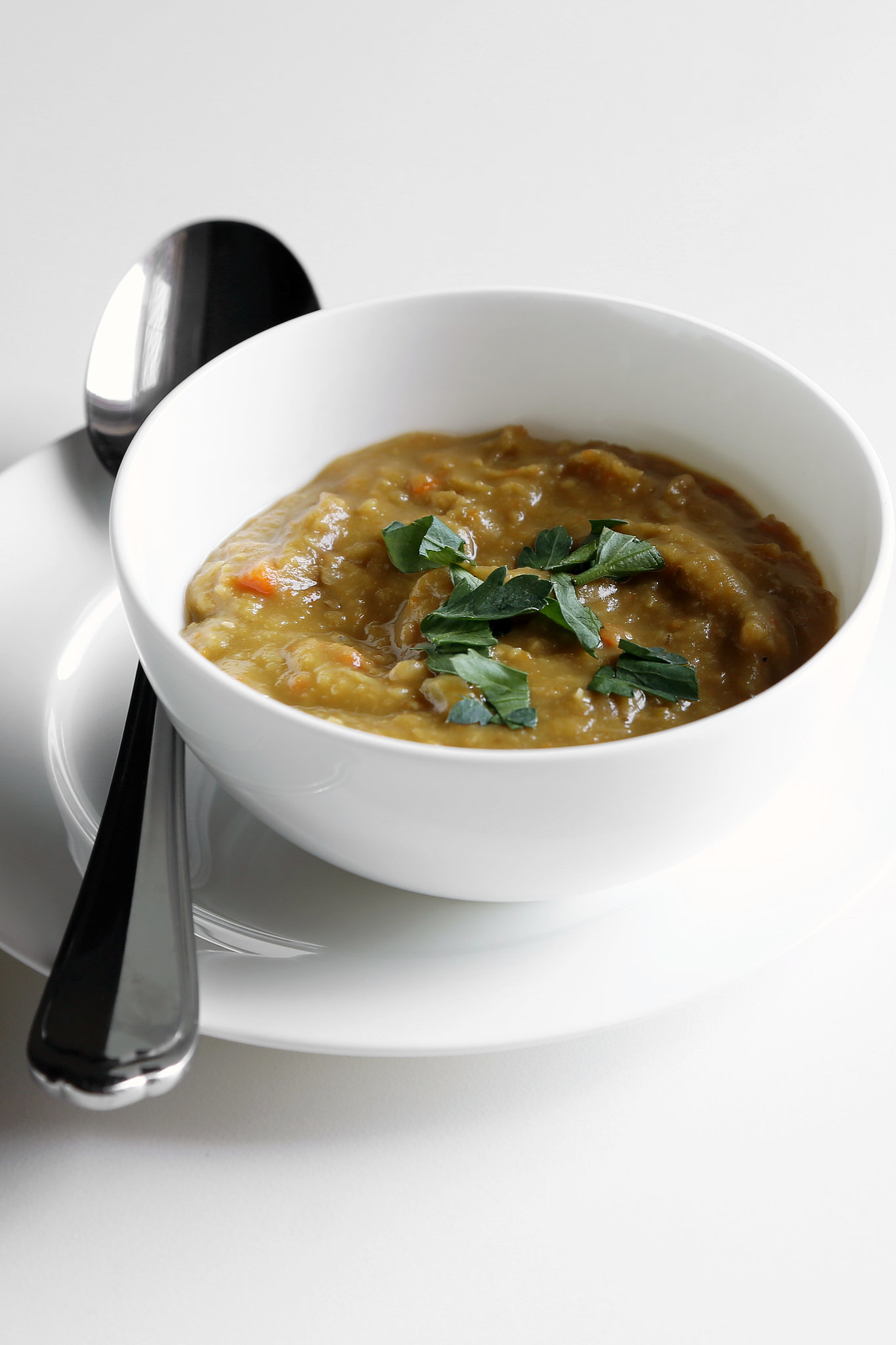 Split Pea Soup – This is one of my absolute favorite recipes of all time. The only real change i would make is the addition of a potato, choped into bite size pieces. I think it adds a bit of warmth and heft to the recipe.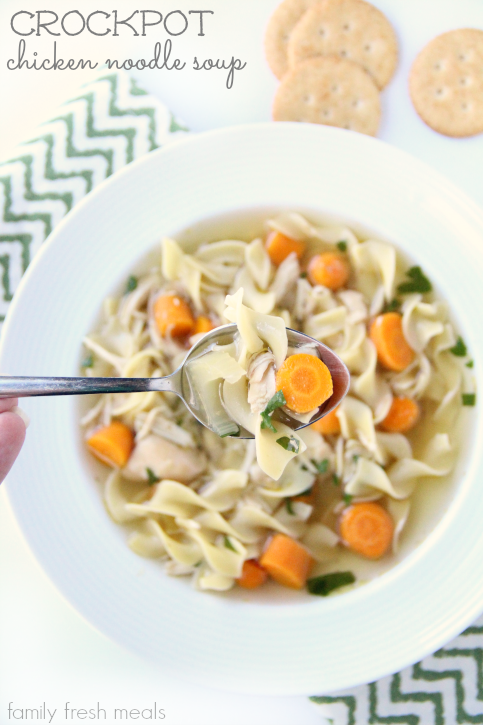 Chicken Noodle Soup – While I can make mine in under 20 minutes, this version of the wonderful calssic recipe allows all the flavors in the soup to really meld together and create something cohesive and delicious.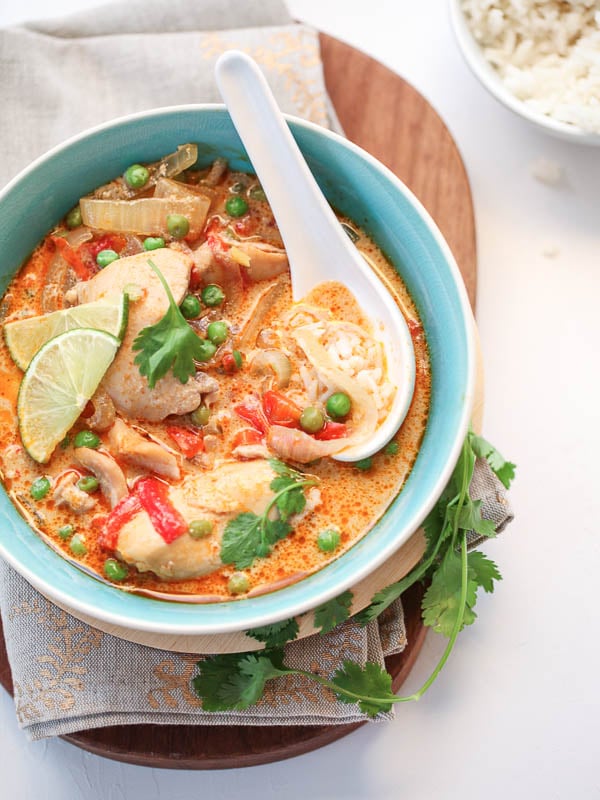 Thai Chicken Soup – For a different take on traditional chicken soup this one is sure to please. It goes great with some thick bread or even over rice. For a less spicy broth only use 1 tbsp curry paste.

Cream of Chicken and Wild Rice – A perfect classic. I like to finish this one off, like many other soups with a little spinach puree.
Beef Enchilada Soup – Deconstructed enchiladas in a flavorful broth. Don't skip the crispy tortillas!!
Winter Minestrone – Minestrone is always a popular soup, but this one is especially satisfying with its use of seasonal vegetables. and salty panchetta.

Smoked Sausage and Bean Soup – Hearty vegetables are slow cooked to perfection before smoky sausage is added to finish off this home-style soup.

Curry Lentil Soup – This hearty vegetarian soup is perfectly simple and filling. I have been known to add tumeric and an extra clove of garlic for some added health benefits.

Beef and Barely Soup – this is a classic that is a favorite that is made super easy with the use of frozen vegetables.

Italian Wedding Soup with Escarole – This mild soup can be made easier with the use of store bought meatballs. IT goes wonderfully with a hunk of fresh bread.

Shiitake and Noodle Hot & Sour Soup – A traditional Asian soup is made ultra hearty and healthy in this recipe with the use of many vegetables and spices.

Chicken Taco Soup – Shredded chicken, beans, corn, tomatoes and typical taco seasonings to produce a healthy and filling meal reminiscent of taco night with out the mess.
Pot Au Feu – This recipe gets all of its wonderful flavor from the slow simmered marrow bones, and hearty root vegetables. A classic that is incredibly good for you.

Southwestern 3 Bean & Barely Soup – A vegetarian soup that is protein packed. I like to top mine with fresh avocado for a creamy addition.
Stew
Thick, sauces, hearty vegetables, and meats slowly cooked with herbs and spices to produce a satisfying meal.
Chipotle Black Bean Stew
– Not only is this recipe vegan but gluten free also. What i love about is the unique blend of spices. Definitely one to try out.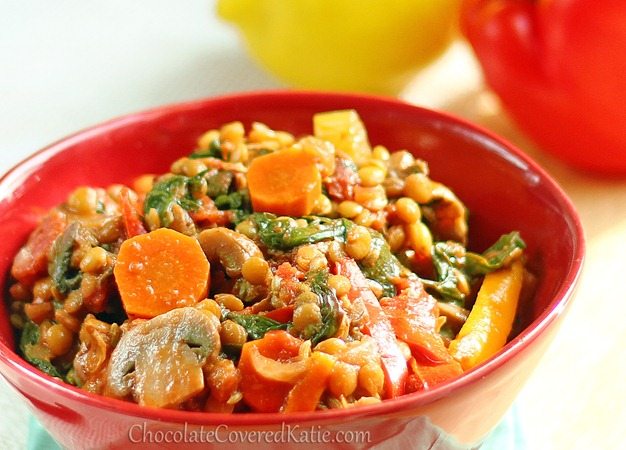 1 MIllion Veggies Lentil Stew
– An easy way to help spead this recipe up is to start with precut frozen stir-fry veggies instead of hand chopping the onion, peppers, mushrooms and carrots.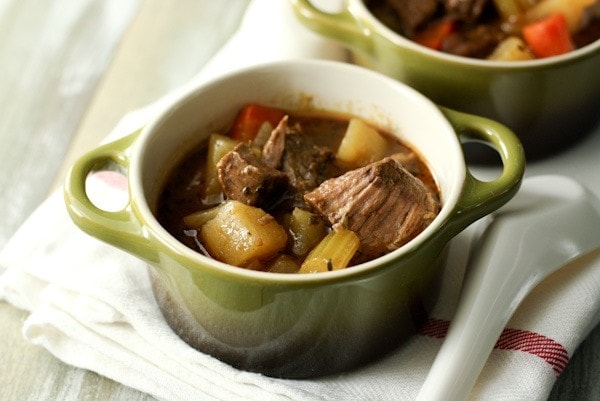 Irish Beef Stew
– Be sure not to skip the sauteing step on this recipe since it allows all the flavors to really develop.
Irish Lamb Stew
– If we include Irish beef stew, it's only right to include the lamb version as well. This simple lamb stew brings out the best of traditional Irish fair and it's so easy!
Tuscan Chicken Stew
– This is a dish that is sure to please the entire family and make the whole house smell like a Tuscan villa. Made with lots of herbs, vegetables and white wine this is a classic for sure.
Stout Chicken Stew
– Guiness and bacon are the stars of this dish with their interesting flavor combination.
Jamaican Chicken Stew
– This recipe uses whole chicken legs and an array of spices to create the unique flavor profile so commonly found in Jamaican food.

Asian Chicken Stew – Classic Asian flavors are dreamily combined in this simple 2 step dish.

Fennel & Pork Stew – The sweet and tender fennel in this recipe is a wonderful compliment to the pork and herb flavors in this dish.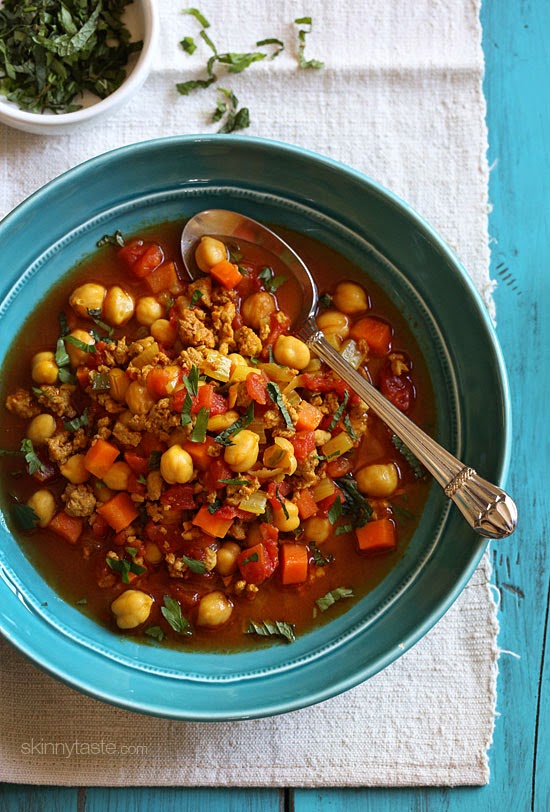 Moroccan Chickpea & Turkey Stew – Lean ground turkey and chickpeas are slow cooked with Moroccan spices and lots of vegetables for a complete meal.

Clean Curried Millet Stew – This is a simple recipe that uses an ancient grain that is high in vitamin b and contains no gluten.

Thai Beef Stew – This is a completely Paleo recipe that really utilizes the coconut and red curry paste that are signature of Thai cuisine.

Middle Eastern Lamb Stew – A simple dish that focuses on with wonderful flavor of the lamb and middle eastern spices. It is supplemented with the additions of spinach and chickpeas.

Clean Bison Stew – This stew is a riff on classic beef stew that utilizes lean bison meat instead. It is rich and delicious. The mild flavor makes it perfect for introducing people to a new type of meat.

Root Vegetable Stew – The flavor in this stew comes straight from the veggies and hint of sage. It is bright and warming while providing a ton of much needed vitamins and minerals.
Roasts
Everyone loves a good roast, though they don't always love the time it takes to cook them. That's where the crock pot comes in handy because you can set up and leave it knowing that you will have a wonderfully tender and delicious roast in a few hours.
Pot Roast
– Obviously we needed to start with another classic. Pot roast out of the crock pot, and this 6 ingredient recipe from Martha Stewart is perfect for that.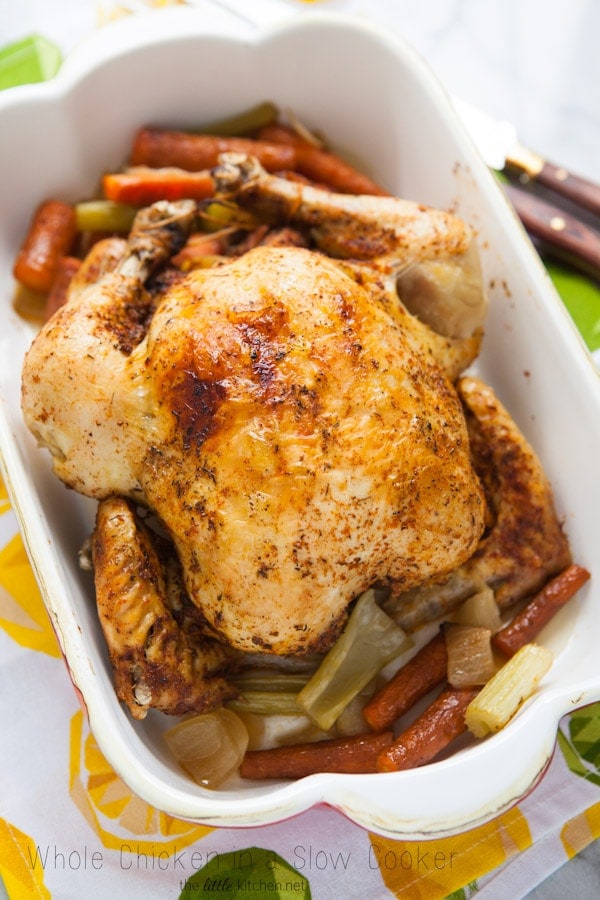 Whole Roasted Chicken & Veggies
– Roasting a whole chicken in the crock pot really helps to save time, while providing a traditional and comforting meal, not to mention saving some money.
Lemon Crock Pot Chicken & Veggies
– This recipe has the decadence of a multiple dish meal right out of the crock. This is a game changer for delicious week night dinners.
Mediterranean Roast Turkey
– Brimming with authentic Mediterranean ingredients sal thats needed to complete this meal is creamy mashed potatoes, or traditional egg noddles.
Provencale Chicken
– While this recipe uses traditional bone in chicken breasts they can easily swapped for boneless. At only 7 ingredients and only minutes of prep time I stronly suggest trying this recipe.
Pork with Apricots, Plums & Sauerkraut
– Tender juice pork loin is surrounded by the sweet and sour mixture of fruits and preserved vegetables. This simple meal comes mostly from products with a long shelf life, making it a great thing to have on hand in a pinch.
Chicken with Carrots & Potatoes
– This recipe is reminiscent of country style meals. It's perfect for the meat and potatoes crowd.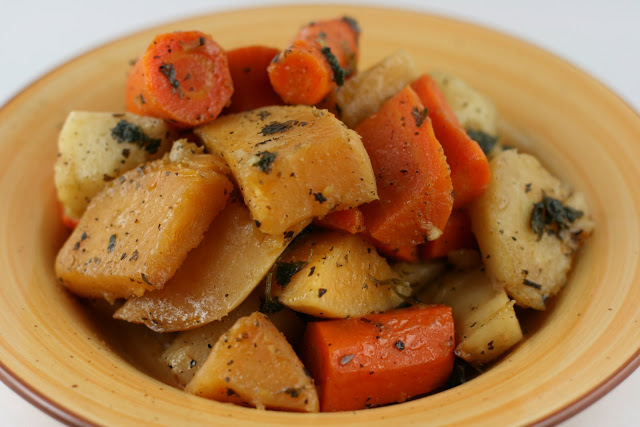 Roast Vegetables – Roasted vegetables can be a meal on their own. Using rutabagas, carrots, and parsnips are a good base, but this can be rounded out easily by adding potatoes to the mix.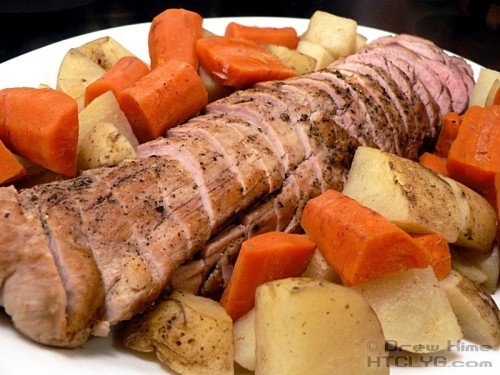 Pork Tender Loin with Gravy – With 6 ingredients this recipe is incredibly simple and it produces a wonderfully tender and delicious meal. Do note however that the gravy ingredients are in the instructions at the bottom.

Vegetarian Stuffed Peppers – Brown rice, red beans, and tomato salsa are mixed with spices and slow cooked to perfection. for a hearty vegetarian meal.

Lamb & Vegetables – This recipe is as simple as any beef roast recipe, but with lamb. A great recipe to introduce someone to this type of meat.

Meatloaf – A classic meatloaf recipe with the addition of baked potatoes make this a home run. If you want to up the nutrition content add a few more root vegetables to the pot.
Pasta & Rice
Slow cookers are capable of so much more than soups stew and roasts. They are also great for producing sauces and rice dishes that are full of well developed and blended flavors and creamy sauces.
Vegetable Lasagna
 – Lasagna is a wonderfully hearty and delicious meal that is always a crowd pleaser. This simple classic vegetable filled recipe.
Slow Simmered Meat Sauce
– Classic vegetables are slow simmered with Italian Sausage and beef to create a flavorful and filling sauce that will please any crowd.
Meaty Red Beans & Rice
– This simple recipe is given a healthy make over with the use of home made chicken sausage and brown rice.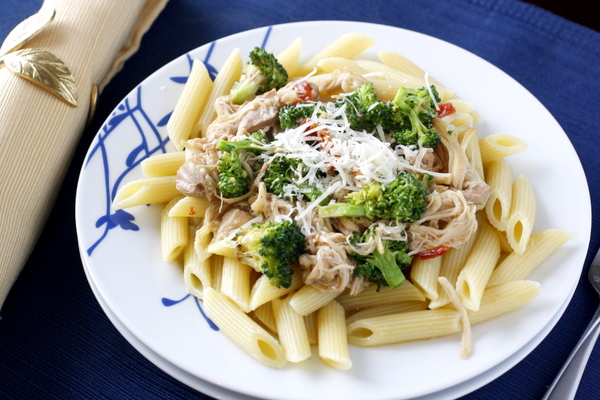 Chicken & Broccoli Sauce
– This recipe is a healthy version of the super creamy recipes that usually accompany the combination of chicken and broccoli. It goes wonderfully atop either broccoli or rice.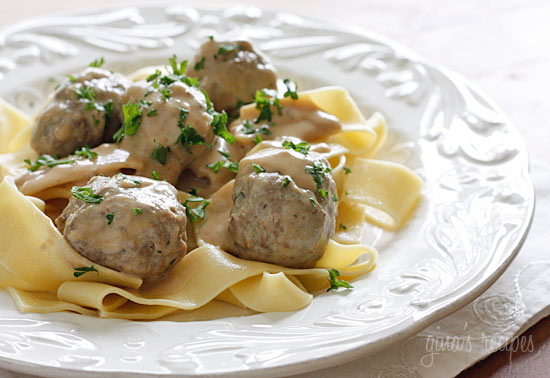 Swedish Meatballs
– A classic recipe that only needs a side of greens and traditional egg noodles or mashed potatoes to complete it.
Barley Risotto with Fennel
– While made in a crock pot this simple vegetarian recipe only needs 4 hours or less to cook fully.
Crockin' Lasagna
– This is a super quick and easy recipe for traditional meat, and spinach lasagna

Crock Pot Chicken in Tomato Cream Sauce – A paleo recipe that creates a creamy sauce to be served over pasta, or faux noodles.

Rosemary, Chicken, and Mushroom Risotto – This is a great recipe for a weeknight on a cold winter night. The creamy rice dish is has all the comforting creaminess to help you relax.

Spaghetti & Meatballs – Prepared meatballs go straight into the crock pot and are covered with a sauce that is made on the stove top in less than 10 minutes. The flavors are allowed to meld into a beautiful thick sauce that can be served over prepared pasta.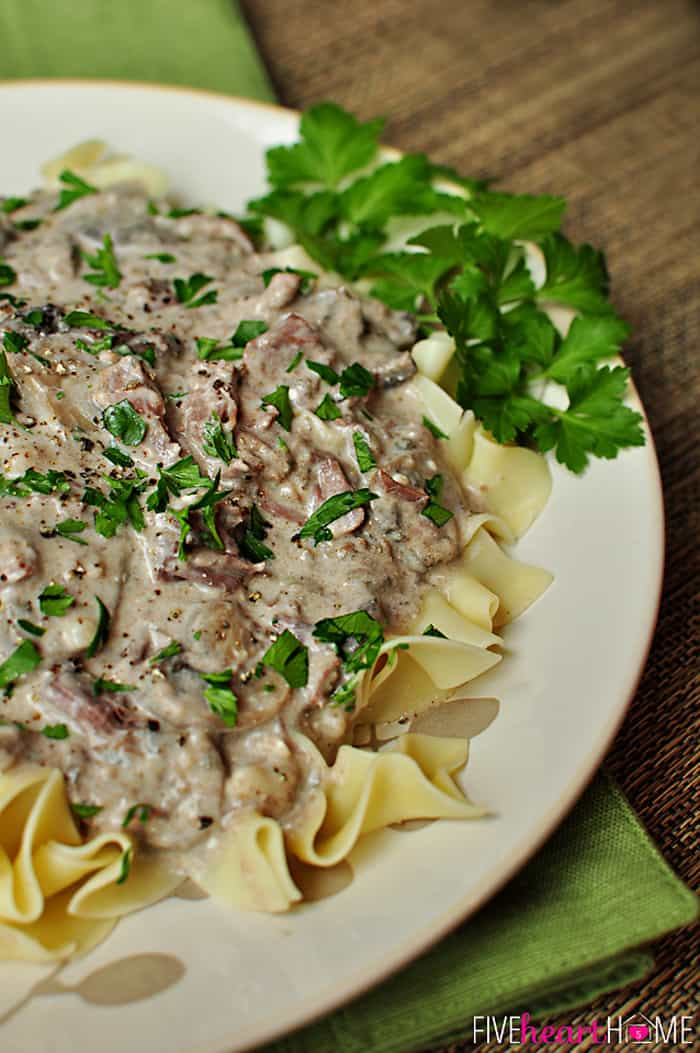 Beef Stroganoff (no Cream of X Soup) – This is a delicious, healthy, whole food version of the classic. Using low fat cream cheese and sour cream makes this a perfectly healthy meal that will definately please the whole family.

Chicken Parmesan – Another classic made deliciously, and wonderfully easy. Breaded chicken covered with fresh mozzarella and sauce then slow cooked to perfection. To keep it healthy use a low salt sauce.
StirFry's & Curries
Korean Style Beef
 – This is one of my favorite ways to change up a typical roast beef. It is slow cooked with Asian flavors and vegetables. It's perfect served over rice on any week night.
Chicken Tikka Masala – This Indian style dish is based on chunks of chicken in a yogurt spice mix. While a vast number of recipes available for this they all have the same basic parts. This recipe is particularly flavorful.

Chicken Curry – Coconut milk adds a creaminess to this spicy dish. The combination of chicken, sweet potatoes, and chickpeas make this a very hearty dish.

Chicken Teriyaki Stir Fry – A low sodium teriyaki sauce makes this super easy dish a little healthier. Serve it over rice for a complete meal.

Teriyaki Beef and Vegetables – The same concept as the recipe above except with chicken, and a home made teriyaki sauce.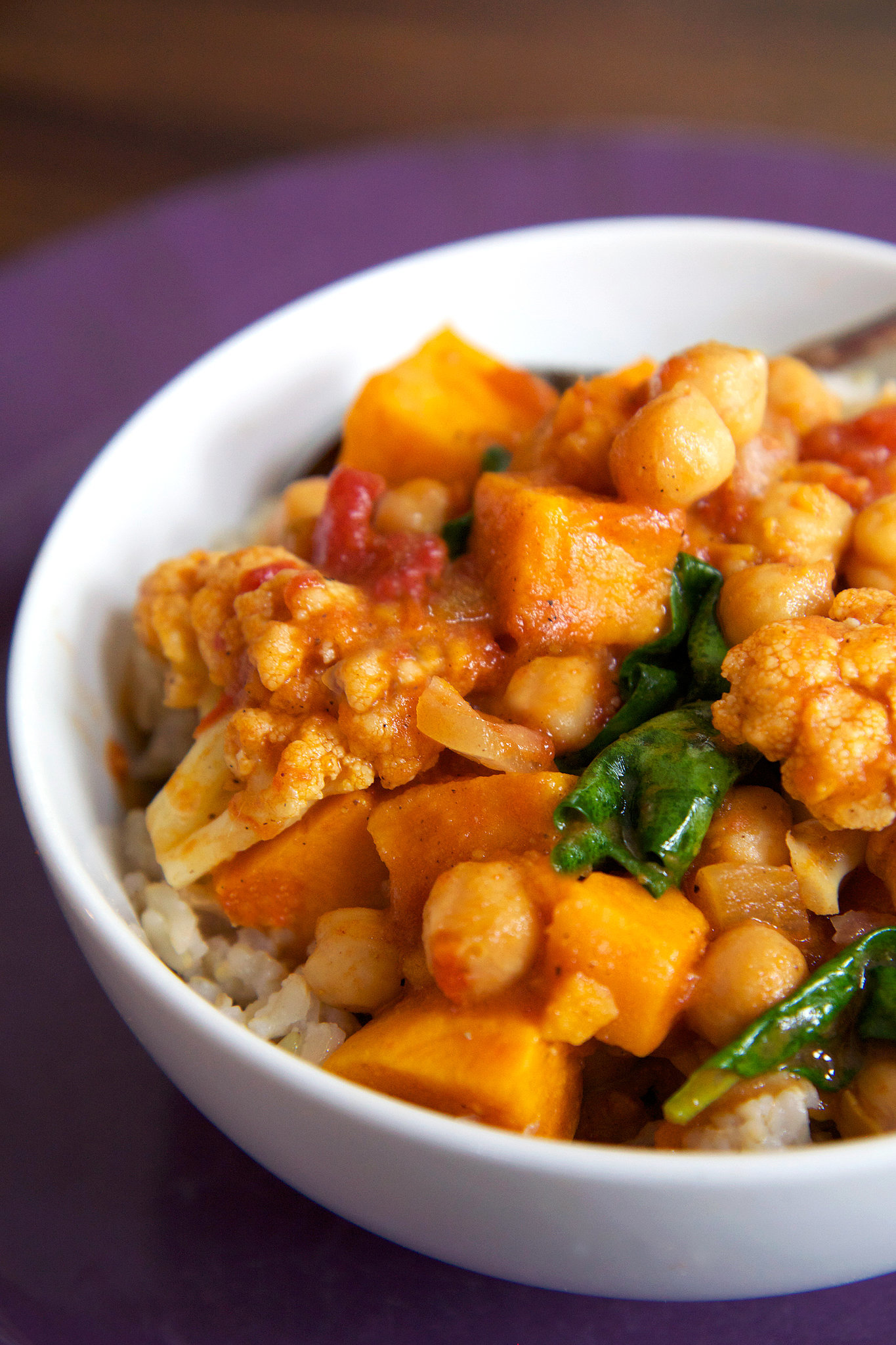 Vegan Chickpea Curry – This recipe utilizes the typical curry ingredients but with added vegetables, and a recipe for coconut rice.

Sweet and Sour Pork – In this recipe Pork is slow cooked with pineapple, onions, peppers and a variety of Asian inspired flavors to produce an amazing meal with a thick sauce that goes perfectly with plain white rice.

Paleo Asian Beef and Veggie Bowls – The coconut aminos in this recipe can be replaced with soy sauce for those not following a Paleo diet, with the same effect. It's a perfectly healthy and delicious meal that's great to prepare ahead of time.
Malaysian Beef Curry – This recipe takes some preparation, but once it's done you won't be disappointed. For a complete meal serve over rice or rice noodles.

Asian Peanut Pork and Veggies – This recipe requires the vegetables to be cooked separately however i have found that adding the vegetables in the last 30 minutes that the beef is in the crock pot cooks them just as well. I have also used frozen stir fry mix in the last 30 minutes when i'm low on time.
Seafood
It is possible cook many different types of seafood in the slow cooker and have it still come out deliciously. I've done my best to find great recipes that will leave your family full and happy.
Easy Ciopinno
– This simple Californian fish stew can be easily be modified for personal taste by the types of seafood used in the recipe.
Jambalaya
– A classic Louisiana recipe is made easy in the slow cooker. Made with ham, shrimp, peppers and long grain rice this is a great recipe to feed a family.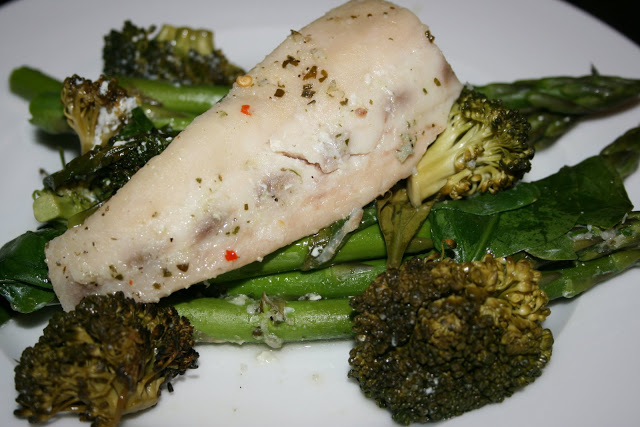 Mahi Mahi with Asparagus, Broccoli and Spinach
–  This recipe can be mixed up with whatever semi soft vegetables are in season to provide an incredibly healthy meal.
Seafood Stew
– A typical stew is elevated with Italian herbs, and loaded with seafood for an incredibly hearty and flavorful dish.
Lemon Pepper Tilapia with Asparagus – The fish and asparagus are wrapped in foil and popped in the slow cooker for a couple hours to produce a flavorful and healthy dish.

Seafood Chowder – A perfectly flavorful and thick this New England Style chowder is sure to please any crowd.
Seafood Paella
– While this may not be the prettiest recipe on the block, it does pack a lot of spanish style flavor. This recipe makes quite a bit so be prepared for leftovers.
Shrimp Creole
– A perfect way to spice up the any week night, this recipe only requires a bed of rice or grits to complete the meal.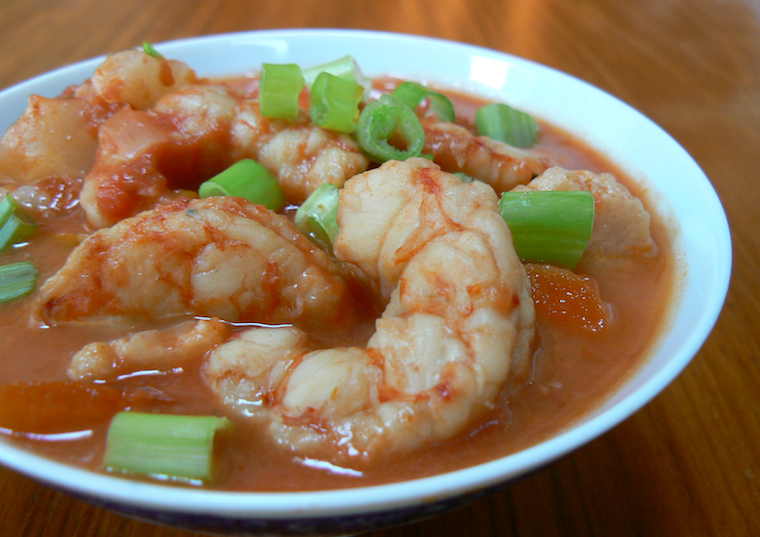 Thai Shrimp Curry
– Thai red curry paste is combined with a lot of vegetables and coconut milk for a unique flavored dish.
Seafood Alfredo
– This recipe is not the healthiest in the list, but I could not leave it out. It produces a wonderfully flavorful and creamy sauce that only needs a bed of pasta to complete.
Sandwiches/Wraps/Tacos 
Whatever you want to call it we all know that the crock pot is one of the easiest ways to slow cook meat until it's perfectly shred-able. It is then perfect to pop onto a bun, wrap or cracker for easy ingestion.
2 Ingredient Chicken Tacos
– Seriously. Can. Not. Be. Easier. I like to make this with a black bean and corn salsa from a local salsa maker. It adds some awesome texture.
Barley & Bean Tacos – This perfectly hearty vegetarian taco does wonders to warm up a cold winters night. The avocado chipotle cream is also great for any kind of sandwich, just sayin.

Asian Short Rib Tacos – For a different take on taco night this recipe is perfect, and the crunchy pineapple slaw perfectly balances out the soft and sweet short ribs.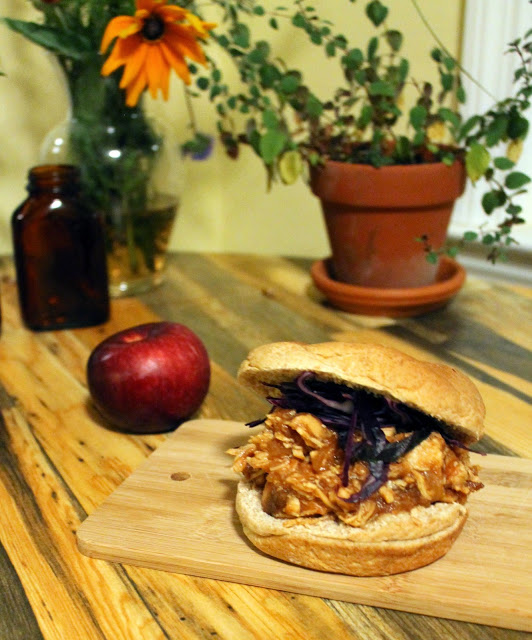 Apple Barbecue Pulled Chicken Sandwiches – This one is super easy, and goes great over a big green salad as well. I especially like it with smoked cheddar cheese, cabbage and spinach salads myself, no dressing needed.
Barely Cabbage Rolls – I'm sticking this one in this category because it's kind of like a wrap. Regardless it's a great vegetarian option, that is super hearty and full of flavor.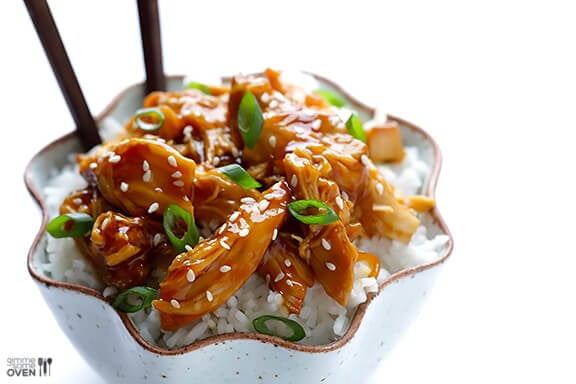 Chicken Teriyaki – This is another one that goes great on a sandwich or over a crunchy Asian salad. Totally worth a try.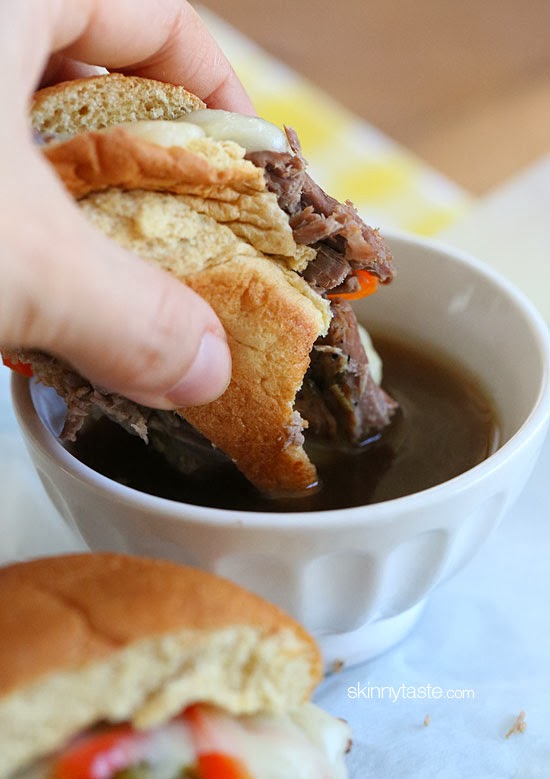 French Dip Sandwiches – This is a great recipe. I take a step out of the sandwich assembly by adding the onions and peppers to the crock pot in the last 30 to 45 minutes that the meat is cooking in  the crock pot. Then all thats needed is to layer everything on a bun.

Chipotle Pork Tacos – I like to add a bit of cabbage and broccoli slaw on top of my tacos. I just like that bit of extra crunch, but seriously this recipe delivers.

Shredded Beef Tacos – For me this one needs to be served just as the picture shows it. I love the creamy avocado, and shredded beef with fresh crisp lettuce. Seriously perfect!
Hoisin Pork Wraps with Peanut Slaw – A totally different twist that boasts huge Asian flavor and lots of different textures. This one really is a crowd pleaser. These Sweet and spicy wraps offer something totally different from the typical week night wrap.
Italian Chicken Sandwich – Chicken is slow cooked with Italian herbs and topped with tender peppers, spinach and cheese for a decadent and easy meal.
Lentil Quinoa Tacos – the combination Lentils and quinoa create a meaty mixture that makes for a great vegan version of a traditional taco.
Buffalo Chicken Sandwich
– In this recipe I totally skip the first step and place my chicken breasts in the crock pot whole. Once they are done cooking they shred up beautifully to make a great sandwich. Especially topped with blue cheese crumbles, and lettuce.
Chicken Parmesan Sandwich
– Chicken is slow cooked in delicious sauce and then shredded. Added to the bun and topped with mozzarella cheese this is the easiest way to make chicken Parmesan sandwiches. Serve it with a big salad for a complete meal.Aaaannd with that we now have 100 awesome recipes that are perfectly suited for great healthy family meals all winter long. I hope you guys enjoyed looking through all of these. It has taken me a long time to work through them all.I want to keep the list going, so please if there is a remarkable recipe that I missed please let me know. If you tried a recipe and hated or loved it please let me know. The more feed back the better and we can eventually have the most amazing list of crock pot recipes ever!!!!