This post was originally published in November of 2012. You guys, that seems like so long ago. Which, I suppose it is, in internet time anyway. I decided to give it a little face lift because it's still one of my most loved recipes in this house.
I make it often during the fall and winter months, usually as a side because Chuck isn't quite as fond of eating a bowl of rice as a meal as I am. However, I have to say it makes a pretty excellent main dish. Occasionally, I'll also added a few chopped nuts on top, for a little crunch, ya know? Sometimes, those nuts happen to be candied. Just a little butter, cinnamon, and sugar. It goes really well with the hint of nutmeg. It's also incredibly satisfying.
Below is the original post that came out way back when. Remember the setting here is November 2012. I was 24. I didn't know anything then. Go easy on me. Don't worry the recipe is updated to reflect how much I've learned about recipe writing over the years.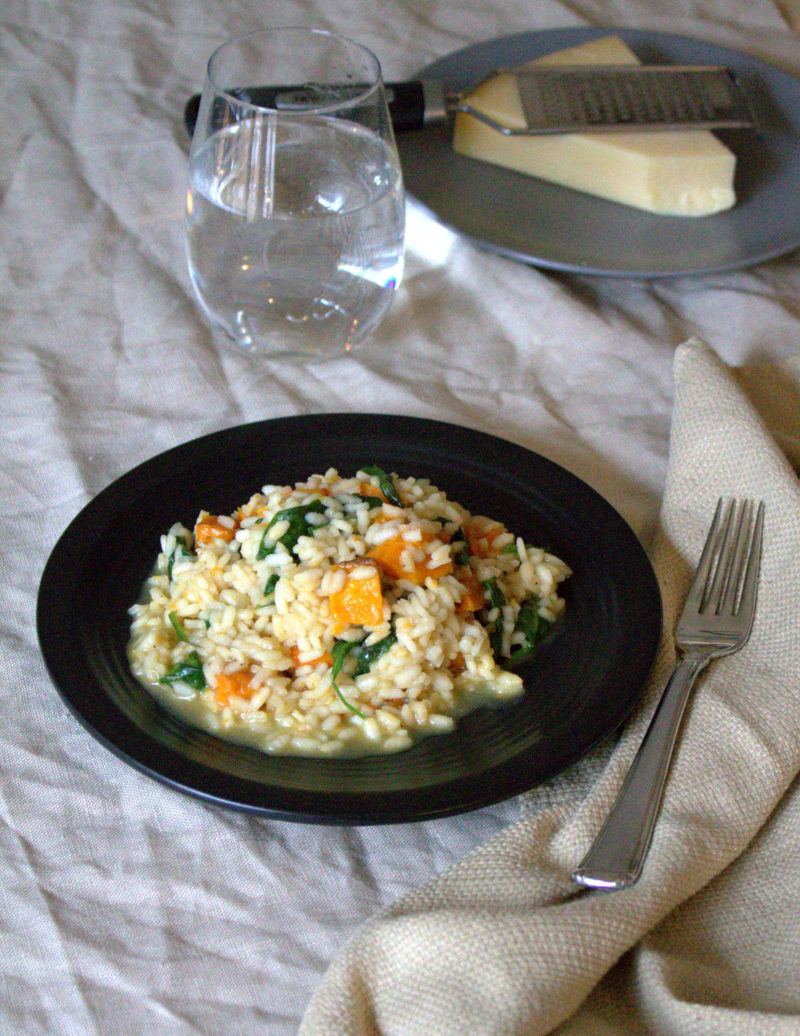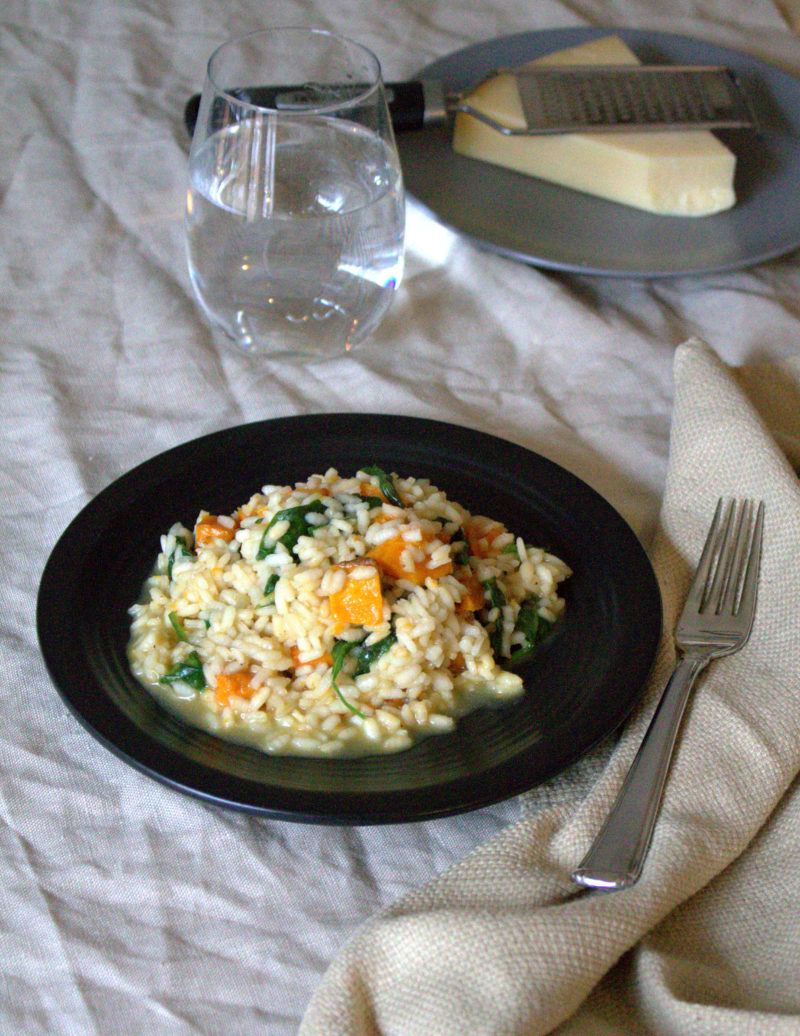 Had enough squash yet? I haven't! I am truly amazed at the amount of squash I have eaten this fall season. Especially after spending so many years avoiding it! I think I am in love with it! Is that possible? It just fits so well with all of our other favorite foods; apple, cinnamon, nutmeg, spinach, maple, sage, and plenty of other fall flavors.
The recipe below is one that I kind of came up with myself, I have seen a squash risotto, however I had a ton of spinach that had to get eaten before it went bad so I decided to experiment and I think it came out pretty well. I paired it with my
Maple Salmon Recipe
. Can I tell you how well the sweetness melded with the nutmeg, and saltiness in the risotto? You wouldn't believe me. Chuck even went back for seconds so you know he liked it.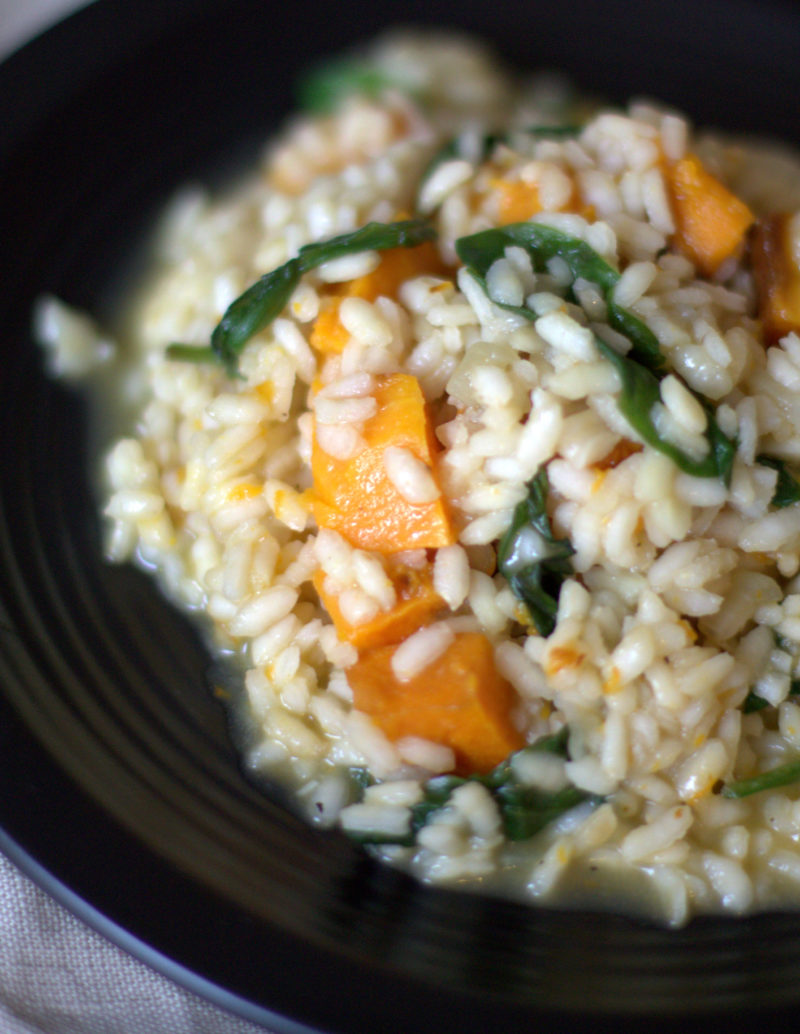 Butternut Squash & Spinach Risotto
Ingredients
4-6 cups vegetable broth
1 tablespoon olive oil
1 small onion chopped
1 cup arborio rice
½ cup dry white wine
Pinch nutmeg
1 cup butternut squash peeled, diced & roasted
2 cups fresh baby spinach leaves
1 tablespoon butter
1 cup grated parmesan cheese
1 teaspoon salt
Instructions
Heat broth in a saucepan, and keep warm over low heat while cooking the rice.


In a wide thick bottomed saucepan heat oil over medium high-heat. Add the onions and sauté until they become translucent, about 3-5 minutes.

Stir in rice, and cook for 1-2 minutes. The rice should begin to crackle and brown.

Add wine, and cook while stirring constantly, until the wine reduces and is nearly gone.

Add a few ladles of broth, to just cover rice, and cook until broth reduces, stirring constantly. Continue to cook and add broth, stirring constantly until the rice had become tender, yet firm. This should take about 15-20 minutes.

Just before the rice is finished stir in the nutmeg, squash and spinach. Allow the spinach to wilt, and stir in the butter, salt and parmesan cheese, giving the rice a creamy consistency.

Adjust seasonings and serve warm with additional parmesan for garnish.
One final note: this recipe uses pre-roasted squash. However, you can use raw squash as well simply toss it in with the onion so it has time to cook through. Also, be sure to add just a little nutmeg at a time, it can be overpowering in this dish.
Enjoy!
Similar Recipes: