I know, I know I skipped the last Bi-weekly fitness update. I
won't
whine about my hectic life
to you anymore so we are just moving
forward from this point on.
The last few months have been going good. I am getting in
the gym and lifting like a champ. Except for an awkward incident where I
totally left the gym without finishing my cool down because of running into my
ex. I have seen him there several times now and it appears we both are
terrified of each other so I think we will continue to pretend we don't see the
other for a while, it's cool. I personally think we are very mature (when are
they going to start using sarcasm font?).
I am still following a similar routine to this one I
posted way back when. However I think I'm going to need to add a few runs in
there since I seem to keep being recruited to run races with friends. Who am I to
say no? Race events with friends are always fun, so long as you don't get overly
competitive about them. I also have one crazy friend who wants me to do a triathlon
with her in the fall, so I will probably have to throw a few bike trips and
some swimming in there too. In case you aren't aware I really hate biking, so I
don't have the slightest clue how she talked me into this.
The last few weeks have been good. I am getting stronger, but I haven't been visibly seeing the results that I had started seeing at the beginning of this whole thing. I think the culprit may be my diet. Birthdays and holidays abound this time of year for my family so there have been a few more indulgent meals than should be, and with the hectic schedule a few too many quick and carb loaded meals.
Source
The above being so very true, I think it's time to revisit
my diet and bring it back to being a priority. Swim suit season is coming,
despite Mother Nature's fickle ways it is finally starting to get
warmer in these parts, and I want the results of my hard work to actually show
up, I mean that's kind of the point right?
This is my rough plan for the next 2 weeks (starting
yesterday). It's totally clean except for the one meal a week we have with my
parents, and a training class I have at night where sandwiches are provided. The
focus of this diet is proper workout fuel, and high protein throughout the day. I may alter things based on my own cravings and what not, but this gives you a general idea. My workout days are typically Monday, Tuesday, and Thursday, after work with a
random weekend day for a long run, hike or bike. Because I knew I had a training class coming on Tuesday I put in an extra day this weekend. So I won't miss a workout.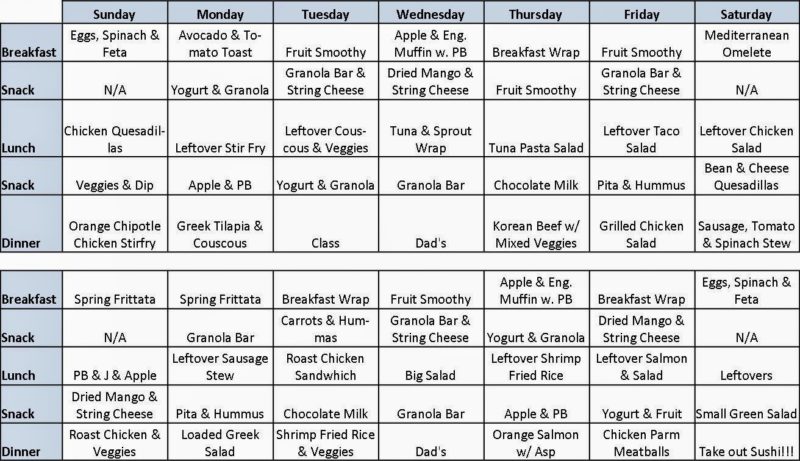 Korean Beef
,
Sausage, Tomato & Spinach Stew
,
Roast Chicken
,
Greek Salad
w/ chickpeas & feta,
Shrimp Fried Rice
,
Orange Salmon
,
Chicken Parmesan Meatballs
Recipes for Orange Chipotle Chicken Stir Fry, Greek Tilapia, Loaded Greek Salad are coming.
EDIT:
Orange Chipotle Stir Fry
,
Greek Chicken & TIlapia