This is a simple and healthy recipe for Foil Grilled Fajita's that can be cooked on the grill or over the fire.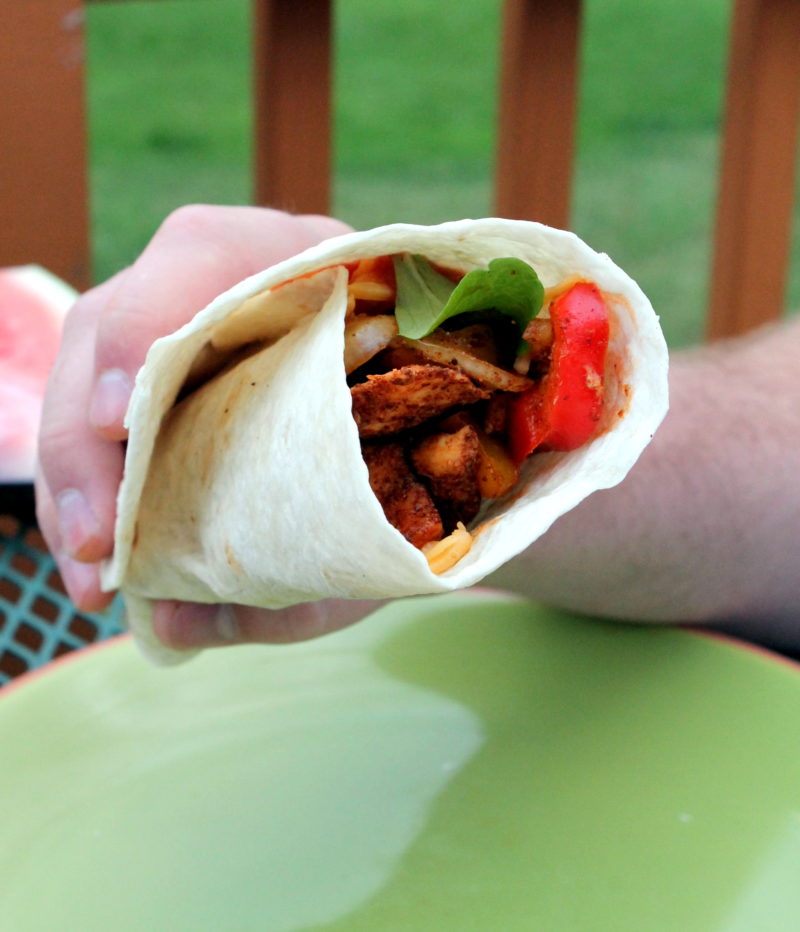 Cooking in the summer is annoying.
I will be the first to admit that.
It's hot outside and the last thing many of us want to do is stand in front of the stove. I employ grill cooking as often as possible to avoid turning the oven on in our house and it does a lot to save us from the heat as well as save us money.
This recipe is easily one of my favorite foil dinner recipes whether it's over a camp fire or a grill, it comes out delicious and perfect every time. The prep time is minimal, cooking is easy and it's healthy, so it's an all around great recipe.
Since Chuck and I are moving soon I actually made up a couple of these recipes in ziplock bags in the freezer. Then we can spend our evenings un packing and settling into our new house without having to think too much about dinner. Just pull it out of the freezer wrap it in foil and stick it on the grill (just be sure to add a few minutes to the cook time to account for starting with frozen food). Because I know you guys are going to ask some of the other recipes that I made up ahead are Crockpot Apple Barbeque Chicken, Herby Burgers, and Sausage, Pepper and Potato Foil Packets.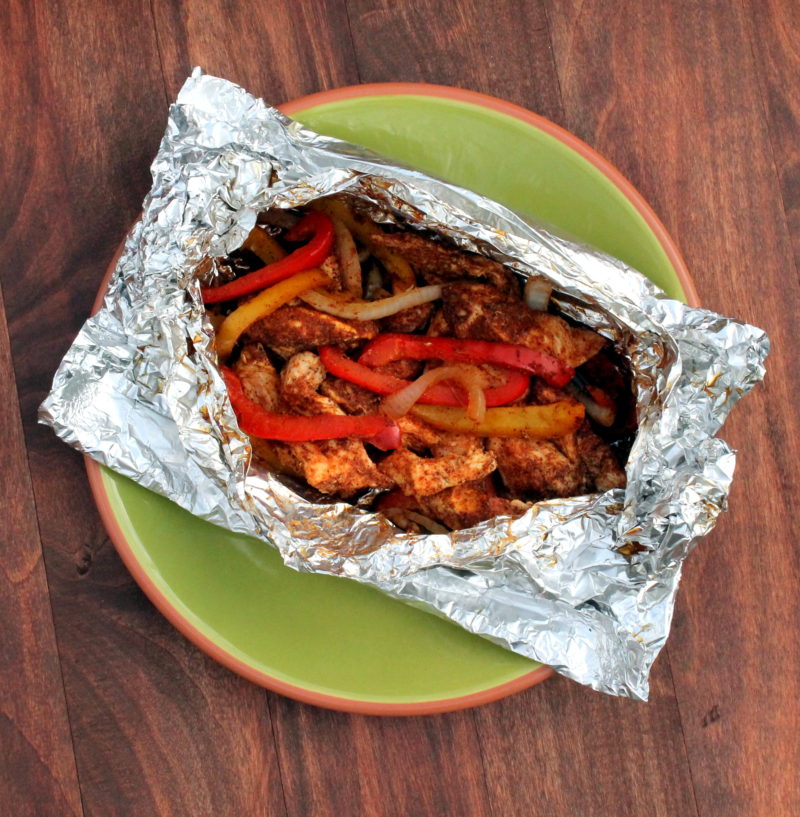 It's also great for a crowd; served with a number of different toppings everyone can make their own with little extra work from you! My favorite toppings are beans, rice, fresh chopped tomatoes, cheese, cilantro and avocado, while Chucks favorites are salsa, lettuce, sour cream, and cheese.
Find my Clean Homemade Fajita Mix here. The recipe in this post is the exact amount needed to make the recipe below.

Foil Grilled Fajitas
Ingredients
1 packet of fajita spice mix (or homemade)
1 lb boneless, skinless chicken breast cut into strips
1 red or yellow pepper, deseeded and sliced
1 onion, sliced thin
4 tortillas
Instructions
Combine all ingredients in a large bowl, and toss until everything is well coated in seasoning.
Lay two large pieces of foil out and split the mixture up between the pieces of foil.
Take two opposite sides of the foil and crimp them together to create a tube around the mixture. Then crimp the openings on the side closed to create a packet.
Place on a grill preheated to medium high and cook for 8 to 10 minutes, flip and cook for another 5 to 6 minutes, or until the chicken is cooked through.
Remove from heat and carefully open packets allowing the steam to escape before serving over tortillas.
I'm planning on posting a few more foil dinners soon so I'd love it if you guys could share your favorites in the comments for me to give a try!