Hey guys! As you know I am in the very hectic process of starting a new job and moving so Tiffany from The Dwelling Tree is here to lend me a hand.
…………………………………………………………………………………………………………………………………..
Hey everyone! I am super excited JC asked me to share a recipe with all you Sweet Love and Ginger followers. She is a talented gal, and cooks up awesome meals.

My name is Tiffany and I blog over at The Dwelling Tree. My husband and I are big foodies, and love to host dinner parties. The only problem: we are also frugal. Behold! There are plenty of ways to host dinner for friends on a dime (not really a dime, but you get the point).

Dining with friends and family is one of life's greatest joys. I think the best meal times are full of laughter, jokes, and stories. I come from a large Hispanic family. My favorite tradition was when we had tamales for Christmas. Many families have a plated, sit down dinner, then clean up and move on. Not our family! The tamales, beans, rice, and margaritas flowed ALL night! No feeling embarrassed by getting into the leftovers and re-heating it. The food was the centerpiece of our night, and joy and festivity danced around it. While this may not have been good for my waistline, it was good for my soul and taught me an important lesson- food should be fun, not serious. Gathering around a meal means memories and belly laughs! Or perhaps a good game of Texas Hold'em.

I want to share with you all a delicious and time-tested recipe that all of our guests have loved. We make our own home made tortillas. There is nothing like them. They are soft and doughy and have a crisp in certain parts. Once I eat a home made tortilla, it is so hard to eat store bought! These are easy to make- you probably already have the ingredients in your pantry. Plus, you can make them anytime. Last night we cooked up some refried beans, ground chicken, and topped them off with salsa and avocado and we had last minute tacos. Muy Bien!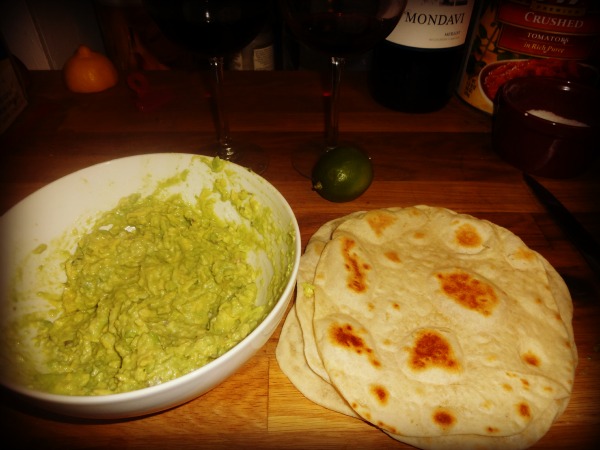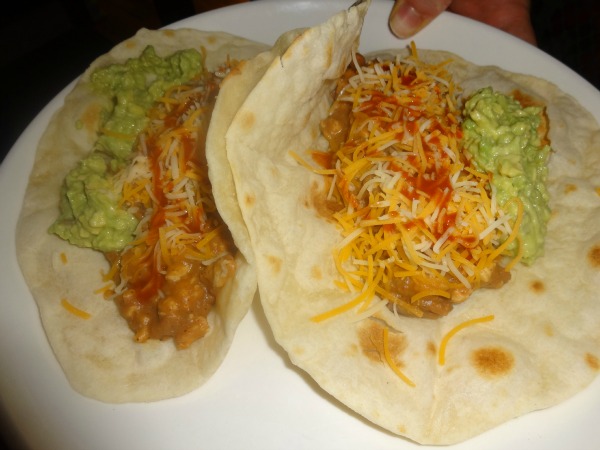 Hand Made Tortillas
2 and 3/4 cup flour
1/3 cup lard or vegetable shortening chilled
3/4 cup warm water
3/4 tsp kosher salt
Place flour into food processor. Add lard or vegetable shortening and pulse 10-12 times in food processor with flour. Dissolve salt into warm water. Pour into flour and lard mixture. Pulse 10-12 more times until it creates a dough ball. Place dough on counter. Form into 10-12 dough balls. Let sit 30 minutes. Dust flour onto workspace and using a rolling pin, roll out dough forming a flat circle, dusting flour onto dough as needed. Heat skillet to medium or medium high and place dough directly onto skillet. Wait for bubbles to appear on tortilla, then flip.
Enjoy!